Bayer Said to Weigh Plastics Unit Sale Amid Health Focus
Aaron Kirchfeld, Naomi Kresge and Andrew Noel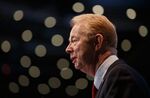 Bayer AG's possible sale of its $10 billion plastics unit would accelerate a retreat from chemicals that the maker of Aspirin initiated a decade ago, leaving it focused on the more lucrative life-science industry.
The German company is reviewing options for Bayer Material Science after chemicals company Evonik Industries AG showed potential interest some months ago, according to people with knowledge of the matter, who asked not to be identified because talks are private. No decision has been made, and Evonik's considerations failed to gain traction, they said.
Disposing of the plastics assets would further whittle down one of Europe's last remaining major pharmaceutical and chemicals conglomerates, and a sale would coincide with a push by Bayer for purchases to broaden its drug and life-science offering, the people said. The business may fetch more than 7.8 billion euros ($10.8 billion) including net debt, according to Fabian Wenner, an analyst with Kepler Cheuvreux in Zurich.
Now would be a good time for Bayer to act, Odile Rundquist, a Geneva-based analyst for Helvea SA, said in a telephone interview today. Rising capacity use and dropping raw materials prices at the unit helped push first-quarter earnings above analyst estimates today.
Good Timing
"It would be a very good time, because now they are really getting some critical mass in pharma," Rundquist said. "If they were to buy something else in health care, it would be a good move."
Bayer exited large parts of its specialty chemicals portfolio a decade ago by spinning off its Lanxess AG subsidiary. Among the few companies that still have both chemicals and pharmaceuticals assets is Merck KGaA, also based in Germany.
Analysts have long speculated that Leverkusen, Germany-based Bayer would get rid of the unit to expand in health care. Speculation about a split mounted after Bayer chose Marijn Dekkers as chief executive officer in 2009. Dekkers, a native of the Netherlands, previously ran Thermo Fisher Scientific Inc., where he built a reputation as a dealmaker.
Unlike Bayer's drug unit, with Aspirin and the contraceptive Yaz, the products made by the plastics unit aren't household names. They're found in houses, cars and businesses -- molded around appliances and cushioning sports goods, coating the hulls of boats and bodies of cars and stuffed into the walls of houses.
Bayer Bid
Bayer rose 3.3 percent to 98.95 euros in Frankfurt, giving the company a market value of 81.8 billion euros.
Barbara Mueller, a spokeswoman for Evonik, and Guenter Forneck, a spokesman for Bayer, declined to comment.
The health-care industry is seeing a flurry of deals, and Bayer's mergers and acquisitions team is largely focused on pursuing the company's chosen targets in that area. Bayer is bidding for Merck & Co.'s over-the-counter medicines business, according to people familiar with the matter. Merck may decide on the winner for the business as early as this week, said the people, who asked not to be named because talks are private.
Bayer is competing against bidders including Reckitt Benckiser Group Plc and Procter & Gamble Co., which has an OTC venture with Teva Pharmaceutical Industries Ltd., the people said. Representatives for Bayer, Reckitt, P&G and Merck declined to comment.
Dekkers wouldn't say during Bayer's quarterly earnings analyst call today whether he wants to buy the Merck unit or sell the plastics division.
Remain No. 1
"I cannot of course say anything specific because I don't want to add fuel on the fire, but I would like to say that yes, we are disciplined," Dekkers said. "We don't feel we have our back against the wall in terms of having to do acquisitions to drive growth."
Dekkers did say Bayer still wants to be No. 1 in over-the-counter drugs, and in that fragmented market he said deals will be necessary to reach the top spot. The executive has also said in the past he's interested in buying animal-health assets, something he missed out on last week when Novartis AG agreed to sell its business to Eli Lilly & Co.
Bridesmaid
Now Bayer may target Zoetis Inc., the U.S. animal health company spun off from Pfizer Inc. last year, Andrew Baum, a London-based analyst for Citigroup, wrote in a report today. Questioning whether Bayer is destined to remain "forever the bridesmaid" as its peers reshuffle their portfolios, Baum wrote that the German company has seen its market share shrink relative to its competitors.
Dekkers is looking for acquisitions because he wants the company's units to remain leaders in their markets. That's a strategy that's driving the other deals in the industry as well.
Novartis said April 22 it would buy GlaxoSmithKline Plc's cancer-drug unit for as much as $16 billion, sell its vaccines unit to Glaxo for as much as $7.1 billion and sell its animal-health unit to Eli Lilly for $5.4 billion. Glaxo and Novartis also will form a consumer-health joint venture.
Evonik, Germany's second-biggest chemicals company after BASF SE, is ready to make acquisitions "if they fit," Chief Financial Officer Ute Wolf said in a newspaper interview this month, adding that the acquisition of larger companies is possible.
Still, the acquisition of Bayer Material Science would be sizable for Evonik. The Essen-based company has seen its market capitalization fall 14 percent to 13.2 billion euros since it listed shares sold to institutional investors a year ago.
Demand Forecast
Bayer's plastics unit earns a return that's lower than the cost of the capital employed, leading to its strategic future within the group to be questioned before. Bayer forecast in March that demand will pick up and the unit will use more of its production capacity, enabling the company to charge higher prices. Bayer aims for Material Science to earn its cost of capital by 2016 at the latest.
Asked today during the analyst call what price offer he'd need to see for the plastics unit in order to notify shareholders, Dekkers said he hadn't thought about it.
"Normally things get announced when they have been decided by a company," he said.
Before it's here, it's on the Bloomberg Terminal.
LEARN MORE