Ford's Own Reliability Problem Weighs on Earnings
by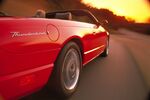 Have you ever taken your car in for an oil change, only to end up paying to fix a handful of problems you didn't know were there? That's pretty much what happened to Ford last quarter.
As expected, it plunked down a pile of money to pay for a massive currency accident in Venezuela, but it had to cough up an extra $400 million to cover warranty costs on its old models and another $100 million to pay for shipment delays caused by a harsh U.S. winter. Together, snowstorms and clunky 2005 Thunderbirds are holding the company back, even as it focuses on stamping out a cutting-edge aluminum pickup and 22 other new vehicles this year.
"While similar factors could occur in the future, it is unusual for items like these to occur in this magnitude in the same quarter," Chief Executive Alan Mulally said in a statement. All told, Ford's profit in the first quarter slid 39 percent to $989 million, worse than analysts had expected.
That $400 million bill, however, should not have been shocking. Ford—like all car companies—is going to have to err on the side of caution if it wants to avoid a General Motors-like recall crisis. Meanwhile, people are driving cars a lot longer these days. The average age of the U.S. fleet is hovering around 11 years, which means Ford buyers who got a 10-year warranty are making the most of the deal.
On the new-car front, Ford looks fine. Mulally called it "a solid quarter" and his board approved a 25 percent spike in Ford's dividend, which may pacify investors who had expected better this morning.
Also notable, the company picked up momentum abroad. In Europe, where it hopes to turn a profit next year, Ford's operating loss fell to $194 million, from $425 million in the year-earlier period. In Asia, the company swung to a $291 million gain.
Meanwhile, Ford ramped up production. At the moment, the company is making almost 19,000 cars and trucks a day, an increase of about 1,000 per day from the first quarter.
Before it's here, it's on the Bloomberg Terminal.
LEARN MORE