Why Europe's Far Right Is Getting Cozy With Russia
By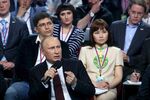 As Western governments edge toward tougher sanctions on Russia, at least one group of European politicians has come to Moscow's defense: leaders of the region's far-right parties.
Marine Le Pen, head of France's National Front, visited Moscow this month—her second trip there in less than a year—and lambasted the West for declaring a ruinous new "Cold War" on Russia. Her party also sent election observers who validated the results of the referendum in which Russia annexed Crimea. Geert Wilders, who heads the far-right Dutch Freedom Party, has accused the European Union of creating "a big mess" in Ukraine. And Nigel Farage, head of Britain's UK Independence Party said in an April 1 interview that Vladimir Putin was the world leader he admired most.
Such comments may seem bizarre, considering that Putin has justified intervention in Ukraine by saying he's protecting Russian speakers from right-wing elements in the new government.
In fact, the rhetoric is driven more by political calculations than by ideology. With polls suggesting far-right parties could score big gains in European parliamentary elections on May 25, rightist leaders "want to highlight the dangers of EU overreach," says Cas Mudde, an assistant professor at the University of Georgia's School of Public & International Affairs. Le Pen, Wilders, and Farage all want their countries to leave the 28-nation bloc. The EU's offer of emergency financial aid to Ukraine also makes an inviting target for the rightists, who routinely accuse Brussels of wasting taxpayers' money.
Even as they attack the EU, some rightist leaders don't seem keen to get too close to Russia. Wilders, for example, is strongly pro-U.S. and pro-Israel, putting him at odds with Kremlin policy. His comments on the Ukraine crisis "have nothing to do with Putin or with foreign policy," Mudde says. Wilders views the situation as "a bailout," in which European taxpayers are being asked to support a corrupt regime, he says.
UKIP's Farage said he has respect for Putin, "compared with the kids who run foreign policy" in Britain. But, he added: "I don't like him, I wouldn't trust him, and I wouldn't want to live in his country."
Others, though, seem flattered at the treatment they've received in Moscow. Le Pen was snubbed by American politicians when she visited the U.S. in 2011. In Moscow, though, she had an audience with the speaker of the Duma, the lower house of parliament, telling him that she opposed sanctions and wanted to restore "traditional, friendly" relations with Russia.
Along with the National Front, rightist parties from Austria, Belgium, Hungary, and Italy sent observers for the Crimea referendum. (Some others, including UKIP and the Dutch Freedom Party, didn't participate.)
The European rightist party that's closest to Putin may be Hungary's Jobbik. Its leader, Gabor Vona, made a high-profile visit to Moscow last year and declared that Russia considered Jobbik "a partner." Mitchell A. Orenstein, a professor of political science at Northeastern University, writes in a recent Foreign Affairs article that the Kremlin may be subsidizing some smaller rightist European parties, such as Greece's Golden Dawn.
Just as European rightists seek political advantage in the Ukraine crisis, Putin has his own reasons for cultivating them. "Russian support of the far right in Europe has less to do with ideology," Orenstein writes, than with Putin's desire "to destabilize European governments, prevent EU expansion, and help bring to power European governments that are friendly to Russia."
For the rightists, getting friendly with Russia is a low-risk strategy, says Matthew Goodwin, an associate professor at the University of Nottingham who has studied the European right. "Most European voters will not notice this issue," he says, "compared to the core motives behind support for the radical right, which are opposition to immigration, distrust of domestic political elites, and hostility toward the European Union."
Before it's here, it's on the Bloomberg Terminal.
LEARN MORE