TellSpec's Food Scanner Knows What's in Your Nachos
TellSpec divines calories, allergens, and nutrients in 1,500 foods
by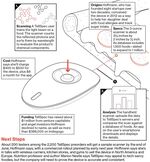 Innovator: Isabel Hoffmann  
Age: 52  
Chief executive officer and co-founder of year-old, 18-employee startup TellSpec in Toronto.
Form and function: TellSpec is a rechargeable, handheld spectrometer that can analyze the light reflected by foods and beverages to provide information about their ingredients, calorie content, nutrients, and allergens.
Before it's here, it's on the Bloomberg Terminal.
LEARN MORE