Stihl Chain Saws Thrive Outside the Big Box
Stihl builds chain saws in America and sells them through the kinds of little stores that are supposed to be going out of business And it's working great
by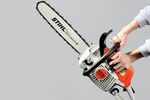 When he bought Speed's Power Equipment in 1991, Sam Wilson felt the thrill of owning a small business wear off quickly. Amid a recession, his 15 employees struggled to sell pretty much any available brand of power tool in his shop about a mile south of downtown Salt Lake City. Then Home Depot opened eight blocks away. Wilson, now 51, was ready for a strategic Hail Mary.
He stopped carrying almost every brand of machinery that could be found in a big-box home-improvement store, which left him primarily with a bunch of chain saws, blowers, and hedge trimmers made by Stihl. Wilson also moved his business to a new location six blocks away—six blocks closer to Home Depot, that is. "I'm not going to lie; I was nervous," he says. "But my sales went crazy. It was just awesome."
Stihl (pronounced steel) has become the world's top chain saw seller and a manufacturing powerhouse by actively positioning itself against two of the most powerful forces in commerce: big-box retail and the Internet. In the U.S., Stihl has annual sales of about $1.3 billion, says Fred Whyte, its president, and that figure has been going steadily up.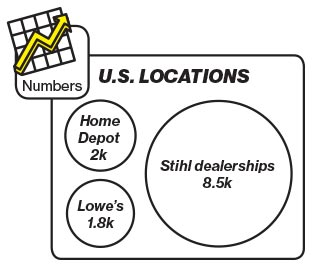 Stihl has built its business model in the U.S. around retailers such as Speed's—mom-and-pop hardware stores, lawn mower repair shops, and thousands of other small outfits with creaky signs out front and piles of greasy spare parts in back. About 8,500 Stihl dealerships exist in the U.S. These aren't the places consultants mention when they talk about the future of retail. They don't have 3D printers, and they aren't working on package-delivering drones. These dealers don't have delivery at all. Although Stihl's website details its products at length, anyone who wants to buy has to see a dealership employee in the flesh.
And that is the genius of the company's strategy. In betting on the scrappy underdogs, Stihl has cultivated a fiercely dedicated sales force. To an independent dealer, a Stihl chain saw or weed whacker isn't just one product in a warehouse stacked with drywall screws, plumbing fixtures, and gallons upon gallons of paint. It's a survival tool—one of the only ones it has.
Small shops also give Stihl a chance to demonstrate how well its machines work. "Of course, it's a very old sales tactic," Whyte says. "Our dealers will say, 'Why don't we go out to the woodpile and try this model and that model?' "
Whyte says cost-cutting pressure from giant retailers has driven some of Stihl's best competitors out of business. "Eventually, they say, 'I guess we don't have to put chrome on the chain, and we don't need a declutching brake, and we don't have to powder-coat a lot of these parts," he says. "Over time the brand just becomes eroded."
In 1926, Andreas Stihl, a Swiss-born engineer, set up shop in Stuttgart, Germany, and started making washing machines and one of the world's first chain saws—a two-person model with an inchwide chain that ran on electricity. In 1950, Stihl cranked out arguably the first chain saw designed for a single user. The company didn't launch a U.S. subsidiary until 1974, when it opened a small plant in Virginia Beach, Va. That factory started building a single line of chain saws and quickly expanded its campus to comprise a swelling sales force and models. Stihl's U.S. operations are still a full subsidiary of its privately owned German parent, though it exports to almost 100 countries out of the Virginia Beach port and employs about 2,100 workers.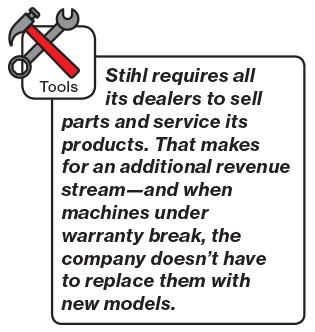 As the big-box stores increased in power, the small dealers became anxious. "They'd come down here to Virginia, and late at night, after about 14 cocktails, they'd kind of lean over and say, 'C'mon, Fred, you can tell us … one day you'll go to the big boxes, right?' " recounts Whyte, who's led Stihl since 1992. So in 2006, the company bought a full-page ad in the Wall Street Journal that read: "Why is the world's number one selling brand of chain saw not sold at Lowe's or Home Depot? We can give you 8,000 reasons, our legion of independent Stihl dealers nationwide."
Whyte remembers the date well, because that's when big-box retailers stopped calling the company's headquarters to arrange sales meetings. "The way to do this was to draw a line in the sand," he says. "And once we put it in print, we couldn't go back on it."
Speed's Power Equipment, meanwhile, sells on average two to three Stihl chain saws a day and about four of its other products. The company's line now accounts for roughly two-thirds of the retailer's revenue. "Maybe I'm ignorant," Wilson says. "But Home Depot doesn't really scare me anymore."
Before it's here, it's on the Bloomberg Terminal.
LEARN MORE