Some World Cup Fans Will Really Be Slumming
Entrepreneurs in hotel-short Rio offer rentals in crime-ridden favelas
by and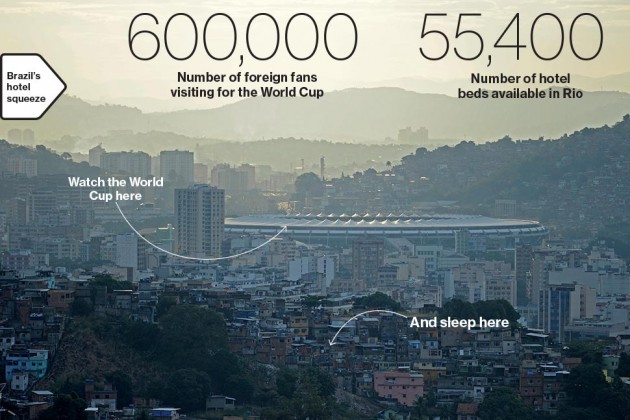 For Dembore Silva, this year's World Cup in Brazil means a new motorcycle. That's what the 26-year-old plans to buy with the proceeds from renting out his studio apartment in Brazil's biggest slum for the month-long soccer tournament, which ends on July 13. He expects to collect 4,000 reais ($1,784) from guests willing to sample life on the wild side of Rio de Janeiro's favelas (slum neighborhoods), where federal troops in March were sent to help local police after at least five officers were killed this year and drug gangs and organized crime torched police buildings. "I'm going to be out of my apartment during the World Cup, but my pocket's going to be so happy," says Silva, who makes a living guiding tourists around Rio's slums.
About half of the 600,000 foreign visitors expected for the World Cup will visit Rio, where many matches including the final will be played. They'll compete for 55,400 hotel beds, with much of the remaining demand being met by people renting out their homes. That's a potential gold mine for would-be entrepreneurs, who have listed scores of slum properties for rent on websites including Airbnb and Favela Experience, set up by Elliot Rosenberg, a 24-year-old from the U.S. with a degree in commerce and Latin American studies from the University of Virginia.
Rio's favelas are home to 1.4 million people, 22 percent of the city's population. That's close to the number of residents of Philadelphia. Efforts by the city's government to, as it says, "pacify" the hillside communities, which until the arrival of police units six years ago were controlled by heavily armed drug gangs, have emboldened property brokers to test the unlikely locale's marketability to visitors.
Cheap rents are a lure. A three-bedroom residence in Leblon, Rio's most exclusive neighborhood, goes for an average of 3,500 reais a day during the World Cup, according to Creci, Rio's regional real estate brokerage council. Lodging in a favela can run less than a tenth that amount. To get to Silva's 200-reais-a-night ($89) place in Rocinha, the largest favela with about 70,000 residents, guests have to negotiate several steep stairways before they get to the narrow alley that leads to a three-story building, where he has the top apartment. Inside, the furniture is basic, with a double bed the centerpiece of a red- and green-walled room. He's most proud of the roof terrace that offers views of the ocean and an area called "Dirty Clothes," a Rocinha neighborhood that remains a gang stronghold.
Even with police on patrol, the sound of gunshots still crackles occasionally through the network of steep alleys that make up the neighborhood. Nonetheless, Silva, who has the words "Forgive Me For My Sins" tattooed on his neck, says Rocinha is safer for tourists than upmarket Ipanema and Leblon, where the top hotels are.
Rosenberg, who moved to Rio from Beverly Hills, uses his website to broker deals for favela residents including Silva for a 25 percent commission. He says the slum areas can be safer than many think. "I've had many guests mugged down there, but never here," says Rosenberg, pointing to the sweeping beaches below that grace many of the postcards visitors send back from Rio. He lives in Rocinha, too, so he can be close to his clients. "The water and electricity isn't perfect," he says. "But nowhere in Rio's perfect."
Some travelers embrace the favela charm. "I love Rocinha," says Martha Snow, a 21-year-old British student staying with a local family. "It's really misunderstood. Two friends were going to come and visit but changed their minds because they didn't want to take the risk." Snow says such concerns are overblown but admits that she's always vigilant and doesn't walk in certain areas, particularly at night.
The pacification program has spurred local investment, says Conrado Denton, a member of a group that opened the Hotel Mirante Do Arvrao in January in Vidigal, a favela next to Rocinha that's popular with tourists. It has dormitory-style rooms on the first floor, and the second has ocean-facing double bedrooms that will cost as much as $300 a night during the World Cup. "We bought the space four years ago but started building after the police moved in," Denton says, sitting in a lobby area that overlooks a large tree that the hotel is named after. "It's created new opportunities. In the past, the place where we're sitting was the worst: It was the place where all the top drug dealers lived."
Before it's here, it's on the Bloomberg Terminal.
LEARN MORE