Shaq's Still Scoring in Retirement
Shaquille O'Neal's post-athletic life is complex, random, and impressive
by
A woman taps Shaquille O'Neal on the back. "You don't remember me, do you?" she asks. O'Neal is coming down the escalator at the Hyatt Regency. It's the Friday in February before the NBA All-Star Game in New Orleans. The woman is the mother of LaMarcus Aldridge, a forward for the Portland Trail Blazers who is in town for the game. O'Neal stops at the bottom of the escalator to say hello. The swarm gathers in seconds. Heads turn and tilt upward. Phones come out of pockets. Hands reach. Pens appear. Voices call out. "Shaq!"
Thirty feet away current All-Stars Kevin Love and James Harden get on the escalator going the other way. Nobody seems to notice. Love and Harden are also watching O'Neal. Halfway up, they begin shouting "Can you dig it?" a catchphrase O'Neal borrowed from the movie The Warriors and made famous at a Los Angeles Lakers championship parade in 2000. A few heads turn, but O'Neal remains the center of attention.
After 19 seasons in the NBA, O'Neal retired in 2011. He was one of the most dominant big men in the history of the game, a 7-foot-1, 325-pound behemoth with quick feet and explosive power. He won four championships and a Most Valuable Player award, played in 15 All-Star games, scored 28,596 points, and collected $292 million in paychecks from six teams. O'Neal is still hustling. During four days in New Orleans, he'll make three stops on his never-ending promotional tour and be on national television every night.
O'Neal is determined not to become an NBA relic, a legend kept forever young in highlight reels while he grows old in obscurity. He wants to be in your living room and on your Twitter feed as Shaq, the friendly giant who cracks wise and nudges you to buy a Buick or Gold Bond lotion. So far, he's succeeding. Perry Rogers, his agent, says O'Neal makes more money now from endorsements, partnerships, and TV—$21.2 million last year—than he made from similar work when he was playing.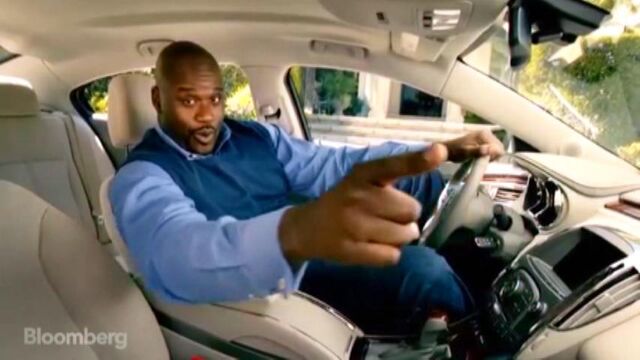 O'Neal's main gig is as an analyst on TNT's Inside the NBA. On Thursday nights, during the breaks in prime-time doubleheaders, he talks hoops with fellow retirees Charles Barkley and Kenny Smith from the cable network's Atlanta studio. When O'Neal joined the show in 2011, Barkley, Smith, and host Ernie Johnson Jr. had been together for more than a decade, establishing an Emmy-winning formula. Barkley runs his mouth, Smith amends and corrects him, Johnson tries to keep the two on point. O'Neal found his place as the resident goofball. During All-Star weekend, he could be seen shaking his backside behind Johnson during a segue and mocking Hall of Famer Karl Malone's "tight ass" shirt. He chose TNT over a competing offer from ESPN because it made room for such antics.
"TNT allows you to be yourself and have a good time and joke around," he says, sitting in a lounge at the Ritz-Carlton, where he's staying for the weekend. He'd been at the Hyatt to tape a spot for the Cartoon Network's award show with former teammate Dwyane Wade and made the trip back through the French Quarter in the back of his black, customized van, a GMC Savana, which has a seat removed to make room for his enormous legs. At the Ritz valet, he ran into another ex-teammate, LeBron James, and greeted him with a rendition of the stomp-and-chest-bump dance that James had used the night before to celebrate a game-winning shot.
"I'm not this type of analyst," O'Neal says, turning toward an imaginary TV camera with a rigid posture and reciting staccato gibberish. He approached his TV decision, he says, the way he does every deal, with an eye for fit. "I want to be on the cover of Frosted Flakes," he says, "Wheaties calls all the time. I never ate Wheaties growing up. I'm a Frosted Flakes, Froot Loops guy."
"We're in the fun business," says Rogers, who has represented O'Neal since 2001. With his partner Colin Smeeton, Rogers looks for products and brands O'Neal can present with a wink. Shaq the big fun kid is the foundation for a growing portfolio of sodas, sedans, speakers, suits, shoes, jewelry, lotions, and balms. Normally an athlete's endorsement income fades after retirement; O'Neal's is expanding, thanks to the force of his personality and the chance he gets to share it every week on TNT. According to consumer surveys by sports marketing research agency Repucom, O'Neal's fame has dipped only slightly since he stopped playing. His recognition was down from 97 percent in 2009 to 93 percent last year—still on par with Kobe Bryant and Magic Johnson. His appeal and influence scores, though, have increased. "It can keep going and going and going," Rogers says of the Shaq machine.
O'Neal is back in the Savana on Saturday morning. He wears a pinstripe gray suit, white shirt, paisley tie, and black suede shoes and has a phone in each hand. He's ribbing Rogers, who's sitting behind him, for overscheduling him. He's also heard that Paris Hilton gets $50,000 per gig to DJ overseas, and he wants in.
The destination is the Lakeside mall in Metairie, a 10-minute drive from downtown, where O'Neal will make appearances at Macy's, Zales, and Foot Locker. At Macy's, a crowd of hundreds is waiting. O'Neal is there to promote a new signature collection of men's suits. He greets customers at a high table next to racks of wool jackets ($400) and pants ($150). The stream is steady for more than an hour: an old woman in a Celtics hat, a middle-aged man in fleece and khakis, a brunette schoolgirl and her mother, a young woman, a thirtysomething man, little kids, teenagers. O'Neal shakes hands, slaps palms, and gives hugs. He signs and he signs and he signs.

Then it's back to the van, around the parking lot with a police escort, and through a side door into the mall. O'Neal swaps out his suit coat for a Reebok zip-up and his suede shoes for sneakers. The crush forms before he can get to Zales. As he walks past other storefronts, he slips off his gold ring and hands it to one of his staff. It's not one of the items from his signature collection of stainless steel jewelry (cross pendant, $109) now in 400 Zales stores and coming to 200 more, with watches, in the fall. Inside, he examines his namesake studs and rings and poses for pictures with the sales clerks.
Finally, he moves through the wall of camera phones back down the corridor to Foot Locker. Reebok has just released a version of throwback Shaq Attaq high-tops in purple and yellow ($159.99), an homage to his three seasons at Louisiana State University. He poses in front of a shelf of the shoes under the slogan "Buzzworthy since 1992."
After his retirement from the NBA, O'Neal and his agents convened a Shaq Summit. His commercial partners gathered at his Orlando home and each made a 15-minute presentation. IcyHot, the muscle-pain reliever O'Neal endorses, used the occasion to say goodbye. " 'It's been a wonderful run. We'll probably use you for another year,' " Rogers recalls the company saying. Then TNT presented its plans for Inside the NBA and other Shaq productions on TruTV and the Cartoon Network. Afterward, Rogers says, "IcyHot walks over to us and says, 'OK, let's keep talking.' " The brand renewed through 2013 and recently extended again, through 2016.
To keep this virtuous circle rolling, O'Neal held another Shaq Summit last spring in Los Angeles. This time Arizona Beverages and Monster electronics joined. Last year, O'Neal licensed his name to a line of cream sodas from Arizona and to Monster for mobile speakers and phone rechargers. At the summit, ACI International, maker of O'Neal's Shaq brand sneaker, talked to Arizona about putting the "Dunkman" logo from the shoes on its soda cans. Gold Bond talked to ACI about pairing foot powder with shoes in Shaq-themed displays at Wal-Mart.

"We look for partnerships," O'Neal says at the Ritz. "If things go right, partnerships can last forever." His deals with Macy's, Zales, Arizona, and Monster pay in royalties based on sales. This keeps O'Neal motivated. Last summer, when 7-Eleven's three-month exclusive window for distribution of his cream sodas expired, O'Neal went with Smeeton and the head of sales at Arizona to pitch buyers from Stop & Shop, ShopRite, and CVS. He promised to show up at stores if need be to support the product. All three retailers decided to buy.
The cream soda is part of O'Neal's effort to reach consumers from the bottom to the middle. The Shaq shoes sell for $20 to $40 at retailers that don't stock the more expensive Reebok line found at Foot Locker. "There are more people that make regular money than there are people that make a whole bunch of money," O'Neal says. In his first ad for Buick in 2012, O'Neal ambled down the front steps of a Spanish-style mansion and into a LaCrosse sedan. The ad was met with broad skepticism about whether he'd actually drive or even fit inside a Buick. To quiet the critics, O'Neal had Buick send him an unmodified LaCrosse. "I fit," he says at the Ritz, demonstrating the spread-legged posture he uses to drive it. "My family had Buicks their whole life. One of my uncles had a nice big Buick that he kept for a long time."
It's a stretch for any 7-foot multimillionaire to sell Buicks, but O'Neal can get away with it. He's a Froot Loops guy in a Ritz-Carlton world. He doesn't rival Michael Jordan for pure aspiration. The desire to "be like Mike" still brings Jordan $90 million per year. But O'Neal has an approachability that Jordan lacks. "You know when you see me you can say, 'Hi, how are you doing?' " O'Neal says. "That's the same smile. That's the same mumbly voice you hear when I say, 'Man up, with Gold Bond.' "
O'Neal doesn't need Gold Bond's money or the rest of his $20 million endorsement income, and he says he doesn't count it. When he first came into the NBA, his money manager Lester Knispel persuaded him to sock away more than a million dollars a year in annuities. That income is now enough to live on, O'Neal says, "just in case all this stuff goes bad." His endorsement income, he says, is mostly for his six children. "I have all the toys I want," he says.
Before it's here, it's on the Bloomberg Terminal.
LEARN MORE