John Henry and the Making of a Red Sox Baseball Dynasty
The Red Sox's owner didn't buy a championship team. He built one by doing the math
By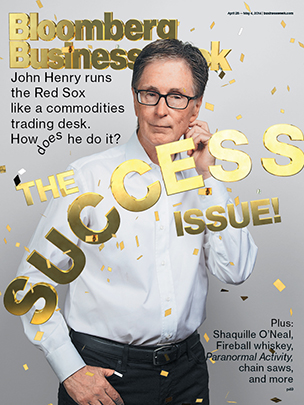 It's Opening Day at Fenway Park, more than an hour before game time, and the seats are already jammed. No surprise here. Boston Red Sox fans feed on emotion. Today's capacity crowd skipped work and school for the chance to mainline the best feeling of all: to celebrate as their team collects its championship rings for winning last fall's World Series.
In Boston, they don't skimp on pageantry. The ring ceremony features firefighters, Boston Marathon bombing victims, and a first pitch from the beloved, cancer-stricken former mayor, Tom Menino. The Boston Pops Orchestra materializes in right field to play A Hymn to New England. Colorfully plumed Irish step dancers leap and kick in both batting circles.
Amid all this, a man stands quietly at the end of a red carpet near first base and a table spread with jewelry. John Henry, 64, the principal owner, never says a word. No one really notices him or his partners, Larry Lucchino and Tom Werner, until the players emerge from the dugout to collect a ring and a handshake.
To Red Sox Nation, this is a glorious, weirdly familiar scene. When Henry's ownership group beat out local bidders for the team in 2002, they were greeted as carpetbaggers. The Boston Herald ran a front-page mock-up of the Fenway scoreboard that read: "Visitors 1, Boston 0." "Generally, if you aren't born in New England," says Henry, "New Englanders don't ever consider you as locals." But the hostility didn't last. Henry won a place in the heart of every Red Sox fan in 2004 by breaking the "Curse of the Bambino"—the 86-year World Series title drought that had plagued the team ever since it sold Babe Ruth to the New York Yankees in 1919. A second title, in 2007, proved this was no fluke. This latest one suggests that Boston's baseball saga has shifted from misery to dynasty. Along the way, flinty New Englanders have adopted Henry as one of their own. "When I bought the Boston Globe last year," he says, "I kept hearing and reading that people felt it was great that a 'local owner' had purchased it."

As sports saviors go, Henry cuts an unusual figure. He has a thatch of gray hair, parchment skin, and black-framed glasses. When he arrived in sparkling Fort Myers, Fla., for spring training, he floated through the Red Sox's new $78 million facility in his customary dark jeans and blazer, beneath a giant black umbrella he carried to ward off the sun. With everyone else in golf wear, he looked like the Angel of Death. "A strange and wonderful man," says Hall of Fame baseball writer Peter Gammons. "He don't talk much," says star slugger David Ortiz. "But we appreciate what he's done for the team."
For so prominent a figure, Henry is a bit of a mystery. He limits contact with the press and, when he does communicate, prefers e-mail. In person, he's so reserved that it often appears as if he's working out a difficult algebraic formula in his head. Which is what he may, in fact, be doing. "He's the most mathematically talented person I've ever met," says Lucchino, the team's co-owner and chief executive officer. "I think that element of the game very much appeals to him. And he's a competitive guy. He wants to win. He wants to measure his success. When you put it all together, he's got more dimensions than most baseball owners."
As different as he may seem, Henry captures baseball's current era. A mathematical whiz who made a fortune as a pioneering trader of commodities futures, he's part of a wave of owners from the financial world that's sweeping professional sports. In baseball, this includes Tampa Bay Rays owner Stuart Sternberg, a former Goldman Sachs partner, and Milwaukee Brewers owner Mark Attanasio, founder of the investment firm Crescent Capital Group. All are keenly attuned to the statistical revolution that has upended the game and compete as vigorously against each other as anyone on Wall Street. Last year, Henry shut down his commodities trading firm to concentrate on his many other endeavors. In addition to the Globe (where I'm a contributor), he and his partners own the English Premier League soccer team Liverpool and a stake in Nascar's Roush Fenway Racing team. But just as his trading algorithms did, baseball has furnished him with the most spectacular payoffs.

Henry provides an especially good lens into how the game is changing and why the Red Sox appear poised for further success. It isn't just that financial types are applying their smarts to baseball, it's that baseball success has come to hinge less on signing expensive stars, as George Steinbrenner's Yankees once did, and much more on making smarter bets than the competition on which young players will emerge as the next stars. Winning in baseball is becoming a lot like winning in futures trading.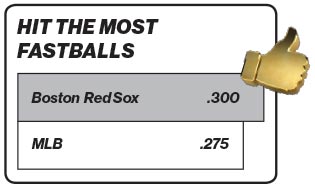 After the World Series last fall, the three principal owners and their wives jetted off to Northern California's wine country. In the off-season, "the troika," as they call themselves, travels to Europe, the Caribbean, or some other exotic locale. "The three of us often vacation together. That's how close we are," Henry says. "As it sunk in, I often stopped and said to Tom, 'Tom! We just won the World Series! Again!' "
The latest championship was especially satisfying because it came on the heels of "the Collapse," another anguishing bit of Red Sox lore, and one for which the troika was directly responsible. In 2010, the Red Sox started doling out long-term megacontracts to a series of star players: Josh Beckett (four years, $68 million), Carl Crawford (seven years, $142 million), and Adrian Gonzalez (seven years, $154 million), the latter of whom also cost the organization a bevy of top prospects.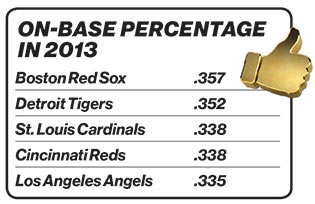 Rich with pricey talent, the 2011 team badly underperformed, maintaining a slim divisional lead through August before going into a tailspin. As the Sox came apart, word spread that Beckett and other pitchers were consuming beer and fried chicken in the clubhouse, an episode that came to symbolize a pampered team that alienated fans. On the last day of the regular season, the Red Sox blew a ninth-inning lead against the Baltimore Orioles and with it a shot at the playoffs.
Afterward, in baseball's equivalent of a bitter divorce, the team parted ways with Manager Terry Francona and General Manager Theo Epstein and brought in a new manager for 2012 in Bobby Valentine, who proceeded to antagonize everyone but the batboy en route to a last-place finish and a pink slip. The lone bright spot was a blockbuster trade that, as Henry has put it, "sent a quarter of a billion dollars of unhappiness packing"—Beckett, Crawford, and Gonzalez were shipped to the Los Angeles Dodgers for a pair of stud prospects and the chance to start over with a clean slate. For the Red Sox, this was a stroke of almost unimaginable good fortune. "If you make a mistake with a big contract, it can set your organization back 5 to 10 years," says Houston Astros General Manager Jeff Luhnow. "The Red Sox have done a masterful job of, I won't say making mistakes, but recovering from the issues they might have had, thanks to the Dodgers."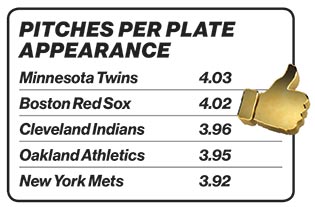 The Collapse left Red Sox Nation sullen and traumatized. Henry was repentant. "We had a certain discipline for the first five or six years that really paid big dividends, and we got away from that," he says. "We learned a lesson in ever-growing, long-term contracts with free agents."
As 2013 began, expectations were modest. Ben Cherington, the new general manager, says internal team projections had the Red Sox winning 85 to 90 games, rarely enough to earn a playoff spot in the American League. Many outside forecasts were worse. "People thought we'd taken a stupid pill," says co-owner Werner. Instead, the team won 97 games and added to its trophy collection.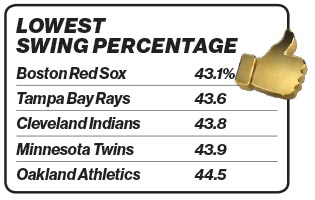 This owed a lot to a philosophical overhaul that Cherington says took place after the Dodgers trade and produced what were initially greeted as a series of odd decisions. Before the season, the Red Sox appeared to overpay a group of solid but unspectacular veterans who were signed to short-term deals—players such as Mike Napoli, Shane Victorino, and Stephen Drew. Sports radio callers suspected the front office of writing off the season as it waited for its younger talent to develop, an inexpiable sin in sports-crazed Boston. What was really happening, Cherington says, was a recommitment to a long-term strategy built on data, performance analysis, and finding hidden value. "In my conversations with John," he says, "he has always stressed that it's really hard to predict the future. He sees the game objectively. He was able to really look down deep into the engine and be impervious to all the pressure coming from outside."
Henry thought they had let emotion cloud their judgment. "We'd gotten into this cycle," says Cherington, "of retaining high-profile veteran players and trying to extend our success that way." It hadn't worked. Says Henry: "We went back to what had made us great for a very long time."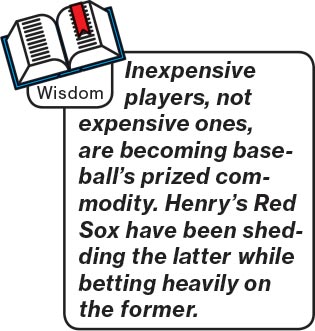 A Bloomberg Sports analysis of the Red Sox's 2013 season conducted for Bloomberg Businessweek sheds light on what lay behind the team's worst-to-first turnaround. In a nutshell: The Red Sox got on base more often than any other team in baseball, saw a ton of pitches, rarely swung, and crushed the balls they did swing at, especially fastballs. Napoli was all these tendencies rolled into one. The team's defensive efficiency also improved, thanks particularly to Victorino and Drew. All of this came together in the World Series, when the Red Sox wore down St. Louis Cardinals pitchers, led by Ortiz, who hit .688 and won Most Valuable Player honors. "David kept saying, 'They're throwing us fastballs. What do they expect to happen?' " Lucchino recalls with a laugh. "He couldn't understand it. But it's a function of plate discipline. You force guys to throw curveballs, you take a lot of pitches, they fall behind in the count, then they have to throw you fastballs."
The 2013 Red Sox were celebrated for their team chemistry, their beards, and the emotional bond they forged with the city in the wake of the marathon bombing. But it was an ability to ignore sentiment that paved the way for their success—an ability Henry's friends think is rooted in his investment career. "John is a brilliant businessman and strategist," says Werner. "One of the things that was interesting about his model as a commodities trader was that it protected you from emotion, so you would make decisions that made sense. Often in sports, you become attached to something emotionally."


 
 
Henry's parents were soybean farmers who moved from Illinois to Forrest City, Ark., soon after he was born in 1949. He grew up listening to Cardinals broadcasts and worshiping Stan Musial. However ardent a fan, Henry, thin and asthmatic, was not cut out to play baseball. As far back as Little League, his numerical prowess outshone his athletic ability: He discovered he could calculate batting averages and earned run averages in his head.
It took a while for these talents to blossom, because Henry's passion shifted to music, girls, and mysticism. After stints at four different California colleges studying philosophy and Jungian individuation, he dropped out to play bass in a prog-rock band called Elysian Fields that performed a rock opera about aliens from the constellation Cassiopeia. To support himself, he devised a card-counting system and earned money playing blackjack in Las Vegas. Life was pleasantly aimless.
Then, in 1975, Henry's father died. Suddenly, at 26, he was back in Arkansas and running a 1,000-acre farm. Farmers often guard against volatile crop prices by buying futures contracts to hedge risk. Henry began purchasing soybean and corn futures and soon realized he was more interested in futures trading than farming. As Seth Mnookin recounts in Feeding the Monster, his 2006 book on the Red Sox, Henry had an enormous tolerance for risk. After amassing soybean contracts on a hunch that prices would rise, then seeing them double, he sold to attend to a sick girlfriend—he was sure prices were going to climb higher. Instead, they collapsed. "It made me realize that trading by the seat of your pants probably wasn't the best idea," he says.
To rectify this, Henry embarked on a manic study of commodity price patterns, disappearing into the library for days at a time. "I did research all the way back to the 12th and 13th centuries, any market I could find," he says. With little more than a calculator and a scratch pad, he built a mathematical model to profit from futures trading. "John's insight was that he could make more money trading these instruments on speculative terms than he could by hedging crops," says Kenneth Webster, who later ran Henry's investment firm.
In the late 1970s, futures speculating was the arcane province of a small group of short-term traders who operated mainly on instinct. Henry's algorithms were built to identify long-term trades based on historical price patterns. This put him in the vanguard of an even smaller group of traders who pursued an investment strategy called trend following. Trend following developed in the '60s and '70s out of the efforts of Richard Donchian, who founded the first managed futures fund. Donchian thought price movements of stocks and commodities were often too optimistic or pessimistic because they reflected the emotions of the people trading them. Trend followers sought to profit from this insight, often using a runup in price as an entry signal: They'd buy when other traders got nervous and started bailing out, then wait for a breakout.

In 1981, Henry opened an investment firm, John W. Henry & Co., in a tiny office in Newport Beach, Calif. He quickly prospered. "John's system used an algorithm, not a gut feeling, so it eliminated the human emotion involved in buying and selling," says Webster. Even so, it demanded Spock-like stoicism. Trend following is highly volatile. When markets are flat, losses mount quickly. Most of Henry's trades lost money; his profits came from sporadic breakouts. Clients who couldn't take these gut-wrenching swings left him. "The worse something felt," he says, "the more certain I was that I was right. That's true in baseball, too. Fans usually won't like what turn out to be the best moves." At the time, Henry's whole philosophy cut against the reigning economic orthodoxy, efficient market theory, which rejected the idea that animal spirits influence price.
Henry built a fortune not only because his algorithms worked but also because he solicited large institutional clients, knowing that they could stomach the volatility and would view his iconoclasm as a hedge against other investments. His competitive streak also helped. One day in 1985, he lost 10 percent of clients' money when the dollar plunged, prompting a fund named Iroquois to ditch him for a rival. The fund later went bust, while Henry thrived and bought a 164-foot yacht that he named Iroquois.
By the '90s, Henry was a billionaire on the lookout for a new adventure. He used to kid his friends that one day he'd buy the St. Louis Cardinals. Now the notion of his buying a team wasn't a joke.
 
 
Henry first bought a small-market team, the Florida Marlins, in 1999, then traded up to buy the Red Sox with Werner, Lucchino, and others in 2002. His investing philosophy made him a natural adherent of sabermetrics, the movement toward statistical rigor that was then infiltrating baseball and about to become the subject of Michael Lewis's book Moneyball. Henry actually tried to hire Lewis's hero, Oakland Athletics General Manager Billy Beane, to run the Red Sox, only to have Beane change his mind and return to the A's.
Henry "stepped into baseball as a majority owner at a time when information and technology were just emerging and his data-driven, quantitative biases could be applied to a team," says Vince Gennaro, author of Diamond Dollars: The Economics of Winning in Baseball and president of the Society for American Baseball Research.
It was a serendipitous convergence. When Henry bought the Red Sox, the Yankees had just won three World Series in a row and baseball was in an existential crisis about whether rich teams were ruining the game. A blue-ribbon panel assembled by Commissioner Bud Selig found a "dramatic" correlation between money and winning and warned that the league risked irreparable damage if it didn't address the payroll disparity between teams.
That has turned out to be wrong, as the panel's lone skeptic, former Federal Reserve Chairman Paul Volcker, delights in pointing out. "Look at all the money the Yankees have been spending without much success," he says. "There's more to baseball competitiveness than money. The Red Sox are an example of how better management drawing upon advanced statistical methods will enhance success."
Like Red Sox fans, the team's owners style themselves as underdogs struggling against the blue-blooded Yankees. But Henry and his partners are sharks when it comes to generating new revenue. They've expanded Fenway Park, signed scores of sponsorship deals, and taken a majority stake in the New England Sports Network (NESN), one of the regional cable channels that have become cash cows for several Major League teams.
"When we came in the Yankees were spending extraordinary sums," Henry said during a panel discussion at the MIT Sloan Sports Analytics Conference in February, the Woodstock for baseball statheads. "What we determined we had to do in order to be competitive … was be extremely aggressive about revenues. Everything we did, whether it was with regard to Fenway Park, NESN, sponsorships, we were determined to leave no stone unturned to increase our revenue so we could go toe to toe with the Yankees."
Lucchino says the team has doubled its annual revenue since the current ownership group took over. According to Forbes magazine, it has also doubled the franchise value to $1.5 billion, although Lucchino scoffs at the notion of a sale: "The fun comes from winning. It doesn't come from counting your shekels."

Today, every team is hip to moneyball. The edge Beane's Oakland A's found in 2002—on-base percentage—is no longer underpriced (last year's OBP leader, Shin-Soo Choo, signed a $130 million contract with the Texas Rangers). But moneyball is really about exploiting inefficiencies, valuing what everybody else is undervaluing. Armed with new revenue, this is what the Red Sox have done, expanding overseas scouting, signing top international free agents, and paying exorbitant bonuses to draft picks that less-endowed teams couldn't afford. This produced the nucleus of World Series-winning teams, along with costly busts such as Daisuke Matsuzaka, the Japanese pitcher for whom the Red Sox shelled out $102 million in 2006. What sets the Sox apart from the A's is that they can afford to make such mistakes. They're playing moneyball on a $155 million budget.
But Selig's crusade to flatten payroll disparity has curbed or eliminated many of these gambits. The most recent collective bargaining agreement imposed a luxury tax to keep rich teams in check, capped bonus money for draft picks, and established rules that give every team an equal shot at signing international free agents. "There's no doubt it's gotten harder for teams like the Red Sox or Yankees to use financial might to dominate," says Cherington.
One of the papers presented at the Sloan conference attempts to quantify how all this is affecting the game. In "Can't Buy Much Love: Why Money Is Not Baseball's Most Valuable Currency," Martin Kleinbard arrives at a conclusion that mirrors Henry's own thoughts about where the true value lies in baseball today. Kleinbard finds a weak correlation between payroll disparity and winning, arguing instead that "youth dominance"—a team's reliance on younger, cheaper players not yet eligible for free agency—has become a much stronger predictor of success. "To me, the most important thing this study shows is that virtually all of the underpaid players are under 30 and virtually all the overpaid players are over 30," says Henry. "Yet teams continue to extravagantly overpay for players above the age of 30."
In other words, it's not expensive players, but inexpensive ones, who are becoming baseball's prized commodity. Henry's Red Sox have been shedding the former while betting heavily on the latter.
 
 
On the first day in February that spring training was open to the public, Red Sox fans streamed into JetBlue Park in Fort Myers. By noon, most had converged on the main practice field, where a chorus of ooohs and aaahs went up as Ortiz dropped a hailstorm of home runs onto the steel roof of the batting cages beyond the right field fence. At the same time, on a distant practice field, Cherington stood flanked by his top lieutenants intently watching a procession of young fireballers whom most fans had never heard of: Henry Owens, Rubby de la Rosa, Anthony Ranaudo, Matt Barnes, and Allen Webster.
These minor league pitchers factor prominently in a bet Henry and his colleagues have made that will determine the organization's future: that relying on young talent is the best way to extend their run of success. When the Red Sox arrived in camp, key members of the World Series team were missing, including the starting shortstop (Stephen Drew), catcher (Jarrod Saltalamacchia), and All-Star center fielder (Jacoby Ellsbury). Although the Sox had the financial wherewithal to retain them, the team let them go—in Ellsbury's case, to the Yankees on an eight-year, $153 million contract that was part of New York's $500 million free-agent spree.
To Henry, nothing illustrates the Red Sox's strategy better than the contrast with the Yankees. "It is a wildly different approach," he says. "We haven't participated in this latest feeding frenzy of bidding up stars." The Sox had planned to replace Ellsbury with another prospect, Jackie Bradley Jr., only to see him beaten out by Grady Sizemore, a veteran who lost the last two seasons to injury and had cost a mere $750,000 to sign.
Of course, there's no small risk in letting your star players walk, especially those as talented as Ellsbury. But free agents of his caliber are becoming exceedingly rare. That's partly because older players' performance has declined measurably, probably because fewer are using performance-enhancing drugs. But it's mostly because teams have recognized the economic benefits of locking up their best players long before they hit free agency, as the Los Angeles Angels did in March when they signed the best player in baseball, Mike Trout, to a $145 million extension that will keep him off the market until 2020. "There are fewer and fewer players getting to free agency, or even close, in their prime-age seasons," says Cherington. "The average age of a free agent has continued to increase. It used to be 30. It's now north of 32. That doesn't seem like a big difference, but it's actually a huge difference."
The scarcity of desirable free agents has sent the price of even middling players through the roof. "It's gotten harder to spend money intelligently," Henry concedes. This has shifted the premium in baseball toward drafting, developing, and extending future stars, which, since it can entail handing out multimillion-dollar extensions before players have fully proven themselves, adds a new dimension of risk. Henry says the Red Sox use as many as three "nonbaseball financial experts" to determine how much to spend on a particular player. Gennaro, the sabermetrician, is trying to adapt the Black-Scholes Option Pricing model to value aging stars. "All the things that traders do for a living, using information to predict the future and then understanding your risk tolerance, your appetite for risk, the variability of outcomes that could occur," says Astros General Manager Luhnow, "that's becoming commonplace in front offices today."
This is just the sort of mathematical and strategic puzzle Henry loves, although Cherington submits that ballplayers are harder to price accurately than anything Henry ever traded. "A sorghum bean can't pull its hamstring," he says. "It doesn't have agents or a family. When sorghum wakes up in the morning, it probably feels about the same every day. We're trying to predict performance in human beings, and human beings are difficult to predict."
The race for competitive advantage is pushing teams to explore new frontiers of sabermetrics, things such as pitch framing, player health, and defensive positioning. "Sometimes it's about moving a player on the field literally 2 feet," says Cherington. "So much of it now is data-driven." At the Sloan conference, Major League Baseball Advanced Media showed off a new binocular camera system that tracks everything from the speed and angle of a ball leaving a hitter's bat to the acceleration and route efficiency of the fielder chasing it down. "Baseball is a game of inches," says Joe Inzerillo, MLBAM's senior vice president for content technology. "We'll now be able to tell you how many inches."
 
 
Just before noon on April 1, Henry, Lucchino, and Werner strode out of the West Wing of the White House flanked by President Obama, who was in full-on Jock-in-Chief mode. He delivered congratulatory remarks on the World Series victory to a giddy crowd assembled on the South Lawn, accepted an honorary jersey, then shot that notorious selfie with Ortiz. Afterward, everyone jammed into the East Wing for a big party. Senators fawned over Ortiz as if he were a friendly billionaire with a super PAC. Spit-polished players grinned and mugged for cell phone shots in front of the official presidential portraits hanging on the walls. Everybody tweeted out pictures of themselves.
Henry, as usual, stood quietly off to the side, occasionally greeting people who recognized him and offered their congratulations. But mostly he looked as if his mind was already on the new season. "You can never rest," he said afterward. "You have to continually adapt to change." The thought seemed to excite him, and he added, "It wouldn't be fun to sit back, anyway."
Before it's here, it's on the Bloomberg Terminal.
LEARN MORE