pursuits
General Mills Explores Peas in Search of the Next Superfood
General Mills is on the hunt for the next big ingredient craze
By
General Mills Explores Peas in Search of the Next Superfood
General Mills is on the hunt for the next big ingredient craze
By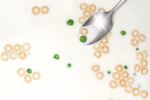 Deep inside the General Mills research lab in Golden Valley, Minn., food technician Faith Perry is busy mixing up the newest Lärabar energy bar. Tins arranged along one wall contain every conceivable ingredient you could squeeze into a snack, from rolled oats to marshmallows. But the one that will earn this latest Lärabar a new moniker on its label—ALT, for alternative protein—is thousands of years old: peas. Perry adds an undisclosed measure of yellow pea powder to a mound of nuts, dates, and brown rice syrup to complete a recipe that took the company's food scientists two years to concoct.
"We went through a lot of prototypes," says Perry as she flattens the mixture into a metal pan. Since proteins bind together and get harder, affecting a product's texture and shelf life, she says, "it was challenging to keep it simple. We used peas because they're nonallergenic and have a low impact on flavor."
After years of searching for new ways to peddle sugar, salt, and fat, companies in the $1 trillion food industry are on a crusade to create products featuring novel proteins. The idea is to capture health-conscious consumers whose distaste for conventional packaged foods has resulted in anemic growth for household staples such as Kellogg's cereals and Campbell's soups.
Identifying a food trend early can have a huge financial payoff. Sales of many products containing ingredients high in antioxidants, such as pomegranates and açái berries, are growing at three times the rate of the overall food industry. Probiotic yogurts, which contain microorganisms marketed as aiding digestion, have become a $30 billion a year supermarket category worldwide and will grow 50 percent, to $45 billion, by 2018, according to researcher Euromonitor International. And, depending on which researcher you believe, gluten-free products now account for $500 million to $10.5 billion in sales annually. "The bulk of the growth is often available in the early days," says Chris Brockman, an analyst at Mintel. "By the time the big players often get on board, the trend is already waning and offers less return."
That's one reason food companies are rushing to find the next hot source of proteins that can be rolled into new products or line extensions—often at higher prices. General Mills has turned toward an unlikely savior: pulses, a branch of the legume family that includes dried peas, beans, and lentils. They can give an item a health-food halo by supplying ample amounts of protein without the fat and cholesterol associated with animal products. Traditionally sold only in the health-food aisle, pulses have lately found their way into mainstream brands including Newman's Own pretzels, Barilla pasta, Post cereals, even Mondelēz International's Triscuit crackers.
Food companies say that's just the beginning. "Americans are gobbling up protein like it's their last days," says Kantha Shelke, principal at food science researcher Corvus Blue in Chicago. "Protein is the new black."
Food manufacturers like pulses because of their versatility. They come in a range of colors and sizes and can be eaten whole, ground into flours, or separated into their three main components: protein, fiber, and starch. They have more protein and fiber than wheat or rice, and provide B vitamins, iron, and zinc. They can help control blood pressure. And they're considered better for the environment, returning nitrogen to the soil as they grow, reducing the need for fertilizer, and requiring a fraction of the land and water of animal proteins.

Like many coveted ingredients, pulses are in short supply. Today, only a handful of companies worldwide have the facilities and technology needed to process large quantities of pea protein concentrates and flours. Last year supplies grew so tight that prices soared and orders couldn't be filled, according to industry consultant Henk Hoogenkamp, who has worked with proteins for 40 years.
"Ten years ago nobody was talking about pulses," says Gordon Bacon, chief executive officer of Pulse Canada, an industry association that represents growers and processors from the world's biggest pulse-exporting country. "The market now is very hot. We are introducing food companies to a new ingredient that's as old as time."
Pulses aren't perfect—the dense proteins can harden the texture of foods, as the General Mills researchers discovered with the Lärabar ALT, whose shelf life is about two months shorter than regular Lärabars. And digesting pulses is not always easy, sometimes leading to discomfort and flatulence. "Some people have a bunch of bacteria just waiting to digest this in ways that are not pleasant," says Peter Jones, director of the Richardson Center for Functional Foods and Nutraceuticals at the University of Manitoba in Winnipeg. "But you do improve your tolerance over time."

What swayed the General Mills scientists, who screened a half-dozen alternatives to soy and dairy before settling on yellow peas, was what pulses don't bring to the table: allergens or genetically modified organisms that make many consumers nervous.
With Lärabars, General Mills is targeting the growing number of consumers who avoid gluten and dairy, especially the three out of four adults who seek to add more protein to their diet but don't want more artery-clogging red meat. They're part of a growing sector called "free-from" food, which totaled $9.6 billion last year and will increase to $12.4 billion by 2018, according to Euromonitor. General Mills already caters to this crowd, having introduced GMO-free Cheerios in January. "Before, the only people who cared about things like gluten were the freaks on the periphery," says Heather Jones, an analyst at BB&T Capital Markets. "Mainstream people are paying a lot more attention to this now."
Food giants aren't the only players that want in on the action. Billionaires Bill Gates, Li Ka-shing, and Tom Steyer are helping fund Hampton Creek, a San Francisco startup using yellow pea proteins instead of eggs to make mayonnaise that's sold in Whole Foods, Safeway, and some Costco stores. Protein Bar, a fast-casual restaurant chain serving organic quinoa "bar-itos," recently got an investment from Catterton Partners, the private equity firm that backed Kettle Foods and Caribou Coffee. And cereal maker Post Holdings this month agreed to buy food processor Michael Foods for $2.45 billion to become a serious force in protein.
Because General Mills was early to recognize the potential of peas, the Betty Crocker owner has stocked up from suppliers such as Canada's Alliance Grain Traders, creating a shortage that's left rivals struggling to catch up. Roquette, a French company that makes pea-based ingredients, is doubling its production capacity and working with farmers outside Paris to increase their yields. Chinese suppliers are also filling the gap, but North American food companies are reluctant to buy from them because of food safety concerns, according to Hoogenkamp.
At General Mills, sales of the ALT, which comes in six flavors including lemon pound cake, have exceeded targets since its introduction last May. In January the company's Cascadian Farm brand introduced its own pea protein bar. Pulse-based cereals could be next, although General Mills won't disclose exactly what's in the pipeline.
Food companies also are experimenting with lesser-known ingredients—think hemp, quinoa, or chia seeds—to develop products that can be marketed as healthier. "We can clean up the [nutrition] labels of a whole bunch of products," says Murad Al-Katib, CEO of Alliance Grain Traders. "But our customers will not replace ingredients just for health. They need taste."
That's why pulse supplier Alliance has its own R&D center in Saskatoon, Sask., churning out product ideas to get its customers to buy more. On a recent morning, the lab's staff was taste-testing bread, pasta, snacks, pound cake, and a few marble-size meatballs. Some were made in the usual fashion, while others contained Alliance's PulsePlus V-6000 pea flour. The reformulated pasta tasted like the real thing. The bread and pound cake passed muster, too, and can be made more cheaply with peas than with wheat or eggs. But the meatballs, with 16 percent less meat and no bread crumbs, were dry, with a slightly odd aftertaste. "There are some mouth-feel issues," Mehmet Tulbek, the company's R&D chief, acknowledges. "But it has potential." Food companies are betting he's right.