E-Cigarettes to Fall Under FDA Review as Popularity Grows
Anna Edney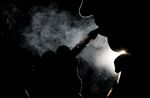 Makers of electronic cigarettes such as Lorillard Inc. and Altria Group Inc. will for the first time face regulatory oversight, including passing a review to stay on the market, under a U.S. plan that doesn't ban TV ads or flavored versions of the new products.
The Food and Drug Administration today proposed to extend its reach over the tobacco industry to include the $3 billion market for e-cigarettes such as NJOY and blu, as well as cigars. The rules, if made final, will prohibit sales to minors, ban free samples and require nicotine addiction warnings.
Consumer groups have said e-cigarette companies use candy flavors, TV ads and music festival sponsorships to target youth, who doubled their use of the products in 2012 from a year earlier. Agency officials called today's proposal a foundation that may lead to tighter control in the future.
"For the first time there will be a science-based, independent regulatory agency providing gatekeeping," Mitch Zeller, director of the FDA's Center for Tobacco Products, said in a briefing. "The regulator will finally be doing its job."
Industry representatives reacted positively to the proposal.
"This is not a sort of trenched-in, battlefield mentality," Miguel Martin, president of e-cigarette maker Logic, said in an interview. " We want to work with the FDA."
Martin and Jeff Holman, president and co-founder of Vapor Corp., were upbeat about the FDA's plan.
Enhance Reputation
"I didn't see anything in the proposal that would appear to prohibit growth," Holman said in an interview. "The things that have come out are things that are going to enhance public opinion of the product and continue to legitimize us and there's going to be a good comfort level now that the FDA has stepped in."
NJOY Chief Executive Officer Craig Weiss praised the proposal and said in a statement it's "a giant step closer to achieving its corporate mission of obsoleting cigarettes."
Meanwhile, U.S. Senator Richard Durbin, Democrat of Illinois and a vocal critic of the industry, called the FDA's proposal a "political compromise."
"Prohibiting sales to kids but doing nothing to protect children from candy flavored marketing in children's venues is an awful outcome," Durbin said in a statement. "Parents across America lost their best ally in protecting their kids from this insidious product."
Flavor Research
The FDA gained the authority in 2009 to regulate e-cigarettes and cigars. The latest plan, open to public comment for 75 days, would require e-cigarette and cigar manufacturers to give the agency ingredient lists as well. The rules also will apply to pipe tobacco and hookah tobacco.
The agency is assessing available research on flavors in e-cigarettes, FDA Commissioner Margaret Hamburg said.
U.S. Senator Tom Harkin, a Democrat from Iowa, called the agency's plan "an essential step forward" and urged it to include a ban against candy flavors in the final regulation.
"We're prepared for responsible regulation," Andries Verleur, chief executive officer and co-founder of Miami-based V2 Cigs, said in an interview before the proposal was made public. "Anything that would stifle innovation or accessibility we'll stand firmly against. I can say with certainty the electronic cigarette is not going anywhere."
While Verleur said regulatory review requirements "could have a massive impact financially," he favors prohibiting sales to those younger than 18.
'Positive' for Industry
Bonnie Herzog, an analyst with Wells Fargo & Co., said in a note to clients today the proposal isn't "as bad as feared" and is a "positive for the industry."
She anticipates it will take two years before the rules are final.
"We feel a sense of urgency" to finish the process and make the rule final, FDA's Hamburg said. "We are eager to move forward because we think this is a very important new proposal."
Most e-cigarettes deliver nicotine while leaving out the tars, arsenic and other chemicals common in tobacco products. The tubular devices, which produce an inhalable vapor to mimic smoking, were added at the end of last year to a New York ban on smoking in restaurants, bars, offices and parks. Chicago and Los Angeles followed with similar prohibitions.
Alternative Smokes
Graham Hubert, a 29-year-old set builder in New York, used traditional smokes for 10 years before switching to e-cigarettes. He views them as an alternative that may have fewer side effects.
"I'm concerned about the little bit, that we don't know much about the long-term side effects," Hubert said. "But I do know the long-term side effects of smoking, so I rather be smoking an e-cigarette."
He said e-cigarettes should be regulated similarly to regular cigarettes, especially in banning sales to minors.
"When you're a young person there should be a way to limit the amount of addiction you have," Hubert said. "I didn't smoke when I was a teenager. Why make something available to a kid that they don't need."
Cigarettes already must meet FDA review standards, maintain minimum age requirements and display warnings. Traditional smokes, though, are also banned from online sales, TV advertising, sponsorship and the use of flavors. Menthol is permitted while the ingredient is under FDA review.
Sales Boom
While companies such as Altria and Reynolds American Inc. have been under the FDA's authority since Congress gave the agency power over the $90 billion tobacco industry in 2009, e-cigarettes and cigars haven't been subject to the same oversight. The industry has flourished with U.S. sales tripling last year to $1.5 billion, according to Bloomberg Industries.
The law passed about five years ago "and a lot has happened on a lot of different tobacco products without any regulatory activity by the FDA," Gregg Haifley, associate director of federal relations with the American Cancer Society's Cancer Action Network, said before the proposal was released. "We're disappointed that it has taken this long."
Matthew Myers, president of the Campaign for Tobacco-Free Kids, echoed the sentiment on the delay and encouraged the FDA to make the regulations final within a year and move quickly to restrict advertising and ban flavors.
Vapor Corp.'s Holman said the lack of FDA action on advertising has allowed his Ft. Lauderdale, Florida-based company to consider targeted TV commercials.
TV Ads
"For a while we had to be guarded especially since we knew the regulations were coming out," Holman said. "We had trepidation about a television campaign that would be curtailed in the short term."
Industry sales may reach $5 billion in 2015, according to Bloomberg Industries, which had previously predicted $6 billion in sales but lowered the figure to reflect growing bans on where they can be smoked.
High sales potential has lured the traditional tobacco companies into the market, with Lorillard, the largest seller of menthol cigarettes in the U.S., buying blu eCigs in 2012 and Altria testing its MarkTen brand in certain regions last year.
Verleur of V2 Cigs said he anticipates the new regulation will push smaller companies that haven't invested in quality controls out of the market and lead to consolidation.
New products and those that want to stay on the market will be subject to FDA review, according to the proposal. New cigarettes that have gained FDA clearance have used a pathway that allows companies to compare them with products that were for sale before Feb. 15, 2007.
Clearance Process
E-cigarettes, an industry that only took off a few years ago, may not be able to identify products marketed before the date. Zeller said the comment period will help the agency determine if anything is comparable or whether e-cigarette makers might be put through a more arduous clearance process. Once the regulation is final, manufacturers will have two years to submit an application for FDA review and will be allowed to continue sales while the agency makes a determination.
The FDA also is asking for comment on whether premium cigars should be included in the agency's regulation, Zeller said. He wouldn't say when the proposal might become final.
Advocacy groups that fight cancer are concerned flavored e-cigarettes and cigars as well as stylish advertising is attracting children to use the products as a gateway to cigarettes, Haifley said in an interview. The share of U.S. students in middle school and high school who used e-cigarettes in 2012 doubled to 10 percent, according to the Centers for Disease Control and Prevention's National Youth Tobacco Survey released in September.
Influencing Teens
"It presents serious problems in the smoke-free context and it is potentially undercutting the whole social norm," Haifley said. "All the sudden having people behaving like they're smoking, what kind of social message does that send to kids?"
Executives at e-cigarette companies argue their products are aimed at current smokers as a cigarette alternative. Though most don't say the products can help traditional smokers quit -- which would require stricter FDA regulation as a drug product.
"The potential for removing combustion from the smoking process can have such an impact on public health and also the economics of public health because of the number of people who suffer from smoking complications," Verleur said.
Before it's here, it's on the Bloomberg Terminal.
LEARN MORE