pursuits
Small-Batch Gin Is Back, Minus the Bathtub
Tiny distillers seek to mimic the success of craft beers and whiskey
By and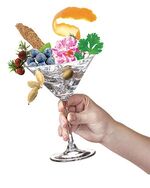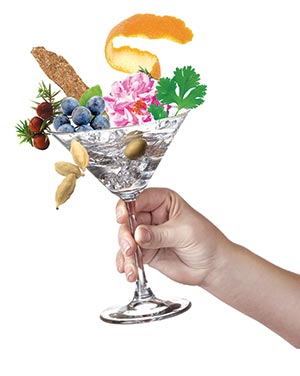 Standing on a quiet residential street in London's Chiswick neighborhood, there's little sign you're at the edge of a gin revolution. Behind a locked metal gate topped with barbed wire is a rundown parking garage. At the back of this building spirits maker Sipsmith has quietly installed a still it has christened Constance. Soon she'll be joined by the company's original pair, Prudence and Patience, as Sipsmith moves its home to this bigger site to produce brands such as V.J.O.P.—Very Junipery Over Proof gin—using the first new copper stills to work in London in more than 200 years.
"Gin has had a very peaky-trough kind of existence: It's come back and forward in fashion," Sipsmith co-founder Sam Galsworthy says. "Vodka came in through the '80s and '90s and gin was pretty uncool, a pretty dour spirit, and there wasn't a great deal of premiumization going on."
Craft distillers like Sipsmith, Hendrick's, and Sacred Spirits—produced in a north London living room—are changing all of that, inspiring even mass-market brands like Diageo's Gordon's gin to tweak their formulas. The domestic production revival brings the drink full circle from the 1700s, when a rash of homemade brews made it the favorite tipple of the city's poor and earned it the nickname "mother's ruin."
Sipsmith sells a London Dry Gin made with Chinese cassia bark, and Sloe Gin, a sweet red liqueur made from gin and a fruit that's a relative of the plum. The craft gin maker was founded in 2009 by a group of drinks industry veterans and is distilled by a former male underwear model. While Sipsmith's output is small—Galsworthy says it produces in a year what Diageo does in an hour—the impact that it and other upstart gin brands is having is anything but. "The resurgence of gin is upon us," says Spiros Malandrakis, an analyst at researcher Euromonitor International.
While gin's invention is often credited to a Dutch doctor in the 1600s, it rose to popularity in the U.K. in the first part of the following century as unregulated distillation boomed across London until the 1751 Gin Act. Gin flourished again in the 1800s as British officers in India mixed it with quinine to ward off malaria, creating the ubiquitous gin and tonic.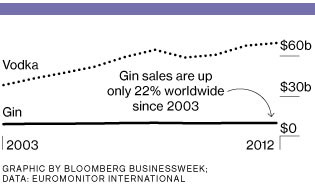 Upstart distillers have led to a 40 percent surge in superpremium gin sales in the U.K. in the five years through 2012, compared with a 1.1 percent increase for the drink overall, estimates researcher IWSR. "There's not a lot of gin that gets manufactured in London, so a couple of companies like us doing something traditional obviously touched a point in people's consciousness," says Sacred creator Ian Hart, who started his craft gin brand five years ago after leaving the finance industry.
Gin is always created from a juniper berry base and then distilled with a mix of ingredients such as citrus peel and coriander; newbies have won notice by experimenting with other botanical hints. Hart uses frankincense and cardamom for Sacred, while Hendrick's, in its trademark stout bottle, relies on cucumber and Bulgarian rose. "Brands at the top end have done a brilliant job bringing vibrancy to the category," says Ed Pilkington, Diageo's marketing and innovation director for western Europe.
Diageo's Gordon's, which retails at about half the £30 price of Sacred and Sipsmith, has about 46 percent of the U.K. market, according to IWSR. Yet sales have been declining or stagnant for a few years, Pilkington says. Sales of standard-priced gins rose 2.3 percent in 2012 while Gordon's edged up only 0.8 percent, according to IWSR.
So Gordon's is taking a leaf out of Diageo's vodka playbook. The brand started selling a version laced with elderflower this year, following 2013's cucumber-tinged variety. While smaller, pricier rivals create different tastes by incorporating botanicals during distillation, Diageo merely adds flavors to the spirit, a technique successfully used with its vodkas, from midmarket Smirnoff Vanilla to tony Cîroq Peach.
"We think flavor innovation is important, and within gin, untapped," Pilkington says. He predicts that as much as 15 percent of Gordon's volume in the U.K. could eventually come from the cucumber and elderflower variants, and hopes it will spur more interest in mainstream gins.
It's too soon to know whether adding elderflower will sweeten Gordon's sales, as the bottles just started landing in U.K. stores in February. Still, says Ian Shackleton, an analyst at Nomura Securities in London, the big success of fruity vodkas and whiskeys—even Beam's Jim Beam has a black cherry variety—gives hope. "If flavors can work for bourbon," he says, "they work for anything."
Before it's here, it's on the Bloomberg Terminal.
LEARN MORE