Coffee Crop Prayers for Rain Met With Threat of a Deluge
Marvin G. Perez and Mario Sergio Lima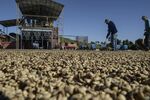 Brazil's drought made arabica coffee this year's best-performing commodity. Now, farmers are facing a downpour that is once more threatening crops.
An unprecedented three months with almost no moisture eroded crop prospects for the world's largest grower, signaling the first global shortages in five years, according to Marex Spectron, a brokerage. As farmers harvest the bulk of the crop from May through July, forecaster Somar Meteorologia predicts an El Nino weather pattern will drop enough moisture in the South American country to cause more damage.
Hugo Villas-Boas estimates trees on 400 acres he owns near Guaxupe, in the state of Minas Gerais, will yield as much as 30 percent less because of the dry spell. The 64-year-old farmer said mid-year rains will mean "worse losses." Prices that almost doubled this year to a 26-month high may surge 18 percent further by the end of December to $2.54 a pound, a Bloomberg survey of 19 analysts showed, boosting costs for buyers including Nestle SA.
"Given the weather challenges, we will see a bullish-price movement for a while longer," said Paul Christopher, the St. Louis-based chief international strategist at Wells Fargo Advisors, which manages $1.4 trillion.
Arabica coffee has surged 94 percent this year to $2.148 on ICE Futures U.S. in New York, the most among 24 commodities tracked by the Standard & Poor's GSCI Spot Index, which gained 4.6 percent. The MSCI All-Country World index of equities rose 1.1 percent since the end of December, while the Bloomberg Treasury Bond Index gained 2.2 percent.
Fewer Beans
The harvest in Brazil, which accounts for more than a third of world output, will drop more than expected in the 2014-2015 season to 49 million bags, "with the risk towards a lower number," London-based Marex Spectron said in an April 10 report, down from a January forecast of 55 million and last year's crop of 53.3 million.
That decline will leave global production 7.1 million bags below demand, Marex Spectron said. That would be the biggest deficit since the 2009-2010 season, U.S. Department of Agriculture data show. Volcafe, a unit of commodity trader ED&F Man Holdings Ltd., said in an April 22 report that Brazil will collect 45.5 million bags, leaving the output gap even bigger, at 11 million bags. Each bag weighs 60 kilograms, or 132 pounds.
"Nobody is absolutely sure about how big the deficit will be this year," said Rodrigo Costa, the director of the coffee desk at Newedge Group in New York. "The supply outlook definitely looks tighter than it seemed three months ago. The situation has deteriorated."
El Nino Rains
Odds are increasing for an El Nino, which would bring unusually heavy rain to South America in the middle of the year without continuing through Brazil's summer, Sao Paulo-based Somar Meteorologia said. Storms during the harvest mean more beans fall from trees prematurely and the quality of those picked can suffer.
The chances of an El Nino have increased to 65 percent from 52 percent, the U.S. Climate Prediction Center said on April 10. Gaithersburg, Maryland-based MDA Weather Services put the chances at 70 percent by June, and that heavy rains arriving in some areas of Brazil by September will erode the quality of next year's harvest.
The weather pattern "would skew risk to our soft-commodity price forecasts to the upside," including coffee, sugar, cocoa and oranges grown in Brazil, Goldman Sachs Group Inc. said in a report dated April 13.
"The last thing we want now in the harvest is rain," said Mauricio Miarelli, a 60-year-old grower from Campos Gerais, in southern Minas Gerais, where some of his beans already are only good for making instant coffee. "If we get El Nino and rain, the quality and output will drop significantly."
Previous Surplus
While output is declining, stockpiles have been bolstered by four years of surplus global production, USDA data show. Farmers expanded harvests to take advantage of prices that reached a 14-year high of $3.089 in May 2011. Colombia, the second-biggest grower of arabicas, may harvest the most since 2007, a farmer group said.
"There's still plenty of old-crop supplies," said Boyd Cruel, senior commodity analyst for Vision Financial Markets LLC in Chicago. "We could see more producer selling, which could limit the gains going forward."
The cumulative surpluses of the past two seasons equaled 9.65 million bags, exceeding this year's expected deficit, according to Marex Spectron. Prices tumbled 54 percent in the three years through December, before rallying in 2014.
El Nino forecasts at this time of year aren't always accurate, Goldman Sachs said in its report. Even if the pattern emerges as predicted, the weather impact can vary.
Bullish Bets
Money managers are betting prices will keep rising, with a net-long position of 38,143 futures and options contracts as of April 15, more than double the holding of two months earlier, U.S. Commodity Futures Trading Commission data show. Speculators turned bullish in early February, ending 18 straight months of bearish bets.
While inventories are sufficient now, the rally is being fueled by concern the drought damage will last longer than this year, with further losses in the 2015-2016 crop cycle, Marex Spectron said. The dry spell from December to March stunted the growth of branches this year as much as beans, which will prevent trees from rebounding with bigger harvests next year, which is the norm after a drought, the broker said.
"Even under the most-optimistic scenario for the 2015-16 Brazil crop, we expect a second consecutive coffee-market deficit," Volcafe said.
Arabica-Robusta
Most of the damage is to arabica crops, which account for 57 percent of global supply in the most-recent season and produce the premium beans favored by coffee-house chain Starbucks Corp. Volcafe estimated the arabica harvest in Brazil will shrink 18 percent to 28.4 million bags, down from a January forecast of 34.6 million. Lower-grade robusta beans used in instant coffee were unaffected.
In 2011, when frost damage in Brazil sent arabica coffee to a 14-year high, many roasters added cheaper robusta to their blends to limit the increase in bean costs. Switching this time may be more expensive. Robusta futures on NYSE Liffe in London are up 29 percent this year to $2,166 a metric ton, and inventories monitored by the exchange are the smallest since at least 2002.
Robusta futures dropped today to a discount of $1.1655 a pound to arabica, the most in 22 months, which "incentivizes the roasting industry to use as much robusta as they can, which may well create tightness in robusta supply later in the year," said Steve Pollard, a broker at Marex Spectron.
Retail Prices
The increased cost of wholesale beans may mean higher prices for consumers, who show few signs of cutting back on purchases. While Seattle-based Starbucks said last month the company has all the coffee it needs this year and about 40 percent for 2015, leaving it in no hurry to raise prices, retailers have historically passed along higher costs.
"With commodities going up in the second half, we do expect some pricing pickup for the balance of the year," Wan Ling Martello, the chief financial officer at Vevey-, Switzerland-based Nestle, maker of Nespresso coffee, said in an April 15 earnings call. In Europe, "we should expect some ability to price, especially with commodity price increases in categories like coffee," he said.
J.M. Smucker Co., maker of Folgers, the best-selling U.S. brand, said on Feb. 14 that it had favorable costs for coffee purchases this year. Since then, arabica futures are up 50 percent. In an e-mail, the Orville, Ohio-based company declined to comment on possible price changes, as did Northfield, Illinois-based Kraft Foods Group Inc., maker of No. 2 brand Maxwell House.
Weather Prayers
In Brazil, farmers who were praying for rain earlier this year are now hoping the weather remains dry.
"The price spike is not going to be enough to help growers that lost output," said Carlos Alberto Paulino da Costa, head of Cooperativa Regional de Cafeicultores em Guaxupe Ltda., known as Cooxupe, which is Brazil's biggest coffee-grower cooperative. "If we get rain in May, June and July, the losses could be worse."
Villas-Boas, the Guaxupe farmer, said he is hoping to get 3,000 bags of coffee from his trees, compared with the 4,000 he expected before the drought.
"We can only tell for sure the magnitude of losses after harvest," said Miarelli, the Campos Gerais grower. "But it is going to be huge."
Before it's here, it's on the Bloomberg Terminal.
LEARN MORE