Crimea? Pshaw. CEOs Want to Party With Putin
A big conference lures executives despite calls to isolate Russia
By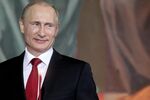 Update: Citigroup CEO Michael Corbat will not travel to the conference, spokesman Mark Costiglio said in an e-mail sent after this story was first published. Other Citi employees will attend in his stead.
"From the start, the United States has mobilized the international community in support of Ukraine to isolate Russia for its actions," President Obama said on March 17, as he announced new sanctions against Russia for sending troops into Crimea. Putin's aggression, he said, "will achieve nothing except to further isolate Russia and diminish its place in the world." Top executives at Goldman Sachs, Citigroup, Morgan Stanley, Visa, PepsiCo, Alcoa, and other corporations may not go along with the president's shaming technique. Their chief executive officers are slated to attend the St. Petersburg International Economic Forum in May, an annual confab of economists, business figures, and policymakers that's illustrating how the gears of commerce keep turning even as diplomacy seizes up.
Two months after Russian forces entered Crimea, triggering a regional crisis and rebukes from the international community, Boston Consulting Group says it plans to send nine employees to the conference. "In the current volatile environment, it is especially important to keep the dialogue going on key economic and business topics," Jan Dirk Waiboer, head of BCG's Moscow office, said through a spokesman. Caterpillar is dispatching three executives "to understand better the current economic environment," says spokeswoman Molly Donahue. Boeing will send its American and Russian division presidents, "but we continue to watch developments closely to determine what impact, if any, there may be to our ongoing business," says spokesman John Dern.
Take Davos, subtract skiing and celebrities, add state-controlled businesses and the looming presence of Russian President Vladimir Putin, and you've got SPIEF, a three-day affair held in his hometown each spring. The 2013 event drew 6,035 attendees from 81 countries for speeches, panels, hobnobbing, and dealmaking. The conference, hosted by Putin, claims contracts worth $294 billion were signed last year.

For a geopolitically unstable country with 6.9 percent inflation and endemic corruption, Russia remains impossible to ignore as a market because it's the world's eighth-largest economy. That puts Western multinationals in a bind. Attend the conference and irritate the foreign policy establishment; skip it and risk missing out on investments, angering local partners, and disrupting earnings.
PepsiCo is among those that dare not miss the party. Russia is its second-largest market, generating $5 billion in revenue last year. Pepsi didn't just attend the 2013 St. Petersburg forum; it supplied 30,000 Pepsi drinks and ran the PepsiCo Café, serving dishes like granulated cottage cheese made with Russian yogurt brand Chudo. CEO Indra Nooyi is expected to attend this year. The company declined to say whether the café would be back.
From Wall Street, Goldman's Lloyd Blankfein, Citi's Michael Corbat, Morgan Stanley's James Gorman, and Visa's Charlie Scharf are included on a list of "confirmed participants," dated April 18, on the SPIEF website. A Goldman spokesman said the bank has "not yet determined who will represent the firm at the event." Citi and Visa didn't respond to requests for comment prior to publication; Morgan Stanley declined to comment.
The conference's resilience in the face of withering criticism for Putin's regime shows how limited the options are for the Obama administration's response to the annexation of Crimea. White House Press Secretary Jay Carney, asked by reporters on April 22 about the conference and the administration's outreach to the business community, said he wasn't aware of the gathering.
Companies still have time to gauge the political currents—and watch for further Russian military moves—before the forum begins on May 22. "I expect that many of these firms will wait until the last possible moment to decide," says Cam Harvey, a professor of international business at Duke University's Fuqua School of Business. "If there is any 'give' from Russia, they will go. If there is another 'adventure,' this time into Eastern Ukraine, they will cancel."
The Treasury Department declined to comment on the record. An official there said, via e-mail, that the government would not participate in the forum, and that private companies would have to make their own decisions about whether to attend.
The conference provides Putin a high-profile platform and global stature that he relishes—and that the White House wants to deny him. At the 2013 event, he delivered a sweeping speech, held bilateral talks with Germany's Angela Merkel, and took the opportunity to address an international uproar over allegations that he had grabbed something that wasn't his: a Super Bowl ring belonging to New England Patriots owner Robert Kraft, who said Putin pocketed it.
With audible sarcasm, Putin said he didn't recall the episode. "But if it is such a big treasure for Mr. Kraft and the team," he said, "I have a suggestion." He would ask Russian jewelers to create a superior piece to replace it. "I think this will be the most intelligent solution to such a complex international problem."
— With assistance by Laura Chapman, and Evan Applegate
BOTTOM LINE -
The bottom line: U.S. companies looking to strike deals in the world's eighth-largest economy are flocking to Russia's Davos.
Before it's here, it's on the Bloomberg Terminal.
LEARN MORE