Stock Trader Abandons Congress for BJP as Modi Spurs Sensex Gain
Rajhkumar K Shaaw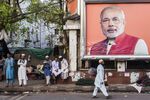 India's Congress party is claiming credit for a stock-market rally that sent the S&P BSE Sensex index to record highs. Much of the evidence suggests the real catalyst is Narendra Modi, the leader of the opposition party projected to win the national elections.
The Sensex has advanced 16 percent since Sept. 13, when the Bharatiya Janata Party named Modi as its prime minister candidate, the only advance among equity indexes in the four largest emerging markets. A gauge of companies based in Modi's home state of Gujarat, including Adani Enterprises Ltd., has more than doubled in the period.
"The stock market rally is due to Modi," said Mahendra Chheda, a 52-year-old who trades shares for a living from the suburbs of Mumbai and has doubled his allocation to the market in the past six months. "The BJP will get credit and goodwill from it," said Chheda, who plans to vote for the BJP today after siding with Congress in 2009.
While Finance Minister P. Chidambaram points to Congress measures since September 2012 that pared the budget shortfall, narrowed the current-account deficit and removed barriers to foreign capital, investors say those efforts have been eclipsed by expectations that a Modi-led government would do even more to boost economic growth. The BJP said this month it plans to construct 100 new cities, build high-speed railway lines and a national fiber-optic network.
General elections began on April 7 and votes will be counted on May 16. People in Mumbai, India's financial capital, cast their ballots today.
'Bull Market'
Brokerages including Macquarie Group Ltd. and Deutsche Equities India predicted further gains for the Sensex in a Bloomberg survey this month. Rakesh Arora, head of research at Macquarie in Mumbai and the most accurate forecaster for the stock gauge in 2013, said his year-end Sensex target of 23,900 may "prove conservative" if Modi comes to power next month. The gauge climbed to a record 22,876.54 yesterday.
Global investors bought $4.9 billion of Indian shares this year, the second-most after Taiwan among 18 nations tracked by Bloomberg. Stocks are in a "massive bull market" and a strong government will boost the rally's "intensity," B.P. Singh, chief investor officer for equities at Pramerica Asset Managers Pvt. in Mumbai, said in an April 16 interview.
The BJP and its allies may win 275 of 543 parliamentary seats, three more than they need for a majority, according to a Hansa Research survey for the NDTV channel released April 14. The Congress looks set for its worst-ever performance as graft cases, Asia's fastest inflation and sputtering economic growth erode support.
Volatility Climbs
Demand for protection against swings in shares is still climbing as some investors weigh prospects for a surprise outcome. The India VIX, which gauges the cost of options on the 50-stock CNX Nifty Index, rose to 34.4 on April 21, the highest level since October 2011.
Opinion polls have had a poor record forecasting election outcomes in India. The Congress party won in 2004, even after surveys predicted the BJP would keep power. In 2009, after polls forecast a close fight, Congress emerged with the largest tally in 20 years, lifting the Sensex by a record 17 percent.
"The results can throw a surprise, and no one wants to be caught on the wrong side," R.K. Gupta, managing director of Taurus Asset Management Co., which oversees about $585 million, said by phone from New Delhi on April 16.
Investors are betting a win by Modi will allow him to fast-track public works projects, an ability that's helped the state of Gujarat expand 10 percent a year on average since he took office in 2001. Modi's focus on how he will revive growth has helped neutralize criticism over his handling of 2002 riots in the state that killed about 1,000 people, mostly Muslims.
Adani Rally
Gujarat lured 1.3 trillion rupees ($22 billion) of planned foreign and local investment, about 22 percent of India's total, in the year ended March 31, 2012, according to the most recent industry ministry data. That compares with 103 billion rupees in 2002, when Gujarat took 11 percent of the country's investment, the data show.
Shares of Adani Enterprises, which operates the state's biggest private port, have had a 52-fold increase since 2002, gaining about nine times more than the Sensex.
"This rally will continue if a government led by Modi, as opinion polls show, comes to power," Shishir Bajpai, a Mumbai-based director at IIFL Wealth Management Ltd. with $8 billion under management and advisory, said in a phone interview on April 22. "Over the past five years India has suffered due to poor execution of infrastructure projects. If Modi is able to revive that, then the economy will be back on the growth path. Execution is the key."
Construction Approvals
Projects worth $230 billion are awaiting clearance as lawmaking stalled in the Congress-led coalition, data from the Cabinet Committee on Investment show. A $12 billion steel mill planned by South Korea's Posco has been held up for nine years.
Prime Minister Manmohan Singh's government is claiming success for stemming last year's rout in the rupee and pushing foreign reserves higher, helped by Raghuram Rajan's stewardship of the central bank. Since Rajan became governor in September, the currency has been a world beater and holdings have climbed back above $300 billion.
The Congress party must get "some credit for bringing back the economy when other emerging markets are facing problems," Telecommunications Minister Kapil Sibal said in an interview on April 21. D.S. Malik, a spokesman for the Finance Ministry, declined to comment.
Rajan, who spurred dollar inflows by offering discount currency swaps to banks and reining in inflation, said April 11 that Asia's third-largest economy is now prepared for potential fallout should the Federal Reserve raise rates in the coming year. The rupee has rallied 13 percent from a record low of
68.845 per dollar in August, the biggest gain among 78 global exchange rates tracked by Bloomberg.
"This government can't take credit for the last few months' recovery, unless they also take credit for bringing it down," Ajit Dayal, chairman of Mumbai-based Quantum Asset Management Ltd., said in an interview on April 1.
Before it's here, it's on the Bloomberg Terminal.
LEARN MORE