Ross School of Business Wants A 200-Year-Old Oak to Make Like a Tree and Leave
By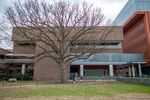 Business schools spare little expense to make their campuses sparkle for alumni, recruiters, and prospective students. For the University of Michigan's Ross School of Business, that means spending $300,000 to uproot a 65-foot-tall tree and transplant it across the business school campus.
The university plans to move the 200-year-old bur oak to make room for a $135 million expansion funded in large part by real estate developer Stephen Ross, after whom the business school is named. Plans for the project, approved last week by the university's Board of Regents, call for the demolition of an executive education building located alongside the oak.
That sounds like child's play compared with the process of moving the tree from its current location to a spot in front of Ross's main building. The transplant will involve "exploratory digging," "root pruning," and "supplemental watering and fertilization," according to a press release from the university. "There are no guarantees when moving trees of this age and size, but experts have cited several examples where this has been done successfully," says university planner Sue Gott in the release.
Why is the university spending so much money tending to Ross's roots? The website MLive.com says that the university tore down a 300-year-old tree for a previous business school construction project, angering students and faculty. Taking time to explain the transplant procedure may nip another wave of outrage in the bud.
Before it's here, it's on the Bloomberg Terminal.
LEARN MORE