Xi's Corruption Crackdown Hits China's Restaurants
By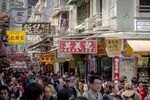 Dirty officials aren't the only ones getting slammed as Xi Jinping continues his crackdown on corruption and waste. China's restaurant industry grew 9 percent, to 2.56 trillion yuan ($411 billion), last year, its slowest growth in more than two decades, according to a report released by the China Cuisine Association on April 19.
Restaurants, particularly the pricier ones, have long been popular venues for China's bureaucrats and the businessmen wanting to curry favor with them. "This is a sign that the central government's antigraft campaign against waste and extravagance has been well implemented," said Feng Enyuan, deputy chairman of the CCA, reported the China Daily on April 21.
Midrange and high-end restaurants have been particularly hard hit, according to the association. China Chuanjude Group, the 150-year-old state-owned roast duck chain, saw its revenue fall 2.13 percent, to 1.9 billion yuan, while net profit dropped 27.6 percent last year, to 110 million yuan. In response, the chain has tried to lure more families and friends, in part by adding more affordable dishes to its menu.
"Quanjude has experienced business vicissitudes and survived the arduous ordeal of time. Throughout the years, Quanjude dishes have been greatly enriched due to developing and innovation," the restaurant notes on its English language website.
The slump in restaurant business comes amid a broader campaign to reduce the so-called three public consumptions among China's civil servants: overseas work trips, government-use of vehicles, and official receptions. The central government will spend a total of 7.151 billion yuan this year on those three areas, down 10.3 percent from last year's budget, the finance ministry announced last month, Xinhua reported.
Before it's here, it's on the Bloomberg Terminal.
LEARN MORE