Skechers Won the Boston Marathon. But Why Was It Even in the Race?
By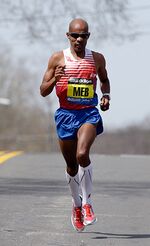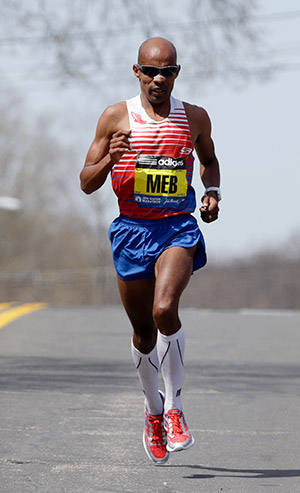 Meb Keflezighi was a bit of a long shot in today's Boston Marathon today. He's American, for starters, and American men haven't won the race in three decades. He's also 38, a bit old for elite running. And he was wearing Skechers.
But the shoe brand perhaps best known for putting cushy kicks on elderly women (and a creaky Joe Montana) has emphatically stomped on one of the running world's biggest podiums with Keflezighi's victory in Boston. "It's a pretty massive deal for a nontraditional running shoe company," said Eric Smallwood, senior vice president of Front Row, a Philadelphia marketing and analytics company focused on sports. "It's definitely going to get new adopters, the 30-year-old to 40-year-old who just started running."
Make no mistake, Keflezighi wasn't striding out in the Synergy Sunday Stroll ($65). He was shod in the latest from the Skechers burgeoning high-performance platform, a line dubbed GoRun. And it wasn't the elite marathoner's first win in Skechers. The company first signed Keflezighi in late 2011 and recently extended his sponsorship deal through 2016. His initial deal paid "mid-six figures" per year, according to a report in the Wall Street Journal.
Skechers has already signed a multiyear deal to sponsor the Houston Marathon. But today's event in Boston, colored by last year's tragic bombing, will go down as one of the highest-profile road races in recent history. It was a huge coup for Keflezighi after he finished 20th at last year's New York Marathon.
Why Skechers made the marathon effort is another question. Beating Nike and Adidas in the race for athletes is no small feat, and even Under Armour is in the sneaker game now. Maybe it helps that elite runners come cheap. Even in six-figure territory, sponsoring an athlete such as Keflezighi is a bargain compared with sponsoring LeBron James or Russell Wilson. Four out of five elite runners in the U.S. make less than $50,000 a year at the sport, according to a survey by the U.S. Track & Field Foundation.
Meanwhile, the market for running shoes is huge. Consider how many people you know who go on an occasional jog vs. the number who play football or baseball. U.S. marathons racked up a record 541,000 finishers last year, according to Running USA, an industry trade group.
Runners also tend to be relatively sticky customers. If they find a brand they like, they will stick with it. For those who log a lot of miles, that means three or four shoe sales a year. "If you're a runner and you get a PR [personal record] in a new pair of shoes, you're sticking with those," Smallwood explained.
But are Skechers' serious sneakers any good? Smallwood's take: "They win marathons don't they?"
Before it's here, it's on the Bloomberg Terminal.
LEARN MORE