pursuits
How Business Schools Create Irresponsible Leaders
Bhaskar Chakravorti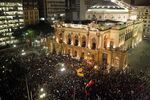 Most business schools have spent the past decade making their programs global in scope, which tends to mean sending students to foreign lands for immersion programs. The model they're using, however, creates leaders that are dangerously out of touch with the context in which they're running businesses.
That's because international field trips and contact with global chief executive officers cannot alone give students an understanding of the social and political issues unique to every market.
The past year put forth an historic turning point for the global economy: Emerging nations are expected to have contributed more to the world's gross domestic product (in purchasing power parity terms) than developed nations did, according to IMF estimates.
As emerging economies boomed, burgeoning middle classes in many of these countries were expected to flock to newly built stores. Instead, they often took to the streets in protest:
• More than a million marched in São Paulo against rising bus fares and money being spent on preparations for the World Cup.
• Gezi Park in Istanbul exploded in revolt against plans to build a new shopping mall.
• In New Delhi, voters took to the streets and rallied around a grass roots political movement that promised access to such basics as electricity, water, and corruption-free governance over broad promises from established politicians to focus on economic growth and foreign investment.
As the much-vaunted emerging-market growth slowed to a crawl, global business leaders groomed by B-schools weren't prepared.
Business schools have failed to teach an understanding of the forces that cause such unrest: the political framework, legislative environment, security issues and historical considerations that are specific to each country, as well as the widening gap between rich and poor that plagues many economies.
Consider, for example, three common tenets that underpin business education. By simply applying lessons from the past year, business schools could better prepare future generations for international commerce.
1) Focus
One of the first things we drill into business students is the importance of focus. Business strategy is about making choices—where to play and how to win; marketing is about targeting the most attractive market segments; finance involves allocating scarce resources to projects with the highest return on investment, and so on.
That worked fine from 2000 to 2012, when emerging markets grew by nearly 6 percent a year on average, while the U.S. grew at an average of 2 percent. But growth in emerging economies was concentrated in certain sectors. In some countries the focus was on natural resources extraction, infrastructure development focused on selective urban areas, or consumer products and electronics targeted at the emerging middle class—all benefiting a lucky few. With better access to information and more people jammed into cities, where the poor and excluded live cheek-by-jowl with the newly rich, this economic divide proved explosive. In 2013, protests erupted not only in such troubled cities as Cairo or Kiev but also in places like Istanbul and São Paulo that were celebrating  dizzyingly speedy rises.
The lesson: Strike a balance between attractive markets and those segments that would normally be excluded in accordance with traditional metrics. Consider, for example, identifying innovative ways of offering credit and other financial services to the un-banked populace in areas beyond the largest cities, or providing computing technologies to children in rural schools.
These markets would appear unattractive at first glance—or even second glance. Yet they are segments that will be important to serve because they represent prime opportunities for future growth. As incomes rise, their profitability will improve as well.
And take some classes on political risk. Understand how local social and political unrest could disrupt even the most meticulous business plans.
2) Bargaining Power
A further staple of most (if not all) business schools is some variant of Michael Porter's Five Forces model, whereby the attractiveness of a market should be guided by a search for superior bargaining power. Translation: Attractive markets are the ones with an overabundance of local competition eager to keep labor and product costs low.
What happens when that strategy contributes to a horrible disaster a world away? The Rana Plaza building collapse that killed over 1,300 Bangladeshi workers in 2013 exposed the danger of relying blindly on this concept. The Bangladesh-based suppliers to the major garment brands and retailers of the world had very little negotiating power, which has made that productive market attractive. Unfortunately, this approach creates incentives to run factories with unsafe and inhumane conditions. Worst of all, Rana Plaza was not an isolated incident.
The lesson: Ban classes in "responsible" business conduct. In fact, stop discussing and teaching "responsible" business conduct as if it's a special case outside the norm. Drop the qualifier "responsible" and make it clear to our impressionable MBAs that all business conduct should follow ethical and sustainable principles. At the very least, highlight case studies of companies in which these principles are part of the corporate DNA.
3) Convergence
A term you'll hear often in business school is global "convergence," suggesting that  emerging nations will eventually catch up with advanced countries; executives can therefore adopt global management principles, with—at most—a few local tweaks.
Perhaps, one day. The reality in recent years has been that the economies of the advanced nations have begun to stabilize while the emerging nations have taken to flailing. Emerging nations have benefited from unbalanced growth in a few sectors: some rely overly much on commodity exports, some on state-led investments; others have weak manufacturing and wobbly infrastructure. Moreover, most have poor records when it comes to good corporate governance, intellectual property protection, and the steady improvement in the standard of living of all citizens.
The lesson: If you look at surface statistics, it's easy to paint optimistic pictures of most markets. The study of globalization must dig beneath superficial metrics such as overall growth rates to understand the specific factors driving the local economy. Only that way will you be able to provide a substantive view of what is really going on—and adjust your strategy accordingly.
Nor should you skip those classes in macroeconomics and international finance. Rather, business schools should make it mandatory that MBAs interested in international studies take courses in politics, history, security, and humanitarian studies so they can develop an overall appreciation for the varied causes of market failure around the world.
It is critical that business education stress contextual awareness, without which it is impossible to be a global manager who is truly globally aware. If there is any lesson to carry away from the academic year that is coming to a close, it is that local issues—political, social, and economic—can derail even the most elegant strategy.
Before it's here, it's on the Bloomberg Terminal.
LEARN MORE