A Push to Clean Up the Logistics Industry
New rules make it harder for brokers to cheat truckers
by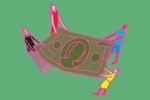 Jim Kienbaum hauls produce from California for a five-store chain of high-end grocery stores in the Midwest. Like many truckers, he has horror stories about freight brokers, who act as middlemen between carriers and companies that need goods moved. One broker filed for bankruptcy before Kienbaum could collect $1,500 due him. Another's $40,000 in checks to Kienbaum bounced. "I got really nervous because I have a truck and a family," says Kienbaum, whose Stepping West is a single-rig operation based in Whitewater, Wis. "I had hauled for him forever, but he got a divorce and started drinking and gambling, and things just went downhill." After weeks of hounding, Kienbaum finally got paid, but many other truckers didn't. "One guy got burned for $18,000," he recalls.
Tales of unscrupulous brokers who take payments from shippers and then don't pay drivers for months, or at all, abound in the $160 billion third-party logistics industry. "A normal business would turn around and pay the guy, but they float the money and pay obligations out of future revenues," says Joe Rajkovacz, director of governmental affairs for the California Construction Trucking Association, an Upland (Calif.)-based trade group with 1,200 members. That leaves truckers scrambling to cover fuel and maintenance costs, often with high-interest cash advances. Hauling companies are particularly vulnerable, because 97.2 percent of them own and operate 20 or fewer vehicles, according to the Transportation Intermediaries Association (TIA), a 1,400-member trade group in Alexandria, Va., that represents brokers.
Truckers and industry representatives say the problems stem from the deregulation of U.S. transportation more than three decades ago. A 1980 law made it easy to become a broker. The only major financial requirement was to post a $10,000 bond—insurance to make sure truckers got paid. Haulers owed small amounts could file claims and expect to get their money, but those stiffed for more than a few hundred dollars would often have to eat their losses if the bond was exhausted. "Truckers don't even think of turning something over to collections," Rajkovacz says. "Most of them are like Timex—they take their licks and keep on ticking."
To curb abuses, a 2012 federal transportation law included a provision that raised the size of the bond that brokers must post to $75,000 annually. The rule, which took effect last December, was the product of a rare collaboration between rival industry groups and lawmakers. "This was the old way Washington used to work, in which adults sit down at the table and bring a package to Congress," says Robert Voltmann, chief executive officer of TIA. A few years ago his group pushed to do away with the bond requirement, while groups representing independent truckers wanted the bond amount raised to $500,000.
Despite the compromise, not everyone is happy. James Lamb, president and founder of the 2,400-member Association of Independent Property Brokers and Agents, based in Fort Lauderdale, has been fighting the bond increase in court. He claims TIA is working on behalf of large transportation brokers to drive the little guys—many of them mom-and-pop truckers who became brokers to weather the recession—out of business. "When the guillotine came down on Dec. 2, we lost 8,200 businesses in the brokerage industry," he says. His group wants the bond reduced to $25,000.
Others in the industry say many of those who didn't renew their licenses when the new provision took effect were brokers who were inactive or corrupt—and they're not sorry to see them go. "Honestly, if you can't get a bank or bonding company to trust you for $75,000, why should anyone else trust you?" asks DuWayne Marshall, a broker who owns a one-truck motor carrier, Watertown Refrigerated Logistics in Watertown, Wis. The most expensive bonding companies charge $5,600 annually for $75,000 worth of coverage, Voltmann says.
Kienbaum is hopeful the new law will make a difference. He continues to check brokers' online ratings and to call recent references even for those that are highly rated. "Things change fast," he notes. He also avoids brokers who are vague on details and who sound desperate. "Someone who's putting a lot of pressure on you is having trouble getting trucks," he says. "That tells you something right there."
Before it's here, it's on the Bloomberg Terminal.
LEARN MORE