pursuits
Sushi Nakazawa, America's Hottest Sushi Restaurant, Brought to You by an Italian From the Bronx
How a restaurateur who doesn't speak Japanese opened America's hottest sushi restaurant
By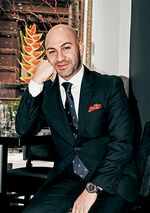 About 20 minutes into dinner at New York's Sushi Nakazawa, the fish on the plate is still moving. The chef puts down a sea scallop and flicks it gently; it twitches once, then he adds tart yuzu and spicy chili pepper. "I wanted it to be theatrical," says Alessandro Borgognone, the bald 33-year-old who owns the restaurant and runs the show, usually wearing jeans. "A sushi bar without theatrics—what fun is that? It becomes a game, the poking of the scallop. It's early in the meal, so it gets customers excited."
The customers, who have waited for weeks or even months for their seats, don't necessarily need the extra stimulus. Last December, Sushi Nakazawa, a tiny joint in the West Village, became one of only six restaurants in Manhattan to get a top rating of four stars from the New York Times. The review made Borgognone the youngest restaurateur to receive that honor. But even before the space opened in August, advance coverage by food bloggers caused a crush of 1,000 reservations. Most were vying for one of the 10 seats at the restaurant's pristine white marble bar, where chef and namesake Daisuke Nakazawa serves from his knife directly to diners. There are 30 additional spots in the adjacent dining room, filled with patrons who have flown in from Brazil, China, Hong Kong, and San Francisco. On one February night, a group of Japanese women from London said they bought plane tickets just to try the meal. A three-star Michelin chef also stopped by, still hungry after a dinner at the four-star Le Bernardin.
Phenomenal restaurant success is always somewhat unexpected, but Borgognone's status as a novice—to the world of Manhattan haute cuisine and to sushi in particular—makes the acclaim more surprising. Before opening Sushi Nakazawa, Borgognone chipped in for years at Patricia's, his family's 20-year-old Italian restaurant in the Bronx. He took it over in 2008 and transformed it from an 800-square-foot pizza parlor into a three-story fine Italian restaurant, complete with chandeliers he brought from a church in Rome. Today, Patricia's claim to fame is that its 13,000-bottle wine rack is the largest in New York's outer boroughs.
In September 2012, Borgognone was browsing Netflix to find one of the documentaries about chefs he likes to watch. This time he chose Jiro Dreams of Sushi, about the 87-year-old master who runs Tokyo's best sushi bar in the bowels of a subway station. Afterward, on a whim, Borgognone went on Facebook to look for the man listed as Jiro's senior apprentice. Using Google Translate, he sent Nakazawa, 35, an introductory message in Japanese.
Borgognone soon learned that Nakazawa was in Seattle consulting on Shiro's, run by another Jiro apprentice, and persuaded him to visit New York. The first trip was mostly touristic; Borgognone showed Nakazawa the sights, and the chef bought a Michael Kors bag for his wife. When Nakazawa came back three months later, Borgognone took him out for sushi and broached the idea of opening a restaurant together. In February 2013 they signed papers to become co-owners. "I sold him on the business aspect. I know how to raise money, get permits," Borgognone says, "and that's a proven fact."

He found a derelict 1,100-square-foot former hair salon in the West Village, took out a loan of $450,000, and spent three months building out the space, adding an enormous picture window so you can see the chef from the street. He avoided the arduous liquor-licensing process by limiting alcohol to sake, wine, and beer. He also decided to focus on a 20-course prix fixe menu, for $140 per person—$40 more with sake pairings—that would allow for better financial planning as long as every seat remained filled. Because the menu changes nightly, Nakazawa can import seasonal ingredients, avoiding any momentarily expensive fish that might throw off the books. The restaurant declined to disclose its revenue, but Borgognone says it's "on track to pull in the high-seven-digits for the year." The restaurateur and chef pay themselves and split the 16 percent profit, which most in the industry would consider successful.
It helps that New York is mad for raw fish right now, with about a half-dozen luxury sushi counters opening in the past year. Bonnie Riggs, a fine-dining analyst for NPD Group, says sushi is booming nationwide because it's at the confluence of several trends. "It's luxurious, it's exotic, it's healthy, and it often feels personal with a great show from the chef," she says. "And sushi especially is one of the only things people can't really do at home."

Although Nakazawa is formally trained, he's 52 years younger than his famous teacher, and his puckish cuisine reflects that. Chum salmon is hay-smoked in the tradition of Nordic food. Mackerel is pickled for seven days until it develops pungency. There's a rare golden-eye snapper that he calls "butter of the sea." In a nod to Jiro's training, every bite is served at its own precise temperature. "I change little by little every day. Better and better," Nakazawa says in his ever-improving English. "Like golf, every swing is different even when your skill is the same."

Borgognone loves sushi, but he could just as easily be selling marble columns or porcelain fountains. "We set out for the best in New York, the best on the East Coast, the best in the country," he says. "I'm not in the business of making mistakes." That doesn't prevent him from changing his mind often. He switched all the chairs five months in, deciding they should be plush European designs. He swaps out the contemporary art on the walls regularly; and using an $850 weekly budget, he refreshes the flowers twice a week.
Still, Sushi Nakazawa is a homey place. "Lemme tell you something. Listen to this, I'm gonna tell you something nobody else knows," Borgognone says. "The secret in this business: It's paying attention, making people feel special. I go to every table and introduce myself. I want them to know my name. How can you possibly do that with all these celebrity chefs opening 10 or 15 places in a year? Guess what? You can't." When he enters the restaurant, he frequently greets Nakazawa with a bear hug, lifting him off the ground. Their young kids play together often.
Borgognone sees himself as a throwback to another era. He compares himself to Sirio Maccioni, the hospitality industry legend who opened Le Cirque in 1974, and to Elaine Kaufman, who ran her eponymous nightclub-as-restaurant from 1963 until her death in 2010. "It would be an honor someday to be spoken of on that level, where now there's only Danny Meyer," he says of the prolific New York restaurateur. To get there, he plans to open a restaurant next year that serves "comfort food with complexity," as he describes it. "It's going to be spectacular, unlike anything else you've ever tried." Already, he's got a few partners in mind. "We have been talking to the most talented chefs in America," he says. This time, he didn't have to find them on Facebook.
Before it's here, it's on the Bloomberg Terminal.
LEARN MORE