The Law of Gravity Isn't Working for This Off-Patent Drug
Delays for a generic rival to Diovan yield $900 million in higher prices
by
In the drug business, the arrival of generic competition usually means falling prices as rivals rush to win market share for medicines whose patents have expired. Then there's Diovan from Novartis, a blockbuster heart pill that lost patent protection in September 2012. In a process specified by U.S. patent law, India's Ranbaxy Laboratories won the exclusive right to copy Diovan for the first six months of the medicine's generic period. But U.S. regulators' safety concerns over Ranbaxy's factories in India have kept the company from selling its Diovan version. Since other drugmakers can't market their own generics until Ranbaxy's pill has been on sale for 180 days, Novartis continues to be the only seller of the heart pill in the U.S.—at a price that's 37 percent higher than what the company charged when the medicine was under patent.
This patent-law quirk has expensive consequences for patients, insurers, and Medicare and Medicaid, which together have paid as much as $900 million more for Diovan than they would have if a generic had come to market in 2012. "All this time, Novartis, through no duplicitous intent, has been reaping this massive benefit," says Jason Rutt, head of patents at drug consultant Rouse in London. "This is working against consumers, as they're paying an exaggeratedly high price because there is no generic."
The approval process for generic drugs has two steps. While Ranbaxy gained exclusive rights to sell the Diovan copies for six months by being first to apply, it failed to win clearance from regulators reviewing the company's ability to safely and properly make the drug. That's the problem with the law: It doesn't say what happens if no final approval is given.
"Unless the law is amended, generic drugmakers agree to some arrangement, or there is a successful challenge, this situation may not be resolved," says Kurt Karst, an attorney at Hyman, Phelps & McNamara in Washington who advises drugmakers, including some affected by Ranbaxy's delay. Congress isn't currently reviewing the law.
While unusual, this patent flap isn't a one-off. AstraZeneca's Nexium acid-reflux pill and Roche Holding's Valcyte antiviral—both of which Ranbaxy has the rights to produce generics for—face the same situation when patents on them expire later this year. Critics say the situation undercuts the goal of the Hatch-Waxman Act, passed in 1984, to get low-cost treatments to market as quickly as possible. Typically, a drugmaker that wins approval to make a generic gets a six-month window of exclusivity, and the launch of a single generic version of a named drug leads to a price drop of 30 percent to 50 percent, according to consultant IMS Health. After six months, as other drugmakers start making their own copies, the price drops by 60 percent to 90 percent, IMS says. Using those percentages, a Bloomberg calculation put the lost savings from the Diovan delay at as much as $900 million.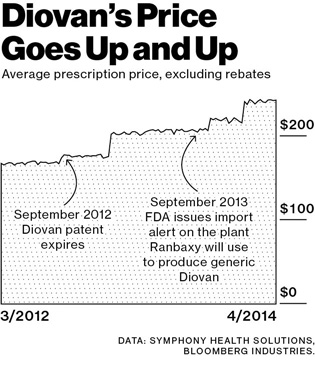 Diovan was for several years the best-selling product for Switzerland-based Novartis, with global sales peaking at $6.05 billion in 2010. Ranbaxy first asked for permission to copy the Novartis product in 2007. The medicine is prescribed to lower blood pressure by relaxing and widening the blood vessels. A version of the therapy, called Diovan HCT, pairs it with a diuretic to help rid the body of salt and water. While there are generic versions of the HCT form on the market, Ranbaxy failed to win Food and Drug Administration approval to sell the generic of Diovan as a monotherapy.
Ranbaxy planned to manufacture Diovan in its Mohali, Punjab, plant. The FDA banned exports to the U.S. from that plant in September 2013. Three other Ranbaxy plants in India are also banned from selling their products in the U.S. All four facilities failed inspections by U.S. regulators. On April 7, Sun Pharmaceutical Industries said it had agreed to acquire Ranbaxy from Japan's Daiichi Sankyo for $3.2 billion. Sun Chief Financial Officer Uday Baldota said it can draw from its past experiences resolving FDA issues.
Ranbaxy Chief Executive Officer Arun Sawhney said on April 7 that the company maintains exclusive rights to produce Diovan, Nexium, and Valcyte copies and that he wouldn't speculate on when they would reach the market. The drugmaker has declined to say why its copy of Diovan wasn't approved. Sandy Walsh, an FDA spokeswoman, says the agency can't comment on the status of drug applications.
Novartis doesn't comment on regulators or competitors, says Dermot Doherty, a spokesman. "We also have no insight into the timing of the launch of a generic Diovan monotherapy in the U.S. beyond what the market has already speculated on," he wrote in an e-mail.
One thing is certain: Ranbaxy's delay is good for Novartis's financial health. The Swiss company twice raised its sales estimates last year because of the lack of competition and has said that every month without a Diovan generic leads to $100 million in sales. That's given it $1.8 billion in Diovan sales since the patent expired.
Before it's here, it's on the Bloomberg Terminal.
LEARN MORE