Selling Ethical Fashion to the Whole Foods Set
Startup clothing retailers pitch paying more and buying less
by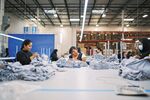 When the founders of clothing retailer Zady went to fashion trade shows looking for suppliers, they asked apparel line reps a simple question: Where do your clothes come from? Most of the answers were vague; one company said "the Orient." Only a handful of small American factories and boutique craftsmakers overseas were eager to talk about their garments' origins. These were the kinds of manufacturers Zady co-founder Soraya Darabi wanted to work with.
Zady is among a growing number of online retailers that are betting on a backlash against low-wage factories churning out cheap clothes meant to last only a season. The startups, including San Francisco-based Web stores Cuyana and Everlane, are charting a middle course between mass-market retailers such as Hennes & Mauritz and Zara and exclusive luxury brands out of the reach of most shoppers. And they believe customers will pay more for classic, higher-quality apparel and accessories that are made more ethically than mass-market, low-cost clothing.
The collapse of Rana Plaza, the Bangladeshi factory where more than 1,100 workers died in April 2013, and other manufacturing disasters have prompted some consumers to think more about where their clothes come from. Retailers, under scrutiny after the tragedy, have called for better audits of factories in Bangladesh, but inspections have lagged. Major brands are also marketing more sustainable practices: H&M promotes its "conscious" collection made of organic leather and silk. And Zara parent Inditex was an early donor to a trust fund for Rana Plaza victims and their families.
The startups are unlikely to take much market share away from apparel giants, but they'll increase pressure on them to improve manufacturing practices, says Elizabeth Cline, author of Overdressed: The Shockingly High Cost of Cheap Fashion. She cites a recent full-page ad Zady bought in the Wall Street Journal that proclaimed, "Fast fashion is fast food." "That absolutely changes the way consumers think and changes their expectations when they walk into a fast-fashion chain," Cline says.
Michael Preysman, the 28-year-old founder of Everlane, describes his target customer as "the person who shops at Whole Foods and listens to NPR." Everlane advocates what Preysman calls "radical transparency." The website prominently displays a link to a page with detailed narratives and photographs of its factories in China, Europe, and the U.S. "People are yearning for information, and if you tell it to them in the right way, it can help grow the brand and the customer base," he says.
Everlane sold only T-shirts when it opened in late 2011. It now sells other clothing and accessories—and about 30,000 T-shirts a month that retail for $15 to $30 each, Preysman says. He says he can keep prices low for premium materials by selling directly to consumers online rather than through other retailers. The 40-employee company, backed by $3 million in venture capital, has had more than 120,000 customers to date, he says.
Beyond shedding light on their suppliers, the startups are trying to persuade consumers to pay more for finely crafted clothing. Cuyana, which opened in 2013, urges shoppers to buy "fewer, better things." (DeBeers used the same tag line to sell diamonds in the months after the 2008 financial meltdown.) Cuyana co-founder Karla Gallardo says the seed for her two-year-old venture was planted in 2001, the week she arrived in the U.S. from her native Ecuador to attend Brown University. Amazed by the choices available to U.S. teens, she went on a $1,000 shopping binge at a Providence mall. She was embarrassed trying to explain the charges when her father called the next day. "All the trendy things I bought kind of got destroyed in the washer, or I didn't wear them," she says.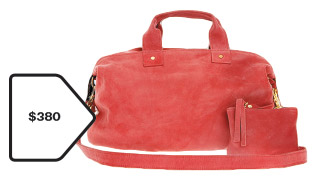 After stints at Goldman Sachs, Stanford Business School, and Apple, Gallardo raised $1.7 million to start the women's apparel company. Her pitch to customers: "timeless, classic pieces" that will make sturdy wardrobe staples. "Our whole idea is to work with suppliers that have decades if not centuries of expertise with the materials we work on," Gallardo says. She says her factories in 10 countries—from Peru to the U.K.—also supply luxury brands, but Cuyana can offer more affordable prices because, like Zady and Everlane, it sells directly to consumers. A tote bag of Argentine leather costs $150; a cashmere stole from Scotland goes for $190. Burberry's cashmere scarves start at twice that.
While all three companies hype the provenance of their goods, none expects to make a sale simply by appealing to buyers' consciences. "If it's not a beautiful product, no one's going to buy it," says Zady co-founder Maxine Bédat. Although they're targeting the Whole Foods crowd—Zady hosted an April panel on food and fashion at one of the grocer's New York stores—their design and presentation are more Vogue than Whole Earth Catalog. "There's nothing granola about our site," Bédat says.
Before it's here, it's on the Bloomberg Terminal.
LEARN MORE