Confidence Among U.S. Homebuilders Increases Less Than Forecast
Michelle Jamrisko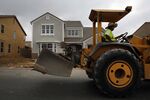 Confidence among U.S. homebuilders rose less than forecast in April as sales and prospective buyer traffic stagnated, showing the residential real estate market struggled to improve after a harsh winter.
The National Association of Home Builders/Wells Fargo builder sentiment gauge climbed to 47 this month from a revised 46 in March that was weaker than initially reported, figures from the Washington-based group showed today. Readings greater than 50 mean more respondents report good market conditions. The median forecast in a Bloomberg survey called for 49.
Tight credit for some home buyers and limited availability of lots are restraining builder sentiment months after snow storms and freezing temperatures held back construction. At the same time, historically low mortgage rates and hiring gains helped drive an increase in the outlook for sales, the report showed.
"Builder confidence has been in a holding pattern the past three months," NAHB Chairman Kevin Kelly, a homebuilder and developer from Wilmington, Delaware, said in a statement. "As the spring home-buying season gets into full swing and demand increases, builders are expecting sales prospect to improve."
Estimates in a Bloomberg survey of 49 economists ranged from 48 to 54. The March reading was revised from a prior estimate of 47.
The group's gauge of prospective buyer traffic held at 32 in April, while the index of current single-family home sales was unchanged at 51.
The measure of the six-month sales outlook improved to a three-month high of 57 in April from 53.
By Region
Builder confidence deteriorated to an 11-month low in both the Midwest and West. Sentiment climbed to a three-month high in Northeast and was unchanged in the South.
Borrowing costs, which climbed in the second half of 2013, are starting to stabilize. The average 30-year, fixed-rate mortgage was at 4.34 percent in the week ended April 10, down from 4.41 percent the prior week, according to data from Freddie Mac in McLean, Virginia. The average from July through December was 4.37 percent.
Warmer temperatures and sustained gains in employment and consumer confidence are keeping mortgage lenders such as San Francisco-based Wells Fargo & Co. upbeat about the market's prospects.
"The housing recovery remained on track, and should benefit from the spring buying season," Chief Executive Officer John Stumpf said on an April 11 earnings call. "I'm optimistic about future economic growth, because consumers and businesses have continued to improve their financial conditions."
A report tomorrow is projected to show housing starts rebounded to a 970,000 annualized pace in March, the first increase in four months, from a 907,000 rate the prior month, according to the median forecast of economists surveyed before figures from the Commerce Department. Starts averaged a 929,000 pace last year.
Before it's here, it's on the Bloomberg Terminal.
LEARN MORE