Alibaba Earnings Surge Boosts Valuation Ahead of IPO
Lulu Yilun Chen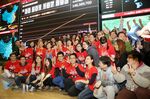 Alibaba Group Holding Ltd. posted a surge in fourth-quarter profit as analysts raise their valuation ahead of a potential U.S. initial public offering by China's largest e-commerce company.
Net income attributable to ordinary shareholders more than doubled to $1.35 billion in the three months ended December, according to a presentation yesterday from Yahoo! Inc., which owns a 24 percent stake in the Hangzhou, China-based company. Alibaba was valued at $153 billion in February, according to the average estimate of 10 analysts compiled by Bloomberg.
Sales jumped from shopping promotions, including a record for November's "Singles' Day," as Alibaba uses acquisitions to bolster mobile services ahead of a market debut. The company generates about 70 percent of China's package deliveries and last month kicked off the process for an IPO, which may be larger than the $16 billion raised by Facebook Inc. in 2012.
"The results definitely exceeded expectations," Sameet Sinha, an analyst with B. Riley & Co. in San Francisco, said by phone. "We can expect to see the first quarter again be very solid because of the Chinese New Year."
Sinha raised his valuation on Alibaba to $180 billion from $130 billion, he said in an e-mailed report.
Shares of SoftBank Corp., which owns about 37 percent of Alibaba, rose 8.5 percent in Tokyo trading, their biggest gain since June 10. Yahoo shares rose in extended trading yesterday, after increasing 2.3 percent to close at $34.21 in New York.
'Singles' Day'
Alibaba doesn't sell merchandise itself. Instead, it runs marketplaces that connect retail brands with consumers, a cross between Amazon.com Inc. and EBay Inc. It makes most of its revenue from commissions and advertising.
The "Singles' Day" promotion on Nov. 11 saw transactions on its two main online stores, Taobao Marketplace and Tmall.com, top 35 billion yuan ($5.6 billion) in a 24-hour period.
Revenue in the December quarter rose 66 percent to $3.06 billion. The company posted 51 percent growth in revenue in the September quarter.
Alibaba's earnings for the period were greater than Facebook and Yahoo while it generates more profit on each dollar of revenue than Apple Inc.
Alibaba's margin, which measures net income as a proportion of sales, was 45 percent in the December quarter. That is almost double the 23 percent of Apple, according to data compiled by Bloomberg.
Alibaba Deals
"The profit margins speak for themselves," Rob Sanderson, a managing director at MKM Partners LLC, said in a phone interview. "There is a lot of bullishness for Alibaba and I think there should be and the results confirm people's enthusiasm."
Alibaba, like rival Tencent Holdings Ltd. and smartphone maker Xiaomi Corp., reflects a shift in China's economy, with technology companies gaining prominence to match state-owned enterprises in sectors like oil and coal.
Formed by Jack Ma and partners in 1999 as a marketplace for Chinese companies, Alibaba has tapped into the nation's boom in manufacturing and trade spurred by a wave of economic liberalization. The former English teacher owns about 7.4 percent of the company and had an estimated personal net worth of $11.5 billion on April 14,, according to the Bloomberg Billionaires Index.
The company this month completed its purchase of AutoNavi Holdings Ltd. and in March said it would invest almost $700 million in Intime Retail Group Co., an owner of department stores and supermarkets in China, as it bolsters its mobile and distribution businesses ahead of the IPO.
Yahoo Earnings
Alibaba may have a market value of as much as $200 billion by the end of this year, after an initial public offering, Carl Huttenlocher, chief investment officer of hedge fund Myriad Asset Management Ltd. said last year.
"Analysts could lift their valuations for Alibaba," said Ricky Lai, an analyst at Guotai Junan International Holdings Ltd. in Hong Kong by phone. "The growth was higher than expectations even as the fourth quarter was expected to be a strong season for Alibaba."
Yahoo, which posted its results for the three months ended March yesterday, reports Alibaba's earnings with a one-quarter lag. The Sunnyvale, California-based Internet company reported a 20 percent decline in first-quarter net income to $312 million. It forecast second-quarter sales of $1.12 billion to $1.16 billion.
Yahoo's share price doubled last year, an increase mostly attributable to the company's stake in Alibaba.
IPO Process
Alibaba said March 16 it will begin the process of filing for a U.S. IPO. The announcement came after it struggled to persuade Hong Kong regulators to approve a proposed governance structure that would allow its partners to nominate a majority of its board of directors. A listing in China may be considered "should circumstances permit in the future," Alibaba said in an e-mailed statement.
The company is planning to award about one-third of the fees for its IPO in the form of incentive bonuses to coax better performance from underwriters, people with knowledge of the matter said. Alibaba plans to pay at least 1.1 percent of the total proceeds in fees, two people said, asking not to be identified discussing private information.
While Alibaba hasn't said how much it will seek in the IPO, a person with knowledge of the matter said the company may sell about a 12 percent stake. That would make it an $18 billion deal, based on the $153 billion February valuation.
Huttenlocher's estimate would put Alibaba behind only Google Inc. among the most-valuable Internet companies, eclipsing Amazon, Facebook and Tencent.
Other deals from Alibaba announced in the past year include a stake in New York-based luxury-sales site 1stdibs.com Inc., an investment in U.S. retail website ShopRunner Inc. and holdings in appliance maker Haier Electronics Group Co. and its logistics business.
Before it's here, it's on the Bloomberg Terminal.
LEARN MORE