No Way Is Matt Power Gone
by
Here they are: the K2 cigarettes Matt brought back from Islamabad as a souvenir and a thank-you for sending him to Pakistan on no notice. They're on my bookshelf at home, sitting next to some travelogues—Shackleton's South, Thesiger's Arabian Sands, Bonatti's The Mountains of My Life—books I'm certain he'd approve of, or at least have an opinion about. Holding the cigarettes now, I can see Matt's expectant face. He'd tossed the pack softly in my direction. Then he waited for me to get a closer look and grin back. And of course, I laughed. Laughed in the embarrassed way you do when you shouldn't be laughing. It was August 2008, and we'd just been discussing his hospital bed interview with one of the few survivors of a climbing disaster on K2, the world's second-tallest mountain. We were trying to figure out precisely how the climber's partners had died for an article I'd assigned Matt for Men's Journal, where I was then the editor. It was a thrilling story, but sad, too. So he broke the grim mood with the official cancer stick of this killing peak.
Tuesday made it one month since I received the gutting news that Matt—Matthew Power—had died of heatstroke while hiking in Uganda. He was 39. Like many of his friends, I couldn't believe it. Still can't. Matt seemed too experienced a traveler to ever become mortally depleted. He had the skill set of a war correspondent, even though he was drawn more to misfits and vulnerable communities than to soldiers and armed conflict. Over the 10 years I knew him, he'd been deep in the Amazon; climbed Mt. Kenya; and joined a "risk-prone eccentric" hunting a tree kangaroo on the remote Pacific island of New Britain. Recently he'd embedded with Doctors Without Borders in South Sudan. Together we'd parsed the seemingly minor decisions that can precipitate bad outcomes in the wilderness—with those K2 climbers; with Chris McCandless, the idealist who starves to death in Jon Krakauer's Into the Wild (a book Matt loved, and loved to debate); and in numerous other incidents we'd considered but decided against pursuing as stories. Before he departed, Matt posted a snapshot on Facebook of a toothbrush and the serrated knife he'd used to cut it in half—to save on pack weight. He knew what he was getting himself into.
Matt had flown to Uganda on assignment for his new editors at Men's Journal to chronicle British explorer Levison Wood's attempt to walk the 4,250-mile length of the Nile River. Wood began his trek on Dec. 3, in Rwanda, and had covered about 1,000 miles by the time he met up with Matt and photographer Jason Florio, a friend Matt had recommended for the project. Florio recently relocated to The Gambia, in West Africa, but he and Matt had gotten to know each other at a Reporters Instructed in Saving Colleagues (RISC) course in New York, one in a series established by the author and filmmaker Sebastian Junger to help freelance journalists practice first aid and survive combat zones. "We right away figured out that we had many of the same friends, and had each other to dinner after the RISC," Florio says. "We spoke often of finding the right opportunity to work together. Finally, it came."

Matt flew overnight from the bitter chill of New York to the heavy heat of Uganda, met with Florio in Entebbe, and drove seven hours to Pakwach, near Murchison Falls. Their plan was to spend six days with Wood trekking through elephant and lion country and use that journey to tell Wood's story. Matt and Florio would leave off after they reached "Miani's Tree," or Shadr-el-Sowar, an historical crossroads. The Venetian explorer Giovanni Miani had etched his name into the trunk of a tamarind tree there in 1860, back when finding the source of the Nile was a quest akin to reaching the moon a century later.
That first evening, they all stayed at the Heritage Safari Lodge. Soon after Matt arrived, his lodge host recalls, he asked that a shallow basin be filled with water so he could soak a scarf, which he then placed on his neck. At dinner, there was no escaping a "Captain Wood, I presume?" joke or two. (Henry Morton Stanley had been on assignment for the New York Herald when he found Dr. Livingstone, another Nile explorer, in 1871.)
Matt and the rest arose at seven the next morning and got their kit sorted. Before setting out, they hired an extra porter—a member of the lodge staff—and bought a bicycle to use as a rolling mule. They were not being macho about how much they carried. In all, there were five in the hiking party, and they singled out when motorbikes buzzed them on the packed dirt roads they walked.
"We took it steady, as a way of breaking them in," Wood says, referring to Matt and Florio. For the first two days, drinking water was plentiful. Matt had a CamelBak, one of those plastic bladders that slips inside a backpack, with an over-the-shoulder tube so he could sip without stopping. They rested in villages, where they were a source of fascination, and made camp the first night on the grounds of a school. That morning they were drinking coffee and eating from a big pot of rice when a group of kids gathered to stare. While everyone else was busy packing, Matt walked over and served up heaping spoonfuls of the leftovers, which the kids loved. To Wood, "Matt seemed perfectly healthy. To the extent he lagged a bit or his feet hurt, he made jokes about it."

On the third morning, Wood planned to leave the road and cut through the Ajai Game Reserve, a dry swamp closer to the river's banks with withered grass 6 to 7 feet tall. Two rangers joined them, bringing the crew to seven. Unlike during the previous two days, water would be scarce. At breakfast—a bowl of porridge with a serene view of the Nile—Matt proposed that he and Florio walk only half of Wood's scheduled distance for that day (about 12 miles) and hitch a ride on a road that ran through the reserve. They'd arrive early to camp and photograph Wood as he and the others approached. Florio readily agreed.
"It was really hot going. Damn hot. From 38 to 45 [Celsius, or 100F to 113F]," Florio says. "It was tiring. The path was just matted grass. It was very uneven. But Matt had done these kinds of journeys. It was expected we'd be tired."
They had not been going for long—it was not quite noon, maybe 5 miles done—when Matt, feeling faint, asked if they could take a break. They took a short one. Wood's hiking guide, Boston Beka, advised against lingering, however. The longer they spent in the hard sun, the more they risked becoming dangerously dehydrated. Better to rest once they'd reached more water. Matt agreed; they carried on. Roughly half a mile later, Matt faltered. They found a little shade beneath a tree. "I've got to lay down," Matt said.
"He soon became delirious," Florio says. "I believed it was heat exhaustion. I tried to get him to drink some water with electrolytes." Matt struggled with the drinking. Then he passed out. "We fanned him. We removed his clothing. We tried to use water to cool him," Florio says. It was so hot, however, the water on his skin did little to cool him.
Hyperthermia, as the overheating of the body is called, is just as dire as hypothermia, though it's not as highly publicized. Its initial symptoms, such as heavy perspiration and muscle cramps, are also difficult to distinguish from the results of pushing one's limits in a good way. Once the body reaches a certain point, it can no longer regulate itself, and the fever is difficult to reverse.
It's an individual thing—104F to 107F is the range commonly given—but, according to Dr. Douglas Casa: "Once the body has exceeded 105 degrees, we've determined there's a 30-minute window to bring the person's temperature back below 104 before there's cellular damage, and if there's to be a full recovery with no lasting complications." Casa consults with soldiers and athletes headed to hot places, and he's the director of the Korey Stringer Institute at the University of Connecticut. The institute was founded in 2011 by the widow of a Minnesota Vikings offensive lineman who died of heatstroke during a preseason game in August 2001. Casa has coordinated more than a hundred successful heatstroke rescues. He says the human body handles severe temperatures remarkably well, at least for short periods. But "short" is everything. A marathoner might finish a race at 107F and be completely fine—so long as she cools down rapidly.

And the onset varies: Some people experience headaches and/or nausea and start retching—strong indicators they need to stop and cool off. Yet plenty of others, including elite athletes, experience hyperthermia suddenly. Casa's own interest in the field followed his collapse, at age 16, while running a 10K. "Up to that point, I was running the race of my life," he says. "Then I was flat on my face." Because it can be so difficult to perceive, Casa says it's all the more critical to have a way to respond—to submerge the person in a cool bath or shower, or at least cover them with cold towels. In a wilderness area, he says, it's hard; before missions, Casa has soldiers identify rivers or even mud they might dig into as a means to save themselves or someone else. For prevention, he advises 40 to 60 minutes of exercise per day in a heated gym or chamber, which is enough to trigger physiological changes such as a lower perspiration temperature and an increased amount of blood plasma.
Once Matt passed out, no one in Wood's party doubted that his condition was serious. The problem was they were not close enough to the river to dunk him, and air conditioning, much less a proper hospital, was hours away. Beka and one of the local rangers left to get more water, while Wood, Florio, and the second Ajai ranger, Moses Aliga, stayed with Matt and tried to revive him. Aliga was able to reach a colleague at a ranger station on his mobile phone, but the station did not have a GPS, so the ranger fired a shot in the air to establish its location. The sound of the rifle didn't seem that far off, briefly raising Florio's hopes of a rescue. Aliga fired a shot back so the group could be found.
Wood, meanwhile, used his satellite phone to try to arrange for a helicopter evacuation, calling on his support team in the U.K. to place calls, too. This went on for an anxious hour or so, as Florio wrung water from a bandana onto Matt's chest and brow. Optimistic that a helicopter might soon be trying to find them, Aliga then set a signal fire. "Only that got a bit out of control," Florio says, "and we had to move Matt."
First, they hoisted him onto Wood's back in a fireman's lift. Then they used a tarp to carry and carefully drag him to a grassless post. "At this point Lev attempted CPR, and we both checked for pulse and heartbeat, but concluded he had passed," Florio says. The fire continued to burn furiously, and Florio feared it might encircle them. It had yet to burn itself out when the other rangers reached them several hours later.
"It seemed like everything was against us," Florio adds, the anguish of those hours creeping into his voice. "Whoever we reached, it was, 'We don't fly up in that region,' or 'We have a helicopter but no pilot,' or 'It's too late in the day to fly.' There just wasn't anything more to be done." Matt lay unconscious for almost two hours before he passed away.
I didn't know a thing about Wood, but in the immediate aftermath of Matt's death, I knew I disliked him. But for Wood's pointless Nile trek, Matt would still be with us. Eventually the misplaced outrage subsided, and I looked him up online. Based on his tweets, the Facebook page and website for his expedition, and a few clips about him, Wood is precisely Matt's kind of Supertramp: a 31-year-old former British army paratrooper gamely undertaking the unprecedented and completely uncalled for. (No one has traced the length of the Nile on foot before because, well, who walks an entire river?) But—and this is something Matt appreciated better than most—the claim of an historic first is merely the excuse, the sponsor-friendly sales pitch, for an incredible journey one wishes to make anyway. Under his own power, Wood is moving at an intimate speed, relying on strangers, eating what he can (bush rat in peanut sauce, Day 95), and surviving on his wits—all things Matt did as well. After Matt's death, Wood suspended his expedition for a few days, thought about aborting it altogether, but then decided to press on, convinced that Matt would want him to. Probably he would have, too. In the years I knew Matt, only once was he happier than on the verge of an absurd expedition, and that was when he'd fallen for his future wife, the journalist Jess Benko.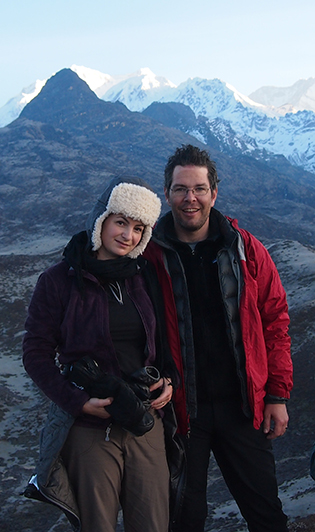 Matt and I first met in Manhattan's Bryant Park in 2004, not long after I'd been hired as an editor at National Geographic Adventure. He was already a contributor and was eager to do more big stories like the one he'd published on motorcycling a newly opened highway in Kashmir. Matt was doing a fair amount of radio then, though you wouldn't have guessed it right off. He spoke softly, and his voice had a scratch in it—not nasal, but almost. Plaintive. He was well-built, but not imposing; reserved at first, but not shy. Tree-hugger. All of which I chalked up to his being from Vermont. He was general-store friendly. Near as I could tell, he hadn't changed his clothes a stitch since moving to the city. In memory, he's wearing the same corduroy-collared, army-green barn jacket and peering over the top of his wire rims, listening for what's funny in what someone's saying.
Once at National Geographic Adventure, he reimagined a crumbling section of China's Great Wall as a backpacking trail and set out from Beijing to hike it. He did a fine job on his travelogue, and we prepared to run it as a cover story. In the final week of production, however, it almost got pulled because of fears that Matt had broken the law. Our corporate parent, the National Geographic Society, wasn't keen on promoting trespassing in the People's Republic.
Matt wanted the cover badly, so we swiftly added cautionary notes about the objective hazards and murky legality of doing what he'd done. Still, for two or three days it wasn't looking good, and to keep our spirits up we made fun of the excitable bureaucrats whom we imagined huddled over teleconference pods down in D.C. Who is this Matthew Power? Is that even his real name? Who thought this was a good idea? We soon realized we were both taking an unseemly amount of pleasure in the trouble this was making for my boss, and that led to the further recognition that we'd both spent our twenties running with activists and artists (he in New York, me in San Francisco) more comfortable in street protests than in corporate offices. Matt was deeply political, but he wore his politics lightly.

By then I knew Matt was a good man. Right after the Southeast Asian tsunami on Dec. 26, 2004, he volunteered to go to Thailand, where at least 5,395 had perished. Before he typed anything up, Matt first did whatever was asked of him on-site, including tending to decaying bodies in makeshift morgues, helping families find their loved ones, and trying to console survivors—never easy, but especially difficult for an outsider in a touristic area where the death of foreign visitors seemed to eclipse the locals lost. He came back with a moving story, but he gave of himself first.
Several have written beautifully about Matt's writing, and I don't believe I can improve on their efforts. I will say that his immersion—serving with the International Red Cross, committing to a 100-mile week with Wood—was the key to his best stuff. Certainly it's what made his two most (justly) celebrated articles, "The Magic Mountain," about a 50-acre Philippine dump, and "Mississippi Drift," about floating the Big Muddy as a hobo in the 21st century, both for Harper's, so successful. (This post, by Donovan Hohn, is terrific on Matt's ambition and influences; this annotation of "Mississippi Drift" is loving lit crit; and Outside's Abe Streep wrote stirringly about having Matt as a mentor, collaborator, and friend.) A freelancer as long as I knew him, Matt did a bit of everything, but his strength lay in going abroad, being open to the people he met, and drawing close enough to them to faithfully tell their stories.
It took Wood, Beka, Florio, and the rest several hours to get Matt's body to the village of Arua. They lost most of Tuesday trying unsuccessfully to secure a helicopter to transfer his body to Kampala. By the time of his postmortem exam on Wednesday morning—36 hours since he'd passed away early on Monday afternoon—his body had begun to decompose badly, making it difficult to determine whether a preexisting condition or other factors had contributed to his collapse. To Florio, at least, his death poses no great mystery. Matt, he says, failed to acclimate to Uganda. The temperature as his flight departed New York was roughly 20F—had been, it seemed, for months.

And yet there was something else, too. Matt may have been a free spirit, but he paid a New York mortgage and worked hard to afford it. Reviewing Matt's itinerary—red-eye, trans-Atlantic flight followed by a seven-hour drive to the trailhead the day of his arrival, then joining the expedition on his second day in country—I got a shiver of recognition. I'd have made the same mistake. Not just failing to give heat the respect I do altitude. Failing to give it more time. Departing from New York, where there is never a moment to lose, there's no way I'd think to schedule an extra couple of days—much less the week Casa recommends to top athletes—to let my body adjust. No one has that kind of time.
Matt and I e-mailed frequently but did not see enough of each other. I was not part of his Brooklyn life. His creating a home there with Benko coincided with my moving an hour north of Manhattan, caring for two little ones, and assuming more responsibility at the magazines where we published him. After work, Brooklyn seemed the wrong direction to head for me to be where I was needed. We counted on having more time.
The times I've missed Matt the most these last few weeks have been during my commute, when a guy is prone to wondering if he's spending his life wisely, even without the sudden loss of a friend. Encounters with Matt brought this angst on, too. His exploits expanded my knowledge of the world, and I rarely tired of his stories, even during a busy workday. Yet because he was forever going somewhere exotic and experiencing new things, he could leave me feeling deskbound and deflated. All the same, I never resented Matt for the tacit challenge to live more fully. How could I?
Before it's here, it's on the Bloomberg Terminal.
LEARN MORE