Sony PS4 Gives Hirai Shot at Profit as Risk Falls: Japan Credit
Grace Huang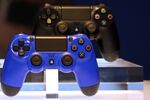 Sony Corp.'s bond risk fell to a three-month low on expectations Chief Executive Officer Kazuo Hirai will ride the PlayStation 4's lead over Xbox One to a profit this fiscal year.
The cost to insure Sony's debt fell to 157 basis points on April 4, the lowest since Jan. 7, according to credit-default swap data from CMA. That's down 79 basis points from a one-year high on Feb. 6, the day Hirai scrapped his target for a profit last fiscal year. The contracts of Samsung Electronics Co. declined 15 in the period, while the Markit iTraxx Japan index of 50 investment-grade borrowers was down two basis points.
Hirai is also selling Sony's Vaio personal-computer unit and cutting jobs to revive the electronics business, prompting analysts surveyed by Bloomberg to forecast 68.6 billion yen ($672 million) in net income in the fiscal year started April 1. Bank of America Merrill Lynch said that outlook may help avoid a downgrade, after the company was put on negative watch by Japan's Rating & Investment Information Inc. on Feb. 7.
"The credit market is offering an opportunity to take a risk and earn a return," said Yusuke Ueda, a Tokyo-based credit analyst at Bank of America Merrill Lynch. "As long as the earnings forecast for the year to March 2015 isn't bad, the company should be able to avoid a ratings cut."
PS4 Lead
Sony's video games business, where Hirai made his name before taking the top job in April 2012, is a bright spot for the company. Sales of the PlayStation 4 game console, which was released in November, totaled 6.3 million as of March 15, compared with 3.9 million for Microsoft Corp.'s Xbox One, according to VGchartz.com.
Goldman Sachs Group Inc. cited growth of the $50-a-year PlayStation Plus service, which allows gamers to play online, as one of the reasons for increasing its outlook for Sony's operating profit this fiscal year to 230 billion yen, from 34.8 billion yen, according to a March 31 report. That compares with a 240 billion yen analyst consensus and the 80 billion yen that Sony forecasts for the year just ended.
Sony's gaming division had an operating income of 18 billion yen in the final three months of 2013, about 20 percent of total profit, data compiled by Bloomberg show.
"Sales of the PS4 will probably reach 12 million units this fiscal year," said Hideki Yasuda, a Tokyo-based analyst at Ace Research Institute. "The PS4 has the potential for positive influence in the electronics business. I expect the games business to be profitable in the year to March 2015."
Virtual Reality
The PS4 may also gain an edge against rivals after Sony unveiled on March 18 'Project Morpheus,' its long-term effort to develop a virtual reality headset. While startup Oculus VR Inc., acquired by Facebook Inc. for about $2 billion last month, has a similar device, no console maker yet offers VR headsets.
Sony's Tokyo-based spokesman George Boyd declined to comment on credit-default swaps and market expectations. The electronics maker will report full-year results and forecasts on May 14.
The company in February said it will book 70 billion yen in charges related to restructuring in the year ended March 31, primarily in the business that includes smartphones and PCs, and will allocate the same amount for the current period. The measures will result in more than 100 billion yen of annual cost savings starting the period to March 2016, according to a statement on Feb. 6.
Path Forward
"Sony's reforms are showing a path forward, which makes it easier for financial institutions to support the company," said Yoshihiro Nakatani, a Tokyo-based senior fund manager at Asahi Life Asset Management Co. "Profitability in the electronics business, increases in both operational and investment cash flows would serve as milestones for recovery."
The company's operations generated 248.2 billion yen in net cash in the nine months to Dec. 31, a 13 percent increase from a year earlier, according to the February earnings statement. Sony's financial services were the only business to record a net inflow. Net cash from investing activities dropped 39 percent to 436.8 billion yen.
R&I put the company's A- rating, its fourth-lowest investment level, on watch for downgrade on Feb. 7, the day after Sony abandoned its 30 billion yen profit target and forecast a 110 billion yen net loss. Moody's Investors Service cut its long-term credit rating to junk at Ba1 in January, citing the challenges of reviving the TV and PC units.
Market Overreaction
The markets overreacted to the rating changes, driving up bond risk beyond the level appropriate for its ranking, Bank of America Merrill Lynch's Ueda said. He forecasts Sony's contracts will extend declines until August, before widening again from September to November.
Sony's credit-default swaps were the best performer on the iTraxx index in the month to April 8, falling 3.4 basis points to 158.6, CMA data show. Tokyo Electric Power Co. was second with a 2.6 basis point drop, followed by Fujitsu Ltd.'s 1.9 decline. One basis point is 0.01 percentage point.
Falling interest rates spurred by the Bank of Japan's monthly purchases of about 7 trillion yen of sovereign bonds also support Sony. The 10-year benchmark debt yield has declined 18 basis points to 0.615 percent since the end of 2012, while the yen has dropped 15 percent during the period to 102.05 per dollar at 9:57 a.m. in Tokyo today.
"Losses in the electronics business will probably linger, but the company should be profitable overall," said Ueda. "The attention will be on the mid-term earnings results in November."
Before it's here, it's on the Bloomberg Terminal.
LEARN MORE