Marianne Williamson, California's New Age Contender for Congress
Spiritual adviser to Hollywood and best-selling self-help author Marianne Williamson wants to represent America's wealthiest district
Karl Taro Greenfeld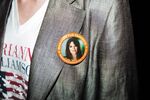 In the sanctuary above an herbal tonic bar, before a seated Buddha and a pair of mandalas, 48 volunteers for congressional candidate Marianne Williamson close their eyes and meditate as Annelise Balfour, the manager and head facilitator of the Source Spiritual Center, intones a welcome prayer. "Marianne, she's … Whoa! She's the s-‍-‍-. I'm so grateful for her. We thank you, God, for more gratitude, more adventure, more transformation. Now I ask all of you, drop your story of the past. Only now do you have the power to transform your world. Visualize gardens growing and dolphins swimming and any dream you care to dream of a government that responds to its people." When she finishes, a few of those gathered, echoing how Williamson ends her own talks, add, "And so it is."
Williamson, 61, is the best-selling author of 13 books on spirituality and a renowned New Age guru, although she hates that term. She wants to channel some of her 220,000 Twitter followers and 456,000 Facebook likes—and millions of readers—into a constituency that will vote for her. She's out to replace Democratic Representative Henry Waxman, who's retiring after 20 terms, in California's 33rd U.S. congressional district. Encompassing Beverly Hills, Bel Air, Brentwood, Pacific Palisades, Malibu, Santa Monica, and Venice, the 33rd then curves around to include the equally tony enclaves of Hermosa Beach and the Palos Verdes peninsula. The district has the highest per capita income, $60,000 per year, and the highest median home value, $911,000, of any district in the country. It's rich, white, and liberal; Barack Obama carried more than 60 percent of the vote in both his races, and the district gave millions to his campaign. The 33rd is home to donors such as Jeffrey Katzenberg and Haim Saban and a host of other liberal billionaires. Whoever controls the 33rd becomes a power broker: Almost every Democratic candidate with national aspirations stops in to tap the ATM.
To win Waxman's seat, Williamson must first make it into this fall's general election; to qualify for that, under the state's open electoral system, she must finish first or second in a June 3 primary. Running as an independent, Williamson benefits from a fragmented field of 17 announced candidates with no clear front-runner. High-profile establishment Democrats in the race include State Senator Ted Lieu and former Los Angeles City Controller and mayoral candidate Wendy Greuel, both of whom will attempt to appeal to the 33rd's traditional Democratic base of former Waxman supporters. There is no similarly positioned Republican candidate, though in 2012, businessman Bill Bloomfield, an independent, spent $7 million, much of it his own money, in an unsuccessful attempt to take Waxman's seat. If any district in America might embrace Williamson, it's the 33rd.
She has only recently moved into the district herself but was always a good fit among wealthy Westsiders. Driving around in a white Toyota Prius, she's proven herself a formidable fundraiser, tapping into her unique base, a combination of Hollywood insiders and spiritual seekers, to raise more than $1 million to date. At a recent event, Steven Tyler and Chaka Khan performed at a $5,200-per-person private concert at the Malibu estate of True Religion Apparel co-founder Kym Gold. The average day on the hustings will find Williamson driving from Beverly Hills to Hermosa Beach, giving her impassioned stump speech, an eloquent refresher on U.S. history that attempts to situate her candidacy in the context of the abolitionist, suffragette, and civil rights movements before broaching three central issues: getting money out of politics, ending mass incarceration, and forcing food companies to state on labels whether their products include ingredients from genetically modified organisms.
Political movements have often arisen in California, from Ronald Reagan's staunch conservatism and Howard Jarvis's tax-cut revolution to the Black Panther Party, and it could be that Williamson represents the start of a sort of anti-GMO Tea Party of the Left. Former Ohio Representative and frequent presidential candidate Dennis Kucinich has heralded her as a new type of politician, one who is "truly outside the system." Former Minnesota Governor Jesse Ventura has endorsed her campaign and her call to end "a legalized system of corruption and bribery." Those endorsements may not confirm a movement, but her popularity appears symptomatic of a deep dissatisfaction among wealthy Los Angelenos and millennials who are disappointed with Obama's centrist compromises. Williamson, a frequent speaker at Occupy Wall Street rallies, appeals to the thousands of people who protested the banks but have little to show for it. And while persuading some of the wealthiest people in the U.S. to accept tighter financial regulations and higher taxes might seem like a tough sell, in California's 33rd she's just as likely to lose by alienating the vegan vote. Indeed, Williamson hesitates a long time before admitting that she occasionally enjoys a steak. "That's the most dangerous question you've asked me," she says. "And since the campaign began, I've been craving red meat."
 
 
Williamson lives in a luxury apartment in Brentwood with a Chinese apothecary cabinet in the corner. She dresses the part of a Westside professional woman, in black dresses and Louboutin heels. She's a wisp of a woman, skinny with sharp features, piercing eyes, and drawn cheeks. Part of her appeal has always been that her eloquent, well-reasoned discourse—many of her talks have nothing to do with her New Age teachings—spool from such a slight person in such a low, drawling voice. You have to lean in to hear her. "I didn't realize that running as an independent would be perceived as a threat to the Democrats," Williamson says, snacking on olives and almonds. "I'm a lifelong Democrat. But [the campaign] has made me a pariah to the Democratic establishment."
In her 1990s heyday, Williamson was the spiritual adviser to numerous Hollywood heavyweights, including David Geffen, Barbra Streisand, and Cher. She officiated at Elizabeth Taylor's wedding to Larry Fortensky at Michael Jackson's Neverland Valley Ranch; huddled with Hillary Clinton in the White House; and was named one of the 50 most influential baby boomers by Newsweek. Her 1992 book, A Return to Love, spent 38 weeks on the New York Times bestseller list after Oprah Winfrey bought 1,000 copies and had Williamson on her show. Oprah told her audience that since reading the book she had experienced "157 miracles."

That appearance was the high point of a journey that began in a middle-class Houston suburb where Williamson was one of three siblings. Her late father, a Russian émigré born Sam Vishnevtsky, changed his name to Williamson. Sam, an immigration lawyer, was a socialist who took his children to Italy, Japan, Russia, and even Vietnam at the height of the conflict there to show them the evils of war. "He still speaks to me somehow," she says. "He's my moral compass. Because of him I have this fundamental belief that justice matters."
Williamson attended Pomona College for a few semesters before dropping out to open a New Age bookshop and sing cabaret. Along the way, she divorced after a three-month marriage and had a nervous breakdown. It was a period she has described as "drugs and men." In A Return to Love, she writes, "Every door marked 'no' by conventional standards seemed to hold the key to some lascivious pleasure I had to have."
In the late 1970s, Williamson encountered A Course in Miracles, a 1,200-page multivolume book that some claim is the work of Jesus Christ. Supposedly dictated in the late '60s by Christ to Helen Schucman, a professor of psychology at Columbia University, it has since sold more than 2.5 million copies and been embraced by Eckhart Tolle, Robert Schuller, and others. But it was Williamson who would become perhaps its foremost interpreter.
Among other things, A Course in Miracles offers a program in total forgiveness. Its teachings differ from conventional Christianity in that it says the physical world, all that we see, is man-made rather than created by God; anything that is wrong or evil in the physical world is the mental creation of human beings and therefore an illusion. The only path to seeing past this ghastly dream state is forgiveness, what the course calls atonement. In this sense, the course shares more with Buddhism than conventional Christianity, and many Christians vehemently reject it as apostasy. For Williamson, the book remains the basis of her worldview, though as a politician on the stump, she seldom mentions it.
By the early '90s, Williamson had a daughter (India Emmaline, whose father Williamson refuses to identify or discuss, now 23 and studying in England) and had become a doyenne of the Los Angeles gay community. She founded the Los Angeles Center for Living, a charity that served primarily AIDS patients, and then Project Angel Food, a nonprofit that delivers meals to housebound AIDS patients. As she sought to expand her programs nationally and became famous as a guru to the stars, the first waves of critical press, including a 1991 Vanity Fair profile, caused Williamson to retreat from being a self-professed "bitch for God."
She moved, first to Montecito, near Santa Barbara, and then to Detroit, where she served as pastor of the Renaissance Unity Interfaith Spiritual Fellowship in Warren, Mich. Then-Michigan Governor Jennifer Granholm, who was often in the pews, recalls Williamson as someone who "follows through on her commitments. She stunned me with how many volunteers for mentors for foster kids she could come up with." After five years, though, she left the church amid controversy over her attempt to change the church's parent denomination and backlash over her focus on progressive political issues.
After a stop back in Houston to sit at her mother's bedside as she was dying from cancer, Williamson returned to Los Angeles in 2007 and lectured weekly to standing-room-only audiences. She calls her period of wandering in Detroit and Houston a "self-imposed exile. But I realized that living a meaningful life is not a popularity contest."
Throughout her exile, she continued speaking and writing bestsellers. In her 1997 book, Healing the Soul of America, a political primer Williamson frequently echoes in her current campaign, she outlined what she saw as America's illness: "We have allowed an unholy alliance of government—the new monarchy—and corporate influence—the new aristocracy—to take control of events in a way that would have made our Founders shudder."
Part of what the course teaches is that each person has a particular role to play, and that through atonement, one can find one's "special function" in this world. Williamson's special function, she now says, is to serve in Congress.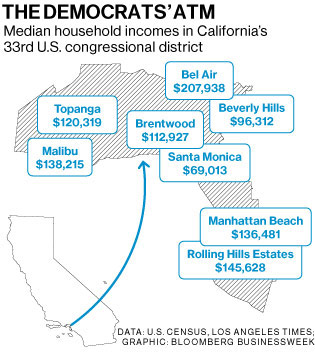 Williamson's campaign events are well-attended, and she believes the key to winning this eclectic district is turning out those independent voters who would normally skip the primary. (Twenty percent of voters in the 33rd register as independent.) But to do that she needs to do more than speak at spiritual centers; she needs a ground operation and a media team. "Her campaign has demonstrated an ability to raise money," says political consultant Rick Taylor. "But you also have to know how to spend it. So far, she is not getting a great deal for her money." The irony of a candidate who has vowed to get money out of politics raising more money than her opponents is not lost on Williamson. "Until it's out, it's in," she says.
It's difficult to see where she is spending her money, besides pouring thousands into high-priced consultants such as Joe Trippi, campaign manager for the presidential runs of Howard Dean and John Edwards, and John Shallman, who steered rival Greuel's unsuccessful 2013 mayoral bid. Considering the fundraising head start she has over her opponents, she has yet to establish her name throughout the district as well as she might.
Williamson and those around her—at present she has neither a campaign manager, having gone through several, nor a finance director—are sometimes at odds as to how to convert the vegans, Buddhists, and skateboarders who turn up at her events into primary voters. At times the campaign can look, sound, and smell more like Ken Kesey's bus than a congressional race. At the Source Spiritual Center event, Williamson's then-political field director, Michael Gomez Daly, took the stage to begin the process of converting her spiritual acolytes into political operatives. Immediately, an earnest woman with dreadlocks shot her hand up and asked, "What's canvassing?"
There has been no independent polling of the district, yet Williamson's internal poll shows she is running close to the Democratic front-runners, close enough, her advisers say, to sneak into the runoff. "In any other district, I'm a little unsure," says Gomez Daly. "But in this district, she has a real chance." (Nevertheless, Gomez Daly has left the campaign, following the departure of campaign manager David Keith.)
"It gets tiring," Williamson says just before taking the podium one recent evening in Santa Monica. "I'm not sure I knew it would be this tiring." She's not whining, though. "Abraham Lincoln went through 12 generals before he got Ulysses S. Grant. He had never done a Civil War before. Well, I've never done a political campaign."
State Senator Lieu, 45, perhaps the strongest mainstream Democratic candidate in the race, is running a decidedly more methodical operation, lining up endorsements, opening his campaign offices, revving up his ground game. His headquarters are in Torrance, perhaps the most middle class of the 33rd's many communities. He is a Taiwanese immigrant who grew up in Cleveland and attended Stanford University and Georgetown Law. He served in the Air Force at nearby Los Angeles Air Force Base and retired as a lieutenant colonel. Also a lifelong Democrat, Lieu has won the endorsement of the national Democratic Party. For each of Williamson's pet issues—money in politics, food labeling—he points to his own, specific achievements in California's state legislature. He is as progressive as she is, favoring higher taxes on the ultrarich, and fiercely pro-environment. He also knows district and local political power brokers, having won a state senate district that overlaps with 86 percent of the 33rd congressional district after serving two terms as a state representative.
"And I do eat red meat," he jokes. "A little." The June 3 primary will be a "low voter turnout, more informed voter, and I win that race," says Lieu.
 
 
Williamson rails against mainstream politicians, yet in terms of policy, there is little to distinguish her from Democratic opponents such as Lieu. Greuel is another proudly liberal candidate, and a former DreamWorks executive, who has spent years fighting for environmental causes and to bring light-rail to L.A.'s Westside. Another candidate, radio host Matt Miller, is also liberal.
Williamson tends to stay at such a high altitude in her oratory that one wonders if she will have any patience for actually governing or the even more prosaic business of listening to constituents and responding to local micro-issues. Lieu says, "It's easy to say you are for X, or against X, without having to listen to arguments from powerful interests or having to stand up to powerful interests."
As for how she'll stand up to special interests once in office, she cannot say, exactly. But much of her stump speech is about how she's just different—that her spiritual background and "authenticity" give her special powers that will allow her to retain her purity. To reduce the influence of political donations, Williamson supports a constitutional amendment to regulate campaign financing. She's also for Democratic Senator Barbara Boxer's bill requiring labeling of GM foods, though she complains the bill doesn't go far enough. She'd like to see pesticides taxed—there is no sales tax on pesticides in most states—and subsidies to large agribusinesses curtailed.

"The main theme of this campaign is how the spiritual movement should never have been separated from the political narrative," Williamson says. "Back in the '60s, they were one. Sex, drugs, and rock 'n' roll was only part of the day. We read Ram Dass and Alan Watts in the morning and in the afternoon went to the protest. It was all one big gestalt. …  Then it split: The spiritual types took the West Coast and the political types the East. Now the higher consciousness community includes a lot of apolitical people prejudiced against those who bring politics into the mix. A lot of my traditional audience does not appreciate my foray into politics."
For the time being, these disaffected voters, millennials, and New Agers are providing her with energetic crowds. At a recent fundraiser in Venice, the hostess, Veronica Gabrielle La Barrie, stands in her living room, next to a table heaving with seven types of salsa, and introduces Williamson. "The old paradigm is no longer going to serve us. It is based on man-made rules and ideas—survival programming, survival of the fittest—and it is over," La Barrie, a spiritual adviser, says. "This new paradigm is being and giving. The old paradigm is getting and having. There is nothing to get. We have to get out of the getting concept."
A cynic could be forgiven for thinking that Williamson will win, even if she doesn't make it past June. Running for office makes her relevant anew, propelling her into the cable-news cycle, where the nonstop conversation revolves around politics. She knows that a politician-guru can get more bookings than a mere spiritual adviser. If that's the end game, Williamson is still bracing for the campaign ahead. "I fully expect humiliation," she says. "I fully expect embarrassment. But here I am."
Before it's here, it's on the Bloomberg Terminal.
LEARN MORE