In China, Xi's Anticorruption Drive Totes Up Big Numbers
The anticorruption drive nabs top officials and army generals
by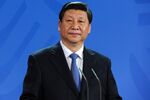 Chinese President Xi Jinping's anticorruption campaign has lasted longer, gone deeper, and struck higher than many analysts and academics had expected. Xi has been so zealous that since late last year retired Communist Party leaders including ex-President Jiang Zemin have cautioned him to take a more measured pace and not be too harsh, say Ding Xueliang, a professor of social science at the Hong Kong University of Science & Technology, and Willy Lam, an expert on elite politics at the Chinese University of Hong Kong.
Xi is cracking down on the army and the police at the same time, something no leader has done before, says Ding. Gu Junshan, a lieutenant general in charge of logistics for the People's Liberation Army (PLA), has been charged with bribery, embezzlement, and abuse of power, the official Xinhua News Agency reported on March 31. He will be tried in military court.
China's former top cop and security czar Zhou Yongkang is under investigation for corruption, say Ding and Lam. When asked at a March 2 press conference whether Zhou was under suspicion, a government spokesman avoided a direct answer, saying, "Anyone who violates the party's discipline and the state law will be seriously investigated and punished, no matter who he is or how high ranking he is." He added what seems to be a veiled confirmation: "I can only say so much so far. You know what I'm saying."
More than 180,000 party officials were punished for corruption and abuse of power last year, according to the Central Commission for Discipline Inspection, the party's watchdog. While most were low-level officials—or "flies," as Xi has put it—they also included senior party members—"tigers," in Xi's words. Thirty-one senior officials were investigated by the commission last year: Eight had their graft cases handed over to prosecutors. The remaining 23 are still being investigated.
Petty corruption has become common, while some higher-level officials have acquired fortunes through questionable means. Gu, the general who faces trial, had dozens of apartments in Beijing and a villa resembling the Forbidden City in his hometown of Puyang. He stocked the villa with pricey maotai liquor, a solid gold wash basin, and a gold statue of Mao Zedong, the finance magazine Caixin reported. "The trust of the people toward the elite is at one of its lowest levels in history," says Fred Hu, chairman of Beijing-based Primavera Capital Group and former China head of Goldman Sachs.
Xi has turned to old methods, including Mao-era practices of self-criticism, to stop the rot. "Xi has an acute consciousness that whether it was the Qing dynasty or the Kuomintang [Nationalist Party], the end of these reigns came with huge servings of corruption," says Orville Schell, director of the Center on U.S.-China Relations at the Asia Society.
On April 2 more than a dozen generals pledged their support to Xi in the army newspaper. That hasn't happened since the 1989 protests at Tiananmen Square brought the loyalty of some army units into question, says Ding. But pledges of fealty don't solve the problem. In 1998, then-Party Secretary Jiang forced the military to divest its businesses so the generals could focus on building a professional army. With their companies gone, many in the armed forces turned to corruption. Control over land that can be monetized through luxury construction, plus the selling of military ranks, have generated income for well-connected officers. "Today you have to buy your position within the military," says Jean-Pierre Cabestan, director for government and international studies at Hong Kong Baptist University. "That, of course, diverts the PLA from its main mission, which is to be ready for war."
Xi's campaign is taking down his rivals, a tactic found throughout Chinese history. Former security boss Zhou, once a member of the elite Standing Committee, joined ousted princeling Bo Xilai in opposing Xi's 2012 promotion to top leader and has won Enemy No. 1 status, says Lam. "Xi is telling everybody else, 'You better behave. I have mountains of evidence … against all of you.' "
Xi considers the cleanup a party matter, so activists seeking more transparency in government are being silenced. The most prominent transparency advocate, Xu Zhiyong, a lawyer, was recently sentenced to four years in prison for "gathering crowds to disturb social order." On April 8, two more activists went on trial on the same charge. "They definitely don't want any checks and balances on the power of the party," says Lam.
Before it's here, it's on the Bloomberg Terminal.
LEARN MORE