Hagel Gets Gift Horse in Mongolia After Pledging Support
Gopal Ratnam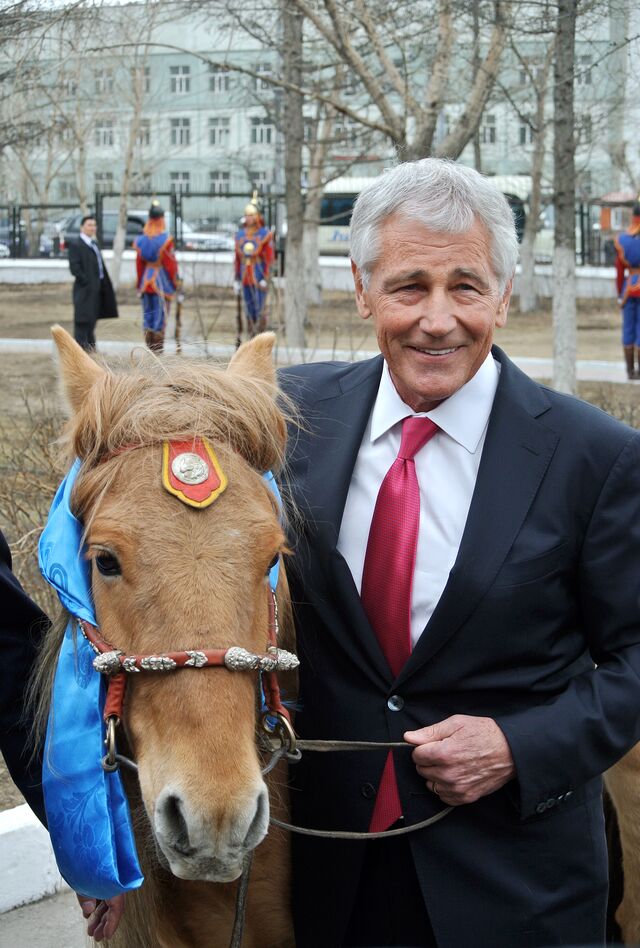 Defense Secretary Chuck Hagel was gifted a nine-year-old horse during a visit to Mongolia, where he pledged the U.S. would continue aiding the country's military modernization.
Hagel, who named the horse Shamrock after his school mascot and handed him over to the care of a local herder, is the first Pentagon chief to visit Mongolia in nine years. He met in Ulaanbaatar with Defense Minister Bat-Erdene Dashdemberel and Prime Minister Altankhuyag Norov, and the two countries signed a statement pledging U.S. assistance for the land-locked nation's efforts to upgrade its armed forces.
"Mongolia serves as a stabilizing influence in Asia and is seeking to modernize its military in a transparent fashion," the two defense chiefs said, according to the statement. The Pentagon "supports the Mongolian armed forces' continuing efforts to modernize" and be able to operate with other militaries and partners, according to the statement.
Mongolian armed forces have served alongside U.S. troops in Iraq and Afghanistan and have served in peacekeeping missions in Sudan, South Sudan, the North Atlantic Treaty Organization-led mission in Kosovo, as well as Sierra Leone, Chad and Georgia. Hagel's visit is the first since then-Defense Secretary Donald Rumsfeld's in 2005. Rumsfeld was also gifted a horse, a traditional present in Mongolia, as was Vice-President Joe Biden in 2011.
Peacekeeping Exercise
Resource-rich Mongolia, which is bordered by both Russia and China, hosts an annual peacekeeping exercise called Khaan Quest that is a key element of U.S.-Mongolia military relations, according to the statement. "Both nations desire to expand multinational cooperation," they said in the statement.
Mongolia is not seeking to host any foreign military forces on its soil, Bat-Erdene said at a news conference. The country is interested in enhancing its role in global peacekeeping operations and seeks U.S. assistance in training for that, he said.
Afterward, Bat-Erdene presented the horse to Hagel, who patted it and wrapped a blue-colored scarf around its neck to acknowledge receipt. He gave the horse to the herder along with a Pentagon coin, and told him to take good care of the animal. Hagel took away a painting of the horse.
Before it's here, it's on the Bloomberg Terminal.
LEARN MORE