pursuits
Will Etihad's Flock of Ailing Airlines Fly?
The Gulf airline has spent big to build a network of ailing carriers
By and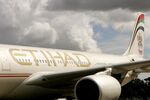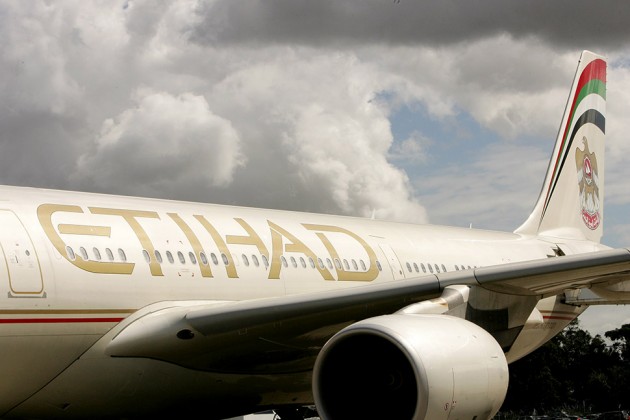 From Serbia to the Seychelles, Etihad Airways Chief Executive Officer James Hogan has been greeted as a savior for his willingness to bail out cash-strapped airlines. Since 2011 the Australian has arranged stakes in seven carriers, from Aer Lingus Group on Europe's western fringe to Virgin Australia Holdings on the shores of the Pacific, to help funnel passenger traffic through Etihad's desert hub in Abu Dhabi. His next rescue may be the boldest yet: Italy's Alitalia, dogged by bloated payrolls, state meddling, and chronic losses.
Hogan's investment in a clutch of ailing airlines over which he has limited managerial control comes a decade after a similar strategy led to the collapse of Swissair. Leading airlines now favor global alliances of independent carriers. What sets state-controlled Etihad apart is funding from an oil-rich government eager to match the growth of Qatar Airways and Emirates, the No. 1 international airline, which is based less than 100 miles away in Dubai. "Swiss, back in the day, also acquired a lot of ailing carriers," Deutsche Lufthansa Chief Financial Officer Simone Menne said at an event last October. "But Etihad has much deeper pockets."
Hogan says his investments in airlines that serve minor markets or are overshadowed by major carriers in bigger ones will lift Etihad's passenger tally and secure economies of scale needed to make his ragtag empire profitable. "This is a long-term play," says Hogan, who became CEO in 2006 after running Gulf Air. "This isn't for 12 months; this is for the next 20, 30, 40 years."
Founded in 2003, 18 years after Emirates and nine after Qatar Airways, Etihad needed something more than organic growth to gain global scale, says Hogan. His first move was to take a 2.99 percent holding in Air Berlin in 2011, increasing that to 29 percent months later. He has since added stakes in Air Seychelles, Aer Lingus, Virgin Australia, Air Serbia—formerly Jat Airways—and Jet Airways India, and is seeking regulatory approval to invest in Swiss regional carrier Darwin Airline. Hogan this month said Etihad is negotiating the "next stage" of its deal with Air Berlin after the German carrier said it needs to improve its liquidity.

Investing in perennially unprofitable Alitalia, where losses have exceeded €1.1 billion ($1.5 billion) in five years, may be a tougher challenge. While the Rome-based carrier is No. 1 in Europe's third-largest outbound, cross-border travel market, it's under siege from low-cost operators led by Ryanair Holdings and EasyJet on short-haul routes.
Hogan's critics draw comparisons to Swissair's hodgepodge of stakes in carriers such as Belgium's Sabena, which led to the Swiss airline's collapse with debts of almost 17 billion francs ($19 billion) in October 2001. At Mideast rival Qatar Airways, CEO Akbar Al Baker said in a March interview that he doesn't favor investments "in bits and pieces," having turned down "umpteen airlines," including Alitalia, which was made available "several times," and recent Etihad purchases Air Seychelles and Air Serbia.
Asked if Etihad might lift its holding in Aer Lingus, Ryanair CEO Michael O'Leary said the Persian Gulf carrier has "bought a lot of rubbish, and increasing their stake in Aer Lingus is consistent with that." Ryanair is the biggest investor in Aer Lingus, which O'Leary says faces collapse without a full takeover.
Hogan's strategy is partly a response to legal curbs that generally limit full airline mergers to national and regional deals such as those that saw the emergence of three major carriers in the U.S. and Air France-KLM and IAG, owner of British Airways and Spain's Iberia, in Europe.
Top carriers have largely avoided minority holdings in favor of boosting connections and traffic via global alliances such as the British Airways-led Oneworld, which Qatar Airways joined last year. Airlines have also embraced joint-venture agreements, which require antitrust immunity and let carriers operate as single entities in key markets such as the trans-Atlantic and trans-Pacific, sharing revenue and costs and combining timetables. Emirates did just that with a 2012 bilateral pact with Australia's Qantas Airways.
Hogan says he opted for his minority stake strategy after the three global groups—Star Alliance, SkyTeam, and Oneworld—proved resistant to admitting Gulf carriers that were building megahubs and widebody fleets to capture the most lucrative travelers. "The alliances didn't want to talk to us," he says. "We felt that knocking on the door was a waste of our time."
For Etihad, which has 103 routes, its so-called equity partnerships have helped deliver a wider network of 400 destinations. Hogan says that's "smarter" than buying 200 more planes to add to the 95 already in the fleet (as of early 2014) and 200 on order. The impact on Etihad's earnings is harder to quantify. The carrier reported that net income surged 48 percent last year, to $62 million, without disclosing the contribution from minority holdings. Hogan says the equity alliance would rank as the world's No. 8 airline by revenue were it a single carrier, and partners helped deliver $820 million of Etihad's sales in 2013, or a fifth of the total. Yet that figure includes the impact of code-share deals with almost 50 other airlines and not merely the minority holdings.
Of the eight carriers in which Etihad holds stakes or is evaluating for investment, just two make money. Aer Lingus posted net income of €34.1 million for 2013, a 0.6 percent gain, and Air Seychelles earned $1 million in fiscal 2012. While Hogan has said Air Serbia and Darwin should become profitable this year, that leaves Air Berlin, Jet Airways, and Virgin Australia—the three biggest carriers in which Etihad has stakes by passenger numbers—still losing cash.
Mumbai-based Jet suffered a loss of $250 million in the nine months through December, while Virgin Australia had a loss of A$84 million ($78 million) in the six months ended Dec. 31 as it battles Qantas for market share. Air Berlin ran up more than €600 million in net losses in the five years to 2012 and probably had a €175 million loss in 2013, according to analysts' estimates. The German carrier, to which Etihad paid $350 million for the equity stake and plane loans plus €184.4 million for a frequent flyer program, halted earnings releases last month.
John Strickland, director of London-based JLS Consulting, says Hogan's plan to redirect passengers via Abu Dhabi makes sense but that such diverse investments require absolute homogeneity in management, product, and financial position. "I understand the logic," he says. "But no other airline is doing what they're doing to this scale, and that's because of the risks attached."
Before it's here, it's on the Bloomberg Terminal.
LEARN MORE