Losing Patience, and Patients, With Medicaid
Millions of new enrollees may have trouble finding doctors to see them
By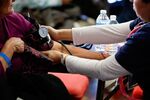 Sonya Lott hadn't seen a doctor for at least 10 years when she signed up for Washington State's Medicaid program in January and got a checkup at a community clinic in Yakima, 140 miles southeast of Seattle. Tests revealed severe high blood pressure and heart problems. Lott, who's been staying with friends and family since losing her job at a hotel last May, went on medication and has returned about every two weeks. "With the health problems that they're finding that I have, I don't think I'd be living too much longer" without care, she says.
Lott didn't qualify for Medicaid until this year, when Washington and 25 other states widened eligibility under the Affordable Care Act. As a result, the Congressional Budget Office estimates that about 8 million people will join the government health insurance program for the poor in 2014. By the end of February, more than 3 million had signed up.
That's good news for patients such as Lott and for nonprofit clinics like the one in Yakima that often treat people who previously had no way to pay. The effect on the rest of the health-care system is less certain. Most doctors in private practice lose money on Medicaid patients, because the program pays less than commercial health plans or Medicare, the federal insurance program for Americans over 65. Many physicians already don't accept Medicaid, and millions of new enrollees clamoring for appointments will strain those who do. "There are concerns, as there have been for quite some time, about making sure there are enough providers to meet the needs," says Rachel Garfield, senior researcher at the Kaiser Family Foundation, a health policy group.
Medicaid covered about 16.4 million Americans in 2012, according to U.S. Census data, at a cost of $421 billion. States are required to provide Medicaid coverage to people with disabilities and pregnant women, among others. Under Obamacare, they can expand the program to people previously ineligible, including childless adults who earn as much as $15,000 a year. Ten states accounted for 80 percent of the Medicaid growth, an analysis by consulting firm Avalere Health concluded, with California, Oregon, Washington, Florida, and Colorado adding the most.
About 46 percent of physicians accept Medicaid, according to a 15-city survey last year by staffing firm Merritt Hawkins. That's down about 10 percent from four years before. To encourage primary-care doctors to take Medicaid patients, the Affordable Care Act has temporarily increased the program's payments to doctors, matching Medicare's higher rates through 2014. But the boost doesn't apply to specialists such as cardiologists and oncologists. "What they pay doesn't even come close to covering expenses," says Pat Howery, the administrator at Colorado West Otolaryngologists, an ear, nose, and throat clinic in Grand Junction. For a basic office visit, Howery says, UnitedHealth Group pays $119 and Medicare $73; Medicaid comes in at $52. "You can't make this up in volume," he says. In January the clinic began limiting each doctor to two Medicaid appointments a day.
In rural Yakima County, where one in five people live below the poverty line, some specialists are already overloaded with Medicaid patients. "The question is, at what point will they start saying no?" says Rhonda Hauff, chief operating officer of Yakima Neighborhood Health Services. The clinic refers several patients a week to specialists outside the county because they can't get appointments locally, she says.
If more doctors stop accepting Medicaid, the burden of treating the rising number of patients who depend on it will fall on nonprofit clinics and hospitals that see whoever comes in the emergency room doors. For them, even paltry Medicaid payments are a step up from treating patients with no insurance. "When you're in a high-poverty area like this," says Anita Monoian, chief executive officer of the Yakima clinic, "the mere fact that you're going to get paid something has a lot more appeal."
BOTTOM LINE -
The bottom line: Obamacare is expected to add 8 million people to Medicaid this year, but many doctors will lose money treating them.
Before it's here, it's on the Bloomberg Terminal.
LEARN MORE