pursuits
For Expats in China: Smog Perks
As pollution deters recruits, some businesses have to pay up
Liza Lin and Natasha Khan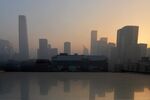 As a thick smog hung over Beijing last year, Stephanie Giambruno and her husband decided it was time for her and their two girls to return to the U.S. Giambruno's husband stayed in China for his job as general manager of a global technology company. He now Skypes with the family twice a day, she says, and his employer lets him travel to Florida once a month to see them. While it's hard to be apart, Giambruno says Beijing's record air pollution left them no choice. "It's not a way to live, to keep your baby inside with an air filter running," she says.
As bad air chokes Chinese cities, some expatriates are leaving families in their home countries, the latest sign of pollution's rising cost to the more than half a million foreigners working in China and the multinationals seeking to retain them. Smog in Beijing exceeded government pollution standards most days last year, and environment ministry statistics show that 71 of 74 Chinese cities failed to meet air quality standards. The World Health Organization said in March that air pollution contributed to 7 million deaths worldwide in 2012, with 40 percent of those occurring in the Asia-Pacific region dominated by China.
"We are seeing some companies reverting to 1980s and 1990s hardship packages for executive-level candidates in cities that are hard hit with pollution," wrote Angie Eagan, managing director for China at recruitment firm MRIC, in an e-mail. "These packages are shaped around executives leaving their families in their home country and receiving an allowance for frequent home trips."
In a statement, Panasonic says it's considering increasing a living allowance for overseas workers in China by an undisclosed amount based on environmental factors, including air pollution. But many companies are reluctant to add to the 5 percent to 10 percent premium they already pay expats in China, preferring to compensate them through perks such as more time off, paid trips to get away, or covering the cost of insulating homes against bad air, says Fred Schlomann, managing director at human resources advisory firm Associates for International Research.
A third of member companies of the European Union Chamber of Commerce in China say air pollution has added to staffing costs as expats make demands such as better air filtration, health care, or pay, according to Ioana Kraft, general manager of the group. Two-thirds identify air quality as the top challenge in attracting foreign talent. And about 48 percent of respondents to a 2014 survey by the American Chamber of Commerce's Beijing and Northeast China chapters cited difficulty recruiting or retaining senior executives in China due to pollution.
James McGregor, Greater China chairman of consultant APCO Worldwide, is moving to Shanghai in May after 25 years in Beijing, partly because of the air. To provide a clean workplace, his firm installed air filters every 25 feet in their Beijing office, about a dozen devices for 30 staff members. Even so, employees take more time off because of illness than 18 months ago. "There are a lot of sick days, and sometimes our office in Beijing sounds like tuberculosis wards," McGregor says. He says the firm is able to retain staff because it hires locally and has only a few longtime expats.
Pollution is making it hard for Nestlé to draw both foreign and Chinese talent to Beijing, says Greater China Chairman Roland Decorvet. Others adopt coping strategies: Simon Gleave, Beijing-based partner in charge of KPMG's Asia-Pacific financial-services practice, spent $4,000 for a personal air quality monitor and $15,000 for air filters around his house. He also bought an indoor virtual-reality cycling system for days when the air is too bad for him to ride outside.
Companies are still able to attract expats, because knowledge of the China market is becoming crucial to career advancement in many industries. Says Robert Parkinson, a U.K. native who owns a 40-person executive search firm in Beijing and just spent more than $6,000 on two purifiers for his office: "You have to take China as a whole meal; it's part of the experience."
Before it's here, it's on the Bloomberg Terminal.
LEARN MORE