Austin Is the New Brooklyn
Americans are fleeing big cities for smaller, and cheaper, ones
By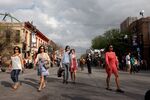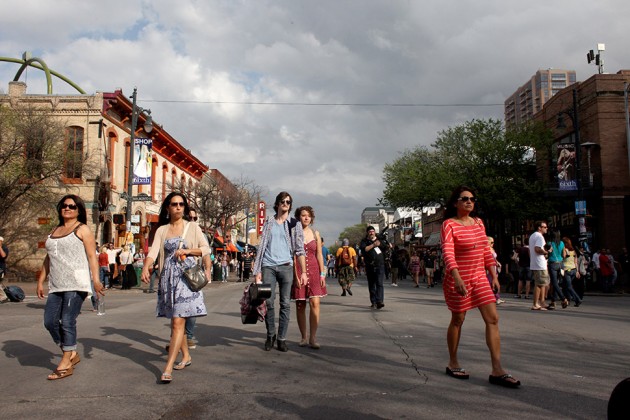 When Jeni Putalavage-Ross started dating the man who's now her husband, they were forever schlepping between her one-bedroom apartment on Manhattan's Lower East Side and his fifth-floor walk-up on the Upper West Side. "Every date had to be an overnighter," she says. "I felt like a pack mule." They wanted to buy a place together, but even stretching their budget to $700,000 they could afford only a two-bedroom in the far reaches of Brooklyn. "We started talking about marriage and kids, and we just couldn't figure out how to make it work in New York," she says. In 2009 they gave up and ditched the East Coast for Austin, Tex.
There are 92,812 Americans with a similar story. That's the number of people who moved to Austin from other parts of the U.S. from 2010 to 2013, according to the U.S. Census Bureau. Most are refugees from large cities including New York, Los Angeles, and Chicago.
At the peak of the housing bubble in 2006, almost half a million people fled the country's 50 largest metro areas in search of less expensive places to live, many settling in distant suburbs. Then the recession put the brakes on all kinds of migration. Census data released in March reveal that as Americans start moving around again, cities are seeing a different kind of urban flight. This time, hundreds of thousands of Americans who enjoy city living are abandoning major population centers not for suburbs but for more affordable, second-tier metropolitan areas.
Over the past three years, only three of the nation's largest cities—Dallas, Houston, and Atlanta—were among the 20 fastest-growing metro areas of a million or more people. Austin topped the list, followed by San Antonio, which lured 68,961 out-of-towners, and Raleigh, N.C., drawing 41,495. Compare that with New York, which lost 362,359 residents, and Chicago, which saw an exodus of 172,378. "When the economy gets going a little more full steam and these young people can afford to get a mortgage and buy a house, those flows will even be stronger," says William Frey, a demographer at the Brookings Institution in Washington. An April analysis by the real estate website Redfin found that just 12 percent of homes for sale in Los Angeles were affordable on two middle-class incomes. In Raleigh, more than half were.
The Census data show that fracking boomtowns in North Dakota and retirement enclaves in Florida have experienced some of the largest growth in the nation by percentage, but the number of people moving to Austin and other fast-growing cities far outpaces them. Frey says large cities won't necessarily miss the residents who've left, because new people are always moving in to take their place: The March Census report found that despite the outward migration, metro New York's population is at a record high of 19.9 million.
At the same time, midsize cities inheriting thousands of new citizens are beginning to feel the effects, with traffic jams, crowded classrooms, and higher rents. This month, Redfin reported that the housing markets in the Census data's hot cities have become the tightest in the country. In Austin, almost 22 percent of homes sell within three days. "This population growth is driving housing demand, and buyers are feeling the crunch in 2014," Redfin said.
Since moving to Austin, Putalavage-Ross has had a daughter and is pregnant with twins. She recently asked her real estate agent about looking for a more suitable home. "She told us unless we wanted to triple our budget or move really far out of town, that we should just make do with where we are," Putalavage-Ross says. It was kind of like she'd never left New York.
BOTTOM LINE -
The bottom line: Census data reveal a big migration from New York and Chicago to smaller cities such as Raleigh and San Antonio.
Before it's here, it's on the Bloomberg Terminal.
LEARN MORE