Ask a Billionaire: James Dyson on Firing People
The vacuum cleaner company founder on firing people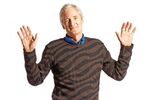 James Dyson
Founder and chief engineer, Dyson
Net worth: $4.4 billion
What's the best way to fire someone?
It's been quite a long time since I've fired somebody, thankfully. It's terrifying. It took me six months to pluck up the courage to fire the first person. And it still takes me an awful lot of courage to do it, 'cause it's such a heart-rending thing to do. It's deeply shocking and disparaging for the person you're doing it to. So what I usually say is: "It's not working out, is it? It's not your fault. It's just that it doesn't work with what we're doing." And most of the time, that's the truth.
Before it's here, it's on the Bloomberg Terminal.
LEARN MORE