Dropbox's Next Chapter: Corporate Customers, IPO, Condi Rice, and Eddie Vedder
The popular storage service adds apps to fend off Box, Google, and Apple
By and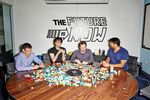 In November 2012, Drew Houston, co-founder and chief executive officer of Dropbox, the online storage service, dragged his employees to an offsite event at San Francisco's Yerba Buena Center for the Arts. His purpose was to scare them. Tech CEOs are notorious for pretending to be humble and stirring motivate-the-troops paranoia, but Houston's anxiety seemed real. On an overhead screen he displayed a black and white photo of a building out over a sea wall, threatening to topple onto the rocks below. "Are we this beautiful house sitting on top of a cliff?" he asked.
Dropbox was—and perhaps still is—the most celebrated startup in Silicon Valley. Two hundred and seventy five million people use it to manage their digital lives, storing personal documents, photographs, and videos across expanding collections of phones, tablets, and personal computers. The service is free up to 2 gigabytes of storage (rising if you refer friends, link an e-mail account, and so forth), after which a fee is imposed. Sensing that the company is centrally positioned in the dawning age of mobile computing, investors have piled in more than $600 million in venture capital. An initial public offering beckons sometime in the near future, and it will almost certainly make Houston a billionaire, with many of his 650 employees becoming worth millions.
At the same time, Dropbox arguably has the most fearsome set of competitors in all of tech. One rival, the similarly named Box, just filed to go public with a plan to raise $250 million. Box's strength is in the security-obsessed corporate market where Dropbox isn't much of a player. Google, Apple, and Microsoft all offer similar store-and-sync tools. Last month, Google cut the price of its Google Drive service by 60 percent, to $1.99 for 100 gigabytes. Dropbox charges $9.99 for the same amount of capacity.
Houston argues that while other services may be cheaper, no other company is as adept at keeping files synchronized among multiple devices. It's his strongest argument. Google, Microsoft, and Apple may all offer free services but, he contends, they also hope to lock users into their devices and apps. Dropbox is in the best position to play the role of neutral Switzerland, allowing customers to make a change to a file on a laptop running Windows, for example, and have it seamlessly update on an iPhone and a tablet running Google's Android operating system.
Houston unveiled his plan on Wednesday to preserve Dropbox's position as the sultan of Web storage. He's calling the initiative, which originated at the Yerba Buena meeting, "Chapter 2." Dropbox hopes to offer new ways for customers to access and share their virtual valuables. The company is introducing a photo application called Carousel that  will let users browse and share all the images stored in their cloud locker. And it is expanding the rollout of a mobile e-mail tool called Mailbox, made by a startup it acquired last year, which seeks to reduce the clutter of spam and preserve important attachments in the cloud.

Dropbox's offices, located in San Francisco's China Basin, are the Platonic ideal of modern tech-space extravagance. Employees roll around on skateboards; glass-walled conference rooms have inside-joke names—e.g., "Ferdonic Plague" refers to co-founder Arash Ferdowsi's propensity to catch colds. There's a music studio, a gym, a bar, and a wood-paneled dining room with a Michelin-rated chef who never prepares the same meal twice. "We wanted a chef who would stand up for something," says Ramsey Homsany, Dropbox's general counsel and former Google executive. "He delights and surprises us every single day."
Eight years ago, after graduating from Massachusetts Institute of Technology, Houston realized there had to be a better way to transport files among devices than thumb drives or e-mail. He hacked together a "magic folder" that remains at the center of Dropbox's service, recruited Ferdowsi (then an MIT senior), and joined Silicon Valley's famed Y Combinator startup program. They couldn't get the Web address Dropbox, so the company was first named Evenflow, after a song by Pearl Jam, Houston's favorite band.
Dropbox's rise was, in part, a matter of good timing. The company emerged alongside the first iPhone and grew amid the ensuing wave of picture-snapping imitators. Suddenly consumers had floods of photos and videos and a growing need to store them in one place. The basic Dropbox service was free, but when users hit the storage limit they were inclined to start paying. So the company took in revenue from the start. It also handed out discounts to users who referred friends, which helped it grow rapidly.
Competitors were slow to catch on. Steve Jobs invited Houston to Apple's headquarters in late 2009 and ominously advised him that Dropbox "was a feature, not a product." He offered to buy the startup and said Apple would enter the market and kill it if they refused. Houston says he told Jobs he was committed to building an independent company. Apple introduced iCloud in June 2011 and Google got into the mix in April 2012 with Google Drive.
Houston says that though Dropbox was having no trouble hiring or raising money, "we were freaking out" over the competition and changes in the computing landscape. Dropbox worked better on PCs than mobile devices. Storage, Dropbox's main product, was becoming a cheap commodity as highly capitalized competitors started giving it away to lure users. And customers who used Dropbox as a data repository couldn't do anything special with their content once it was it in the cloud. Jobs's critique seemed to be coming true.

Houston knew enough to look carefully at the numbers. What he saw was heartening: Despite the competition, customers were staying loyal and subscriptions continued to rise. Google and others had little success peeling away Dropbox's tens of millions of satisfied users, who didn't seem inclined to call in the digital moving trucks for all their files, even for a lower monthly fee. Dropbox's early lead and clear focus on providing the best experience seemed to be paying off, just as it has for such pioneers in other markets as Netflix and Skype. "If these services had been launched in 2006 or 2007, Dropbox wouldn't exist," says Sujay Jaswa, a longtime Dropbox vice president and its newly appointed chief financial officer.
The applications that are part of Chapter 2 are Houston's effort to build on its advantage and give users new reasons to store personal data with Dropbox. Carousel, the new photo app, is a nod to the famous scene in Mad Men in which Don Draper pitches Kodak executives on their iconic slide projector. Photos of events such as graduations and weddings, Houston points out, are spread over the devices and hard drives of multiple guests. It creates pervasive photo anxiety: People are no longer sure they own the best images of the most important moments in their lives. The app, which becomes available this week for iPhones and Android phones—with a version coming soon for desktops—taps into photos stored on Dropbox and allows users to cycle through them quickly and send images to friends and family, so they can add them to their collections well.
Houston, who is friends with Mark Zuckerberg and speaks with him often, says that Facebook's photo feature and Instagram are aimed at public photo sharing and not hanging on to photos for perpetuity. "There are a million ways to shout from the rooftops but amazingly no good ways to share privately," he says.
Dropbox executives have similar disdain for the current crop of e-mail services such as Gmail, whose fundamental organizing principle—a list of messages sorted by time—was conceived in the 1970s. "Look over the average person's shoulder at Starbucks and what are you going to see? An inbox with 37,000 unread messages," Houston says. Last year Dropbox bought the 13-employee Mailbox, which made a popular app for the iPhone. The program prioritizes e-mails it deems important, moving aside anything irrelevant and storing important attachments in the cloud with a user's other files. The program asks users to set rules; it will send any subsequent email from a certain source straight to trash, for example. Dropbox is now rolling out the app to Android phones and introducing a beta version for desktops.
The Dropbox execs say these are just the beginning of a wave of independent apps they'll introduce in the coming months. They say they are constantly scouring popular apps, looking for acquisition opportunities. And they bring up the possibility of calendar, contacts, to-do lists, and different kinds of productivity tools, all tailored to mobile phones and connected to a customer's Dropbox credentials, which will function as a kind of key to personalize phones or tablets with a customer's private data. "You should set up Dropbox on your device and that device should become yours—your contacts, your apps, and apps that talk to your data," says Aditya Agarwal, vice president of engineering at Dropbox.

As it edges into new products, Dropbox is trying to live up to the lofty expectations set by its investors. After a months-long search, the company recently added a chief operating officer, former Google executive and Motorola CEO Dennis Woodside. Dropbox has also added a prominent fourth member to a board of directors that Houston has until now kept small—Condoleezza Rice. The former secretary of state's consulting firm, RiceHadleyGates, has been advising the startup on management issues for the last year. Now she'll help the company think about such matters as international expansion and privacy, an issue that dogs every cloud company in the age of Edward Snowden and the NSA. "As a country, we are having a great national conversation and debate about exactly how to manage privacy concerns," Rice says about her new position. "I look forward to helping Dropbox navigate it."
Dropbox is also girding itself for the battle against its deeper-pocketed rivals. Last month it opened a half-billion dollar credit line from J.P. Morgan, Goldman Sachs, Deutsche Bank,  Bank of America, and other banks. This follows a high-profile investment round this year of up to $450 million from BlackRock and Fidelity that valued the company at $10 billion. The additional cash will allow Dropbox to add employees quickly while considering further acquisitions. "We want to make absolutely sure we have everything we need to win this market," says CFO Jaswa.
The extra cash can help Dropbox with another challenge: selling to businesses. That means winning over nervous information technology managers wary of malware coming in and proprietary data going out. At the same time it unveils Carousel, Dropbox will formally launch its tools for business, allowing IT managers to set up work-dedicated accounts, monitor file-sharing by employees, and remotely wipe out sensitive files. Dropbox started dabbling in the business-to-business market in 2011 with a product called Dropbox for Teams and has been running trials on the new features for the last year.  Seventy thousand businesses currently pay for the service, including National Geographic and apparel maker Under Armour, according to a person close to the company who was not authorized to share the number publicly.
Building a service with industrial-strength security is not cheap. Box is losing $14 million a month, according to its recent prospectus, with the biggest expense a massive sales force dedicated to making corporate customers comfortable with Box's cloud storage products. Dropbox has a comparatively tiny sales team; in part, depends on the grassroots enthusiasm of its user base to smuggle it inside firewalls.
Many corporations altogether forbid the use of Dropbox (including Bloomberg LP, parent of Bloomberg Businessweek). Security software maker Symantec posts online instructions on how clients can block Dropbox, while Citrix, which provides a competing product, found Dropbox to be one of the most blacklisted applications by companies in a 2012 report. Even businesses that use Dropbox often do so with caution. "It's extremely convenient to share marketing materials," says Markus Ament, chief product officer of Taulia, a five-year old cloud-computing startup. "We try to avoid using Dropbox for sensitive data. Right now, we're not taking any chances."
Houston says Dropbox is only beginning to build enterprise-grade tools for companies and that thriving in the Darwinian scrum of the consumer market has positioned it well for the move. "It's not that complicated, but getting there takes one step at a time," he says. "We'll get a Spotify before we get a GE."
Meanwhile, Houston says, "the fog of war lifts a little every day" and "if Dropbox were easy to build, everyone would have a credible product." Last year, he fulfilled one of his youthful dreams, meeting the members of Pearl Jam backstage at a concert in L.A. It turned out they use Dropbox to store and share demo tracks. Now the band has invested in the company. Houston keeps an image of the signed contract in his Dropbox account and pulls it up on his phone. "This is the most roundabout way to get an autograph from Eddie Vedder," he says.
Before it's here, it's on the Bloomberg Terminal.
LEARN MORE