business
Uber Expands Into Courier Service With Manhattan-Only Pilot
By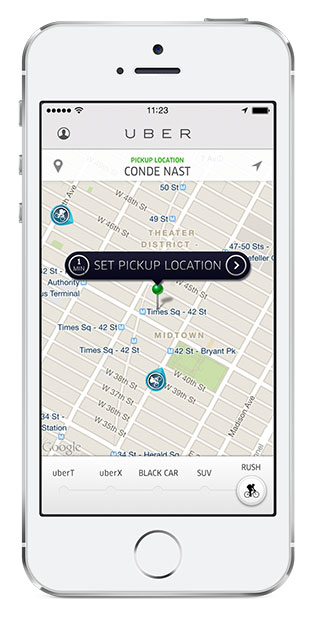 Uber has always flirted with the idea of expanding from being a mere car service to becoming a more generalized delivery business. In the past, this has meant publicity stunt services: Christmas tree deliveries! Kittens transported to customers for cuddling sessions! Now the company taking a less whimsical approach, launching an actual courier service in Manhattan.
The service, Uber Rush, has gone live in a private testing period as part of the company's regular app. While it uses the same technology to deploy couriers, Uber is also recruiting a separate group of bicycle and pedestrian messengers to deliver things. Prices range from $15 to $30, depending on how far the item must travel, and messengers will travel only between Manhattan's southern tip and 110th Street.
Uber wouldn't specify how many messengers it has on board, saying only that the delivery force is "enough to make it reliable." The company sees courier industry services much the way it saw the pre-smartphone black car sector: behind the times on reliability and customer service. "No one was getting it quite right on the messenger service piece, and we were seeing people use Uber cars to move things," says Josh Mohrer, Uber's general manager in New York.
I sent a book, a granola bar, and a dollar bill from the Bloomberg office at East 59th Street and Lexington Avenue to a friend who works near Battery Park City at Manhattan's southernmost extremity. Uber quoted me $25—slightly higher than standard courier rates but lower than rush rates, and the delivery estimate seemed comparable to a rush job. After sending my care package, I got quotes of $20 from RDS Delivery Service and $23.20 from Breakaway Courier for the same delivery; buying rush status would have raised the price to $30 and $46.10, respectively, and each company said rushed packages would take about 90 minutes.
Uber says it is not applying surge pricing to deliveries at the moment. As with its car service, Uber takes a 20 percent commission.
An Uber messenger showed up at my office within about 10 minutes; within 90 minutes the courier reported the package had been delivered to the messenger center at my friend's office building. (I was glad to hear it because the carrier wasn't wearing a helmet, and I would have felt like a real jerk if he'd gotten himself killed in traffic in the service of my writing a Bloomberg Businessweek story.) It took 30 minutes of negotiations before my friend could wrest the package from the mailroom at his office. So the experience closely resembled using a typical Manhattan courier service.
Uber says Manhattan is the best place to test Uber Rush. The island is extremely dense, so people can get around quickly without cars. Mohrer says the company will expand deliveries within New York City—and perhaps to other cities—if all goes well.
Uber faces competition from tech companies that are trying to use networks of smartphones to fuel speedy deliveries in urban areas. Unlike rivals EBay Now and Postmates, however, Uber Rush doesn't allow you to order things and have them delivered. Instead, it allows people to send and receive things. The next step, one would think, would be for Uber Rush to connect merchants to their customers.
Before it's here, it's on the Bloomberg Terminal.
LEARN MORE