Spanish Yields Below America's as Rally Breaks New Ground
David Goodman and Lucy Meakin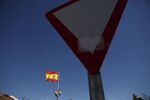 The next time Spain sells five-year debt, it may borrow the cash at a lower rate than the U.S. pays.
Yields on the Spanish notes fell below those of their U.S. equivalents today for the first time since 2007, the latest milestone in this year's rally among the bonds of Europe's most indebted nations. The Iberian country's rate was more than 7 percentage points above its U.S. counterpart in 2012, before European Central Bank President Mario Draghi pledged to protect the euro, allaying concern the currency bloc would splinter.
Government bond yields from Ireland to Italy fell to records today on speculation that inflation at a four-year low will push the ECB to expand stimulus measures. Draghi said yesterday officials have discussed further options, including asset purchases, or quantitative easing. By contrast, Federal Reserve policy makers are slowing their bond purchases and debating when interest rates will rise.
"Spain trading through the U.S. is just emphasizing the divergence" between the ECB and the Fed, said Lyn Graham-Taylor, a fixed-income strategist at Rabobank International in London. "It was pretty startling, Draghi's emphasis on QE being considered. The momentum behind spread-narrowing is just incredible."
Yield Levels
Spain's five-year note yield fell nine basis points, or 0.09 percentage point, to 1.72 percent at 4:56 p.m. London time after reaching 1.69 percent, the lowest since Bloomberg started tracking the data in 1993. The 2.75 percent security due April 2019 climbed 0.435, or 4.35 euros per 1,000-euro ($1,371) face amount, to 104.965.
The yield was lower than that on five-year Treasuries before a report showing U.S. employers added fewer jobs than economists forecast in March boosted the U.S. notes.
Investor confidence that the ECB will support markets is stoking demand for European assets. The Stoxx Europe 600 Index of stocks is up 3.3 percent this year, outperforming the Standard & Poor's 500 Index's 1.7 percent gain. The average yield on euro-denominated bonds issued by banks in Spain and other peripheral nations in Europe is at a record low and the euro is about 2 percent from a two-year high it set last month.
The yield on Spain's two-year note declined as much as six basis points to a record-low 0.59 percent. Italy's five-year rate fell to as low as 1.74 percent and its two-year yield reached 0.66 percent, both the lowest since at least 1993.
Record Low
Italy's 10-year yield tumbled as much as 11 basis points to 3.15 percent, dropping below the previous record of 3.196 percent set in 2005. Spain's fell to an intraday low of 3.14 percent, the least since 2005.
Bonds from Europe's most indebted nations are rallying as investors returned to markets they shunned during the region's debt crisis amid signs of economic recovery. Now the rally is morphing into a bet the ECB will either print cash to buy bonds or allow inflation, which slowed to a more-than four-year low of 0.5 percent in March, to remain subdued and preserve the value of fixed-income payments.
Policy makers kept the benchmark rate at 0.25 percent and the deposit rate at zero yesterday.
"We talked about lower interest rates, a lower deposit facility rate, we talked about QE," Draghi said at a press conference in Frankfurt yesterday after the ECB's monthly policy meeting. The Governing Council is "unanimous in its commitment to also using unconventional instruments within its mandate."
Bonds Rally
Spanish bonds returned 6.1 percent this year through yesterday, according to Bloomberg World Bond Indexes. Greece's were the best performers, earning 31 percent, followed by Portugal's, which rose 13 percent and a 5.6 percent gain in Italy's. Treasuries lagged behind, with a return of 1.4 percent.
The yield on 10-year Irish debt dropped to 2.92 percent today, the lowest since at least 1991, according to the earliest data compiled by Bloomberg. The rate on similar-maturity Portuguese securities fell to 3.85 percent, the least since December 2009.
Portuguese spreads versus Germany are likely to tighten further given growing investor expectations that "we're going to hear something more definitive" shortly about ECB plans to conduct asset purchases, Richard Hodges, head of high-alpha fixed income at Legal & General Investment Management in London, said in a phone interview today.
Hodges, who helps oversee the equivalent $746 billion, has bought three- and five-year Portuguese bonds since the beginning of the year and is continuing to do so, he said.
Yield Spreads
The extra yield investors demand to hold 10-year Spanish bonds instead of their German equivalents contracted to 157 basis points today, the narrowest since October 2010. The Italy-Germany spread shrank to 159 basis points, the least since June 2011.
German bund yields declined five basis points to 1.55 percent today.
The narrowing of Spanish and Italian yield spreads with German bunds is safeguarded by the ECB, according to Norbert Aul, a European rates strategist at Nomura International Plc in London.
"If low inflation or growth prospects become an issue, we would expect ECB easing or expectations thereof to be spread-positive," Aul wrote in a note today. "If peripheral economies improve further, we would expect spreads against bunds to tighten. Against this backdrop, we firmly stick to our" call that spreads will narrow, he wrote.
The average yield on euro-denominated bank bonds in the peripheral nations fell 60 basis points this year to a record 2.13 percent, according to Bank of America Merrill Lynch's Euro Periphery Financial Index. The extra yield investors demand to hold the notes instead of government bonds declined to 154 basis points, the least since February 2008, the data show.
The euro slipped 0.2 percent to $1.3687, after reaching $1.3967 on March 13, the strongest level since October 2011.
Before it's here, it's on the Bloomberg Terminal.
LEARN MORE