Turkey Flirts With Another Banking Crisis
A raid uncovers shoe boxes of cash at a CEO's home
by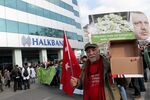 When Turkish police searched the Istanbul home of Süleyman Aslan in December—part of a series of raids in a corruption crackdown—they found $4.5 million stashed in three shoe boxes and hidden in bookshelves. Aslan, then chief executive officer of state-owned Turkiye Halk Bankasi, said in court that the money came from donations collected for his alma mater in central Turkey and to help build a university in Macedonia.
Dozens of phone conversations purported to be police wiretaps and leaked over the Internet in recent weeks instead paint a portrait of a banker helping a businessman smuggle gold and transfer hundreds of millions of dollars to Iran in an effort to evade U.S. sanctions. The police allege that the money found at Aslan's home was a bribe to ensure his cooperation.
In a separate investigation, Hüseyin Aydin, CEO of TC Ziraat Bankasi, the largest government-owned bank, can be heard on leaked recordings approving loans to businessmen who said they were under orders from Prime Minister Recep Tayyip Erdoğan to buy a media company. Aydin hasn't been charged with wrongdoing.
The scandals are a sign Turkey may be heading for a repeat of its 2001 banking crisis, when state-owned lenders lost $28 billion and were bailed out by the government. "What has come out in recent months is definitely raising concerns that maybe we're back to the old days when these institutions were badly mismanaged," says Alyssa Grzelak, a senior economist for banking risk at research firm IHS. "After the 2001 crisis, they were supposed to be cleaned up and no longer doing the bidding of politicians, but that seems to have been reversed." Aslan and Aydin weren't available to be interviewed, their banks said.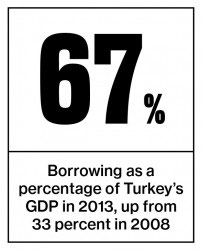 Erdoğan, who has acknowledged the veracity of some of the leaked recordings, has said they are part of a conspiracy by a faction of his governing party that has turned against him. After his government reassigned judges, prosecutors, and police chiefs in January and February, the two dozen people arrested in December, including Aslan, were released. In March, Erdoğan banned access to Twitter and YouTube to prevent leaks from reaching the public.
The top executives of Turkey's three state-owned lenders have long been political appointees who help carry out government policies. The banks enjoy an advantage over private-sector rivals: Other government-controlled companies are required to keep their cash in non-interest-bearing accounts at the state lenders, providing the banks with funds at no cost. The state-owned banks accounted for 26 percent of lending in 2013 and have helped fuel a credit boom that enabled businesses run by Erdoğan supporters to win lucrative infrastructure contracts, beating out the country's largest companies and global corporations in bidding wars, say three Turkish bank executives who asked not to be named for fear of reprisals.
After the 2001 crisis, Turkey promised the International Monetary Fund it would sell all state banks within a few years. Although Erdoğan hasn't stuck to the promise, he has tried to make the lenders profitable. Two state-run banks sold minority stakes to the public, which meant they had to disclose more financial information.
Erdoğan's party maintained control in local elections at the end of March, although it received a smaller share of the vote than it did in the 2011 election. Much of the party's support is the result of improvement in the economy. Per-capita income has doubled since Erdoğan came to power in 2003. Growth in the past few years has been dependent on increased private debt. Corporate and consumer borrowing jumped to 67 percent of gross domestic product in 2013, from 33 percent in 2008.
If Erdoğan's power wanes, defaults by politically connected companies could follow, say the three bank executives. That could make foreign banks reluctant to lend to Turkish banks, which happened in 2001, Grzelak of IHS says. "Recalling the role state banks played in that crisis," she says, "it wouldn't be surprising to see them leading the way once again."
Before it's here, it's on the Bloomberg Terminal.
LEARN MORE