Charlie Rose Talks to Starbucks CEO Howard Schultz
The Starbucks CEO discusses mobile payments, winning over China, and his foray into tea with Oprah
By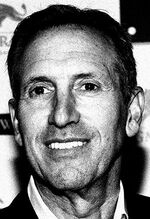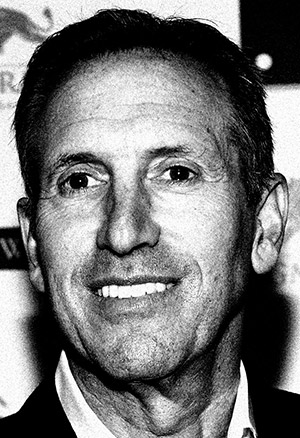 Since you came back to the company in 2008, how important have mobile payments become?
Everyone in the world is chasing mobile payment. The question is, who's going to become the Visa of digital payment? There's no doubt the phone is going to be your digital wallet. This draws everybody. It's Google. It's Apple. It's PayPal. But Starbucks has a unique position in that we're already processing over 5 million mobile transactions a week—and it's integrated into our loyalty program and gift card program.
You're aiming for a market capitalization of $100 billion [up from the current $56 billion]. How will you achieve that?
What we've built is not steeped in Americana any more. In fact, it's as relevant in Hangzhou as it is in Madrid. The relevancy is the sense of community, bringing people together in a place where they feel comfortable celebrating coffee and conversation. It all starts with the culture and values of the company. We did $15 billion in revenue this year at $5 an average sale. The equity of the brand is how people act and the experience they create.
And people in China are responding to the Starbucks culture?
We've been there for 15 years with 1,000 stores. They're responding in large numbers. We're educating them on coffee. They didn't understand that at first. Now they're drinking as much coffee as we are. A year and a half ago we did something that no other Western company's ever done. We held meetings in China with the parents of our employees in Beijing and Shanghai. That was the turning point in China. People said, "No one's going to come!" They came with their grandparents. It was incredible and emotional.
Tell me about the Teavana purchase and the Oprah deal.
We're going to do for tea what we've done for coffee. I've known Oprah for years. We were sitting at a friend's wedding. She was telling me how much she loves tea. We've always dreamed of doing something together. Oprah Chai's going to be everywhere come Mother's Day. Tea's a $90 billion global category—it's going to be very significant.
Where do you stand on the minimum-wage debate?
Inequality in America and the gap between the haves and the have-nots are very significant. Do people have as much access to the American Dream as their parents and grandparents? Probably not. I think raising the minimum wage is a good idea. I'm on the wrong side of that debate for most people. There'll be unintended consequences, though, if we go to $15 an hour, which I think is not the right number. At Starbucks, we've always looked at total pay. We pay above minimum wage in every market in America. Between equity and stock options, health care, 401(k), we're way above it.
You've donated money to help U.S. veterans. What motivated you?
This has become a very personal issue for me. Two years ago, former Defense Secretary Bob Gates came onto the Starbucks board. He really sensitized me to a number of issues. For the past 10 years, 2.5 million men and women have been at war. The country, though, is somewhat oblivious. They're not coming back to a parade. And there are about 20 suicides a day.
And many have survived what might have killed them in an earlier war.
About 20 percent to 40 percent, depending on what study you believe, are coming back with some form of brain trauma. We need to celebrate these people. We need to be responsible for them. So my wife and I are giving $30 million away in three buckets: job training, trying to help the unsung heroes of the families who have lost fallen warriors, and the issue around research into brain trauma.