Organic Crops May Get a Commodities Exchange
Mercaris wants to create an exchange for specialized crops
by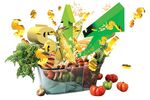 If you want to know the price of a bushel of corn, you can find it on the website of the Chicago Mercantile Exchange. The market value of organic corn or grains grown without genetically modified seeds is harder to find. These crops are traded privately, with growers negotiating rates with buyers over the phone or via e-mail.
Kellee James wants to change that. As co-founder and chief executive officer of Mercaris, a market data service and online trading platform for organic and non-genetically modified organism commodities, James plans to build an exchange so such crops can trade the same way as conventional commodities. "They remain very opaque and nontransparent markets, and that imposes some transaction costs on everybody along the supply chain, from the grower to the manufacturer all the way up to the consumer," she says.
Mercaris last year began surveying dozens of mills and grain elevators in the U.S. and Canada about the prices they pay for organic corn, soybeans, and wheat, and non-GMO corn and soy. Except for wheat, all are used mainly as animal feed. The company started sharing data with clients in October and held its first online auction in November.
James and co-founder Chris Duesing had worked together at the Chicago Climate Exchange, a voluntary cap-and-trade market for greenhouse gas credits that ceased trading at the end of 2010. They started Mercaris in 2012. The five-employee startup, based in Silver Spring, Md., raised $700,000 from investors including the Catalyst Fund, part of Comcast Ventures, in May 2013.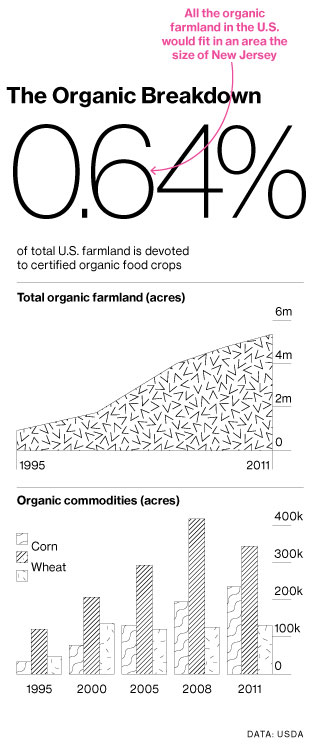 U.S. retail sales of organics have more than tripled since 2003, reaching $29 billion in 2013, or more than 4 percent of grocery spending, according to estimates from industry newsletter Nutrition Business Journal. Non-GMO crops, which can be cultivated using synthetic fertilizers and techniques barred from organic production, have gained attention since Whole Foods Market announced in March 2013 that it would require labeling of all GMO products in its North American stores by 2018.
Data on organic and non-GMO crops are limited. The U.S. Department of Agriculture publishes a biweekly report that aggregates national prices for organic grains from farmers and grain buyers, but it lacks details about regional price differences and contracts for future delivery. There are no regularly published prices for non-GMO commodities. "They're big markets, they're volatile, and they're fragmented," James says.
That leaves organic buyers at a disadvantage, says George Siemon, CEO of Organic Valley, an organic agriculture cooperative of about 1,800 farmers. "In the conventional world, [growers] don't tell a local feed mill, 'It's great that the Chicago Board of Trade says it's $3, I want $4,' " he says. "That's literally what goes on in the organic world."
Mercaris supplies data to Whole Foods, Organic Valley, Perdue Farms, and manufacturers such as Michael Foods and Amy's Kitchen, as well as equity analysts and economic researchers, James says. The company charges $80 to $500 a month for subscriptions, depending on how much data clients want.
Tim Daley has been buying organic soybeans on behalf of manufacturers of tofu, soy milk, and imitation meats for 15 years at Stonebridge, a company in Cedar Falls, Iowa. He calls the market "extremely opaque," but he's not buying Mercaris data yet. "They're serving a need, probably more on the East Coast," where food manufacturers may have more tenuous relationships with grain farmers, he says. "We kind of have a handle on the market."
Beyond collecting grain prices, James envisions an exchange that parallels the Chicago commodity market and offers continuous trading for a range of specialized crops. For now, Mercaris runs occasional online auctions. Participants can submit sealed bids during a 24-hour window for lots of 900 bushels, or about a truckload. Mercaris vets buyers and sellers through an application process—buyers, for instance, are required to post bonds to verify they can pay. While it's still working out its fees, James says the company is considering charging around 10¢ a bushel, split between the buyer and seller.
The first auction in November, which allowed growers to bid on a contract to supply 5,000 bushels of non-GMO corn to a feed mill in Pennsylvania, was oversubscribed. Mercaris plans more auctions this year, and so far James says she's had interest from buyers and sellers of about half a million bushels of grain. More transactions through auctions will also give clients better insight into prices. "When exchanges are very liquid, they just throw off a ton of data," she says.
Before it's here, it's on the Bloomberg Terminal.
LEARN MORE