Lego Crowdsources Its Way to New Toys
Crowdsourcing helps the toymaker strengthen ties to customers
by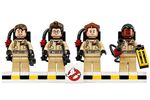 Brent Waller spent his childhood crafting plastic brick versions of characters from television shows and movies such as Teenage Mutant Ninja Turtles and Batman. Now 35, the Australian Lego fan has gotten so good at playing with the toys that the company soon will start selling one of his designs. Waller's creation, a miniature of the Cadillac ambulance from Bill Murray's 1984 comedy Ghostbusters, will hit shelves in June and sell for $49.99 in the U.S. His set is one of six that have sprung from a Lego crowdsourcing website where consumers can propose designs. "It's any Lego fan's dream to have an official set they created," says Waller, a video game developer in Brisbane.
With the help of the Internet and social media, crowdsourcing lets companies from McDonald's to Samsung Electronics tap customers' knowledge and experience to create new products. Lego has run its program since 2008 with Cuusoo System, a Japanese crowdsourcing company. "Both children and adults these days are used to being, and expect to be, more involved," Mads Nipper, chief marketing officer, says in a toy-stuffed meeting room at Lego's headquarters in Billund, Denmark. The Lego Cuusoo site—roughly "my Lego wish" in Japanese—helps the company develop ideas its 180 designers might not come up with on their own.

Lego Cuusoo projects that get more than 10,000 votes from site visitors are evaluated by designers and executives to ensure they meet requirements such as playability and safety and fit with the Lego brand. Fans whose models are chosen get 1 percent of their toy's net revenue. Lego reviews projects three times a year, and in the round planned for May, a bird, an Apple store, and a train inspired by writer Jules Verne have hit the 10,000-vote mark.
Popular submissions from earlier rounds that didn't make it to stores include a set inspired by My Little Pony—a brand owned by rival Hasbro—and a project based on the zombie film comedy Shaun of the Dead, which was deemed inappropriate for Lego's 6- to 11-year-old target audience. Winners include a miniature version of NASA's Mars rover Curiosity for $29.99, created by a NASA engineer who worked on the actual vehicle. In 2011 a set based on the Minecraft video game got 10,000 votes in 48 hours. It's one of three Minecraft sets Lego sells, and more are on the way. Minecraft's success "told us, 'Oh my goodness, there is something here, something exciting,' " says Peter Espersen, who oversees Lego's crowdsourcing efforts.
Waller, who grew up in a small town an hour's drive west of Brisbane, submitted designs for houses, robots, and Batman's Batmobile before succeeding with his Ghostbusters idea. The release of the set, produced by Lego under license from Sony Pictures, will coincide with the movie's 30th anniversary. "As a child I didn't really have any action figures or anything like that," Waller says. "So I would re-create whatever TV show or movie I was into at the time in Lego form."
Before it's here, it's on the Bloomberg Terminal.
LEARN MORE