Fort Hood Shooter May Have Argued With Fellow Serviceman
Esmé E. Deprez, Harry R. Weber and Darrell Preston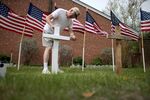 Investigators say an argument may have been the pretext for a shooting by a troubled Iraq veteran that left him and three other soldiers dead at Fort Hood in Texas.
Officials have a "strong indication" that Army Specialist Ivan A. Lopez, 34, clashed with at least one fellow serviceman before the attack, base commander Lieutenant General Mark Milley said at a news briefing today. Lopez's medical history, which included being treated for depression and anxiety, appears to be an "underlying causal factor," he said.
Sixteen people were hurt in the rampage, which happened about 4 p.m. local time yesterday in a medical area at the U.S. Army base. Coming less than five years after an officer killed 13 people there as revenge for America's wars, the slayings drew attention to the military's handling of the psychologically wounded.
The soldier was a married Puerto Rico native who had been prescribed medications for depression, anxiety and sleeping. He was being evaluated for a claim of post-traumatic stress disorder and a brain injury, Milley said.
Lopez's records showed no wounds, no "direct involvement in combat" and no "injury that might lead us to further investigate a battle-related" traumatic brain injury, Army Secretary John McHugh said today at a Senate hearing in Washington.
Lopez Evaluated
A psychiatrist examined Lopez last month and found no indication that he showed "any sign of likely violence, either to himself or to others," McHugh said. "No suicidal ideation."
Officials are combing Lopez's history, though no motive has emerged. Authorities are looking at whether the shooter had ties to terrorism, with none yet uncovered, Milley said.
"We have not yet ruled out anything," he said.
Lopez served four months in Iraq in 2011 and in February arrived at Fort Hood from Fort Bliss. He joined the Army in June 2008, at first as an infantry soldier, McHugh said. On re-enlisting, he became a truck driver. A summary of his service released by the Pentagon listed at least 20 awards, including three for good conduct.
He spent 11 years in the Puerto Rico National Guard, during which he was deployed for one year to Egypt's Sinai Peninsula.
"He was an excellent soldier," National Guard Adjutant General Juan Medina Lamela said on Telemundo.
Happy Youth
Lopez grew up in Guayanilla, a town on the island's south coast, the Spanish-language El Nuevo Dia newspaper reported. Neighbors recalled him as a music lover from a tight-knit family involved in church activities, it said.
Guayanilla Mayor Edgardo Arlequin, who directed the high-school band in which Lopez was a percussionist, told the newspaper he "was a really easygoing kid whose parents were very dedicated to him."
A neighbor, Aide Merlo Irizarry, described him to the newspaper as "very loving toward his mother," and said her death in October "hurt him deeply."
Yesterday, authorities say, he exploded into violence.
Lopez walked into a base building, opened fire, entered another structure and shot again, according to Milley. Minutes later, two wounded soldiers placed the first 911 call. A military police officer approached him in a parking lot and engaged in gunfire, before Lopez put his Smith & Wesson .45 caliber pistol to his own head and pulled the trigger.
Neck Wounds
No more fatalities were expected among the victims, who suffered wounds to the neck, chest, abdomen and extremities, said Matthew Davis, trauma medical director at Scott & White Healthcare, which runs the hospital in Temple treating them. Three patients remained in serious condition.
The shooting was the second at a major U.S. military base since September, when Aaron Alexis, a former Navy reservist who believed he was under the control of electromagnetic waves killed 12 people at the Washington Navy Yard.
Psychological troubles like those Lopez complained of are common among returning veterans. About 20 percent will have post-traumatic stress disorder and another 20 percent traumatic brain injury, according to Hannah Rudstam, a Cornell University researcher who has studied their reintegration. In 2012, then-Defense Secretary Leon Panetta said the military should improve its diagnoses.
Asking Questions
A 2013 law authorized defense health professionals to ask troops whether they own or plan to acquire a gun if there's reason to believe a soldier might commit suicide or harm others, said Army Colonel Steve Warren, a Defense Department spokesman. Officials didn't know whether Lopez was asked, Warren said in a briefing with reporters at the Pentagon today.
Fort Hood, about 60 miles (97 kilometers) north of Austin, houses about 41,000 troops and is home to the Army's 1st Cavalry and 4th Infantry divisions.
The weapon used in the killings, which was bought at nearby Guns Galore, wasn't registered with base authorities as required, said Milley. Major Nidal Hasan, the military psychiatrist convicted of the 2009 massacre, also purchased his weapon at the store.
Hasan killed 13 people and wounded more than 30 after becoming radicalized by an al-Qaeda terrorist based in Yemen. He attacked while yelling "Allahu Akbar," Arabic for God is Great.
Hasan, who later said he took aim at the soldiers because he viewed them as a threat to Taliban leaders in Afghanistan, was sentenced to death by a military court.
Before it's here, it's on the Bloomberg Terminal.
LEARN MORE