Hot Job After Working for Obama: 'Unlobbyist'
Officials call themselves advisers to stay clear of lobbying rules
By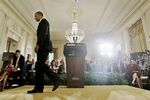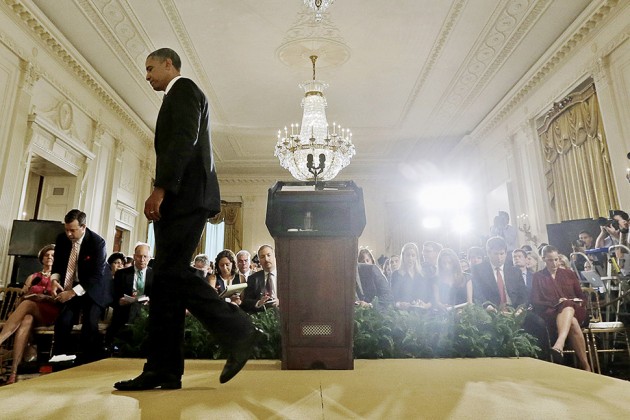 The Obama administration is Washington's most fertile incubator for influence peddlers. Or political fixers. Or industry association representatives. Whatever you call them, don't call them lobbyists. Five years after the president issued an executive order barring his former appointees from lobbying the executive branch, dozens of administration officials who've left to take jobs representing corporate interests are getting around the ban by not registering as lobbyists, instead branding themselves as consultants or policy advisers.
"The influence industry is moving underground," says Sarah Bryner, research director of the Center for Responsive Politics. The group counts 46 former Obama officials who have registered with the federal government as lobbyists. An additional 86 are what it calls "unlobbyists," who use their connections in Congress and the White House to press for changes in laws and federal policy but who aren't registered. "We still have many people leaving government and taking jobs that in the past would have resulted in them registering," Bryner says. Now they are "skirting the disclosure requirements."
Lenient federal rules let them duck the lobbyist label as long as they avoid direct communication with government employees on behalf of clients. Instead, they offer colleagues and customers an inside view of the administration's thinking, detailed advice on how to frame arguments to people in the White House and Congress, and names and numbers of the best officials to approach. That can earn former presidential aides 5 to 10 times their government salaries.
Administration staff are often most sought after by law firms, industry groups, and corporations right after they leave the government, when their connections with those on the inside are fresh. "Five minutes after inauguration for the second term, you start trying to figure out your exit strategy from the White House," says Tom Korologos, a veteran of Republican administrations who was U.S. ambassador to Belgium under President George W. Bush and is now a strategic adviser for DLA Piper, a law firm with a Washington lobbying practice. That is the moment of Obama administration officials' "maximum value," he says. "They want to take advantage of the … years that the president is still in office to get clients and to get settled in their job."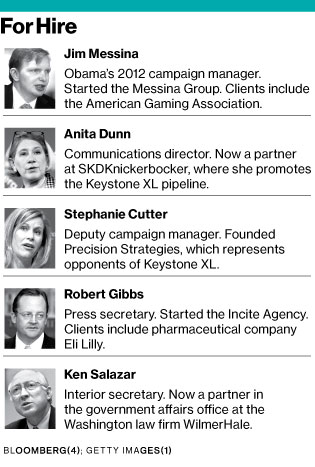 The exodus includes some of the president's closest aides. Pete Rouse, White House adviser and interim chief of staff, joined the law firm Perkins Coie to lead a new Washington "public and strategic affairs practice." Communications Director Anita Dunn went to the consulting firm SKDKnickerbocker, where she represents TransCanada, builder of the Keystone XL pipeline. Jim Messina, deputy chief of staff and manager of Obama's reelection campaign, started the Messina Group and counts the American Gaming Association among his clients. Press Secretary Robert Gibbs formed the Incite Agency, a communications strategy firm whose clients include drugmaker Eli Lilly. Stephanie Cutter, a deputy campaign manager, started Precision Strategies, which represents Bank of America and other corporate clients. Her firm also organizes opposition to Keystone.
None of these former Obama officials is registered as a lobbyist. Rouse, Messina, and Gibbs didn't respond to requests for comment. By e-mail, Dunn said, "We produce advertising for TransCanada." Shawn Howard, a TransCanada spokesman, says Dunn doesn't lobby the administration for the company. Cutter says that aside from working to stop the Keystone pipeline, her firm doesn't try to influence policy. "We help companies, campaigns, and nonprofits analyze and understand their audience and strengthen their brand through very targeted and data-driven strategic campaigns," she says.
Cabinet secretaries are also joining the ranks of unlobbyists. Former Interior Secretary Ken Salazar moved to the D.C. law firm WilmerHale, where, according to the firm's website, he "provides legal, strategic and policy advice." Salazar says he doesn't "contact anybody in the administration on any business issue," though he does advise clients on "how to approach the government." Former Transportation Secretary Ray LaHood joined DLA Piper as a senior policy adviser. LaHood says he makes clear to clients that he won't "make a phone call on their behalf," though he does provide advice on "how programs work and how decisions are made."
"All around me there are people that are doing strategic consulting, government affairs consulting," says Howard Marlowe, a Washington lobbyist for 35 years. "It's a distinction without a difference, with one exception: We in the lobbyist profession register, and the public and media can at least find out who we work for, what the issues are that we're hired to work on, and what we're getting paid."
BOTTOM LINE -
The bottom line: At least 132 former Obama officials have new jobs helping companies influence the government.
Before it's here, it's on the Bloomberg Terminal.
LEARN MORE