Abe Loan Push Impeded by Companies Hoarding Cash: Japan Credit
Keiko Ujikane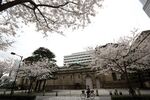 Japanese banks are the most keen to lend companies money in 17 years. Corporate treasurers don't need the cash.
A Bank of Japan index measuring the prevalence of mid-sized companies saying banks are willing to make loans rose to 19 in March, the highest since June 1997, according to Tankan data. Yet demand for loans from businesses remains below levels before the global financial crisis, other central bank data show.
The BOJ's unprecedented monthly buying of about 7 trillion yen ($67 billion) of sovereign notes has flooded Japan's markets with funds to encourage banks to boost lending, as Prime Minister Shinzo Abe tries to beat deflation. Companies including SoftBank Corp. and Toyota Motor Corp. have built buffers since the financial crisis with total cash holdings of non-financial Topix index members reaching the equivalent of $636 billion in latest filings, from $417 billion in March 2007, data compiled by Bloomberg show.
"It's a positive that banks are more willing to lend, but the problem is that there's just not much demand for funds among borrowers," said Norio Miyagawa, a senior economist at Mizuho Securities Research & Consulting Co. in Tokyo. "We need to see the impact of the tax increase and the economic outlook."
Japan's economy will probably shrink 3.5 percent in the quarter started April 1 as the increase in the sales tax to 8 percent from 5 percent this month weighs on spending, according to a survey of economists by Bloomberg. Large manufacturers expect the Tankan sentiment index to worsen to 8 in June from 17 in March, according to BOJ survey released this week.
Lending Rates
Domestic long-term lending rates were at 0.877 percent in February, one basis point from a record low set in December, according to BOJ data. The central bank's stimulus has dragged down Japanese interest rates, with the 10-year yield at 0.64 percent, the lowest in the world. The yen was little changed at 103.89 per dollar as of 4:11 p.m. in Tokyo.
BOJ Governor Haruhiko Kuroda and his board started their unprecedented easing policy last April in an effort to stamp out 15 years of deflation in the world's third-largest economy.
The central bank is trying to fuel investors' risk-taking by targeting an increase in inflation to 2 percent. Companies forecast that consumer price growth will pick up to 1.5 percent over the next 12 months, reaching 1.7 percent in three years where it will remain through 2019, the BOJ said yesterday. Prices excluding fresh food rose 1.3 percent from a year earlier in February.
Lending Attitude
This week's Tankan data signal the turnaround in banks' lending stance since the global financial crisis. The index which subtracts the percentage of companies saying banks are severe in their lending attitude from those saying they are accommodative was at minus 11 in March 2009 compared with 19 for mid-sized companies in this week's survey.
Even so, while outstanding lending to companies increased by 2.2 percent from a year earlier in February, the total amount of 275 trillion yen in loans remains below levels in 2009, according to BOJ data.
An index measuring corporate demand for bank loans was 8 in January, versus 9 in mid-2007, a year before the bankruptcy of Lehman Brothers Holdings Inc. sparked global financial turmoil, the BOJ's quarterly loan officer survey shows.
"There's no bottleneck for supplying funds," said Yuichi Kodama, chief economist at Meiji Yasuda Life Insurance Co. in Tokyo. "The problem for most companies isn't a lack of funds but that there aren't good investments to make."
Retained Earnings
Retained earnings by Japanese companies rose to 293.5 trillion yen in the October-December period of 2013, the highest since the data going back to 1954, according to the finance ministry data.
SoftBank's cash has increased to the equivalent of $19.4 billion in the latest filing from $2.6 billion in March 2007, while that of Toyota, the world's biggest carmaker, rose $1.4 billion to $17.5 billion, data compiled by Bloomberg show.
The BOJ doubled to 7 trillion yen a loan program to encourage banks to lend in February and said individual firms could borrow twice as much low-interest money as previously under the second facility.
Large companies plan to boost capital spending by only 0.1 percent in the year started April after an estimated 3.9 percent increase in fiscal 2013, according to the Tankan data.
Capital Investment
"Capital investment is recovering a bit, but it's still not that strong," said Yoshimasa Maruyama, the Tokyo-based chief economist at Itochu Corp. "There's not much motivation to invest domestically."
Japanese companies have been borrowing to finance overseas acquisitions.
Billionaire Masayoshi Son's SoftBank took out a 2 trillion yen loan last year to fund its purchase of Sprint Corp. Takeda Pharmaceutical Co., which bought Switzerland's Nycomed in 2011, borrowed 80 billion yen in March 2012.
"In the long term, lending will probably increase, but mostly for overseas rather than domestic investment," said Maruyama at Itochu, Japan's third-largest trading company. "Companies are cash rich, and funding demand for domestic investment isn't that strong."
Before it's here, it's on the Bloomberg Terminal.
LEARN MORE