RBA Holds Rate at Record-Low 2.5% After Aussie Dollar Gains
Michael Heath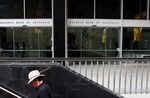 Australia's central bank left its key interest rate unchanged at a record low and said the currency's recent climb will reduce support for the economy.
Governor Glenn Stevens kept the overnight cash-rate target at 2.5 percent and reiterated that borrowing costs were likely to remain steady for a period. "The decline in the exchange rate from its highs a year ago will assist in achieving balanced growth in the economy, but less so than previously as a result of the rise over the past few months," he said.
A pick up in hiring and a surge in building approvals this year indicate the Reserve Bank of Australia's 2.25 percentage points of rate cuts from late 2011 through August are helping avoid a growth gap as residential construction strengthens. The local dollar had climbed about 4 percent in the past month as economists abandoned bets on further rate reductions.
"The preference of Reserve Bank officials is to stay on the interest-rate sidelines for as long as possible, thus ensuring that the economy has a firm base," said Savanth Sebastian, an economist at a unit of Commonwealth Bank of Australia in Sydney. "The main concern at present is the Aussie dollar, threatening to push its way higher on the back of a housing-led domestic recovery."
All 33 economists surveyed by Bloomberg News predicted that the RBA would keep rates on hold today.
Currency Reaction
The Australian dollar was supported last week when Stevens said in a speech that there are encouraging early signs of a handover to domestic consumption. It slipped to 92.65 U.S. cents at 3:25 p.m. in Sydney, from 92.82 before the decision.
While Australia's unemployment rate held at a more than 10-year high of 6 percent in February, the economy added 80,500 full-time jobs that month, the most since August 1991. Stevens said today unemployment "will probably rise a little further in the near term."
Recent data from China, Australia's biggest trading partner, indicate Premier Li Keqiang may have difficulty attaining his 7.5 percent annual growth target.
"China's growth remains generally in line with policy makers' objectives, though it may have slowed a little in early 2014," Stevens said today. "Commodity prices have declined from their peaks but in historical terms remain high."
Signs that loose monetary policy is encouraging Australian consumers include the household savings ratio falling below 10 percent in the fourth quarter for the first time since 2010.
Home Prices
In a departure from last month's statement, Stevens said credit growth "is slowly picking up," having said last month it "remains low overall."
House and apartment prices in the nation's largest cities surged 10.6 percent in the year to March 31, led by a 15.6 percent increase in Sydney, a private RP Data-Rismark home value index showed today. Approvals to build new dwellings jumped 6.8 percent in January from a month earlier, according to government data.
"The uncertainty around the timing of the re-balancing of Australia's economic growth places a premium on clear communication by the RBA on how it sees the stance of monetary policy evolving," Paul Brennan, chief economist in Australia for Citigroup Inc., said in a research report before the decision. "This need for crystal clear communication includes the RBA's position on the currency."
Before it's here, it's on the Bloomberg Terminal.
LEARN MORE