Missing Jet Alone Will Push Up This Year's Airline Death Toll
by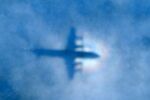 Airline fatalities fell by almost half in 2013, the result of improved safety by African carriers. One tragic event so far—the disappearance of Malaysia Airlines Flight 370—has already made it certain that 2014 will surpass last year's airline fatality total.
Last year brought 210 fatalities from commercial aviation accidents around the world, down from 414 the prior year, according to new figures released by the International Air Transport Association. Since 239 people were aboard Flight 370 when it vanished on March 8, the new year is certain to prove deadlier for airlines. The mystery surrounding the missing plane seems likely to be a major topic of discussion at IATA's three-day conference in Kuala Lumpur this week.
The effort to "unravel this mystery, understand the cause, and find ways to ensure that it never happens again," as IATA Chief Executive Tony Tyler said in a speech today, is just now getting underway. The trade group intends to examine "all of the options available" to track commercial planes, forming a task force that will study costs and complexity. Tyler promised to resist "hastily prepared sales pitches or regional solutions" for tracking planes.
"In a world where our every move seems to be tracked, there is disbelief both that an aircraft could simply disappear and that the 'black box' is so difficult to recover," Tyler said. "Air France 447 brought similar issues to light a few years ago and some progress was made. That must be accelerated. We cannot let another aircraft simply disappear."
He also said governments need to review and improve their policies for vetting the passenger information that airlines are required to submit before flights, a response to the discovery that two passengers aboard the vanished jet had used fake passports. "It costs the airlines millions of dollars every year to provide (passenger data) to some 60 governments," he said. "I've often wondered whether they were using it."
The airline industry has built an enviable safety record in recent decades. Last year only 81 accidents occurred among 36.4 million flights with 3 billion passengers.
The worst record last year for accidents resulting in "hull loss" (or total destruction) for aircraft built in the U.S. or Europe happened in Russia, Ukraine, Belarus, and other former Soviet-bloc nations in the Commonwealth of Independent States. The loss rate rose from zero to 2.09 per million flights. That was worse than the loss rate in Africa, which registered a loss rate of 2.03 per million flights, down from 4.55 in 2012.
The worldwide rate stood at 0.41, equivalent to one accident every 2.4 million flights. Europe showed the best performance, at 0.15 per million, with North America's at 0.32. One-fifth of the 2013 airline accidents were fatal, the same rate as in 2012.
Before it's here, it's on the Bloomberg Terminal.
LEARN MORE