Hollande Government Dipping Into SFR Shows Dirigisme Rules
Mark Deen and Marie Mawad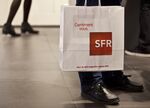 French dirigisme is alive and well.
For evidence, look no further than Vivendi SA's efforts to sell its SFR unit, France's second-largest phone company. The French government, with no stake in Vivendi, openly came out in favor of a bid by Bouygues SA. When Paris-based Vivendi disregarded its advice and decided to hold exclusive talks with Altice SA, President Francois Hollande's government backed Bouygues's sweetened offer with an investment pledge.
The state's vocal and visible participation in the sale marks the first time it has intervened in the affairs of a private company not in need of a rescue or the subject of a hostile takeover. While the government says its involvement reflects an effort to keep the strategic telecommunications market viable, business observers say the attempts are ham-handed and fail to inspire investor confidence in France.
"All governments are protectionist, but we do it stupidly, perpetuating an image that ultimately deters foreign investors," said Jean-Pierre Martel, a founding partner at Paris law firm Orrick Rambaud Martel. "It's normal to defend your industries but the 35-hour workweek, 75 percent tax on the wealthy and a government that meddles in private deal-making projects an image of France that deters investors."
Bouygues on March 21 brought in state-controlled fund Caisse des Depots et Consignations, sweetened the cash part of the bid to 13.15 billion euros ($18.2 billion) and offered Vivendi a 21.5 percent stake in the entity that would be created from a merger of SFR with Bouygues Telecom. Bouygues today said Vivendi investors can choose between its new offer and the previous one.
Altice's proposal includes 11.75 billion euros in cash and 32 percent of the company that combines its cable unit Numericable Group with SFR. Vivendi on March 14 picked Altice over Bouygues for exclusive talks that end April 4.
Montebourg's Stance
Industry Minister Arnaud Montebourg defends the government's actions, saying they are about what is strategically best for France.
"I'm not supporting Bouygues," he said in a France Inter radio interview yesterday. "I have a problem. It's the price war in telecoms. And the position of the government is to favor a return to three rather than four operators, which is destructive. It's up to Vivendi to make its choice."
Unlike Altice, the offer from Bouygues -- which plans to fold SFR into its own mobile-phone unit -- would immediately reduce the number of operators to three from four. Montebourg says the French government sees cutting the number of operators as essential to boosting their margins and allowing them to invest on network development.
Still, even before Vivendi announced its decision to hold exclusive talks with Altice, Montebourg made clear his objection to that bid.
Trumping Customers
"The company is very small, a small company taking on a huge amount of debt," he said in an interview on Europe 1 radio on March 14. He even threatened to demand Altice Chairman Patrick Drahi, a dual French and Israeli citizen based in Switzerland, bring his assets home and face a tax investigation.
The stance flies in the face of Hollande's Feb. 17 call to investors that France was "open" and "afraid of nothing," said Agnes Verider-Molinie, director of Fondation iFrap, a study group that examines public policy.
"The government's attitude is not at all coherent," she said. The state is now weighing in on a bid, saying it "prefers the Bouygues option because it will reduce the number of players and restore margins," she said.
For customers, it might mean the end of a cycle of competition that has slashed mobile phone-service prices -- among the highest in Europe just before the arrival of the fourth operator in January 2012 -- by more than 30 percent.
Tumbling Shares
"The question isn't three or four operators," said Antoine Autier, an official of Paris-based consumer lobby group UFC-Que Choisir. "The question is how the change will be done in a way that maintains competition."
Mobile-phone users benefited from lower prices with the entry of Iliad SA's Free. On Jan. 10, 2012, when Iliad's Free mobile-phone service began operations, Montebourg posted a message on Twitter, jeering at former President Nicolas Sarkozy, saying, Iliad CEO "Xavier Niel has done more with his unlimited mobile-calls package for French people's purchasing power than Nicolas Sarkozy in five years."
What was good for consumers has been less good for phone companies, whose margins were eroded by incessant price wars.
Shares of Orange SA, the one-time state-owned phone monopoly formerly known as France Telecom, fell 31 percent in 2012 and is down about 40 percent in five years.
No Guarantee
If the French government's preferred bidder for SFR wins, the state, which holds 27 percent of Orange, would directly or indirectly be a shareholder in two of the three mobile-phone operators in France.
Montebourg has also defended the state's intervention, saying it's concerned about jobs. Faced with record joblessness, the government has been struggling to reverse rising unemployment.
After the state's efforts to rescue carmaker PSA Peugeot Citroen did little to prevent job cuts, SFR unions are not convinced. They said they would like the government to get the two bidders to sign an employment pact rather than have the state pick a winner or buy a stake.
"Whether the state is a shareholder or not is no guarantee against job cuts," said Olivier Lelong, a CFDT union representative for SFR employees. "We've learned lessons from cases like Peugeot, so we're asking the state to stand alongside us as we ask for formal guarantees on jobs from the bidders."
U.S. Interventions
The government's position is a "scandal" and its "motives are incomprehensible," said Marc Fiorentino, chairman of Euroland Corporate, a Paris-based financial adviser. "Yet again, France is making itself look ridiculous in front of international investors."
French dirigisme, or state intervention in the economy, is not new. Montebourg has courted controversy, demanding the nationalization of a part of steelmaker ArcelorMittal when it wanted to close down a section of a plant. He has blocked the sale of DailyMotion, the YouTube-like unit of Orange, to Yahoo! Inc. The government has jumped into rescue carmaker Peugeot.
Montebourg and French executives like to point out that such actions are not a French monopoly, bringing up the U.S. government's bailout of General Motors Co. and American International Group.
Still, the government's behavior and its intervention in private deal-making in the SFR case has been "the height of ridiculousness," Martel of Orrick Rambaud Martel said.
SFR Matters
"The reality of the business world in France is fortunately much more serious and different from the negative image projected by some bad political initiatives," he said.
Vivendi is divesting SFR to focus on content and media assets as sales slow and prices decline in the telecommunications market.
Vivendi has leaned toward combining SFR with Numericable in part because it is likely to be approved by French regulators and less likely to face European Union scrutiny because of less overlap in their businesses. A sale to Bouygues faces greater risks of the EU intervening because it would create an entity that would rival wireless market leader Orange by subscribers.
Critics don't question the state's interest in the deal, but the manner in which it has inserted itself in the deal. The state's interest stems from the importance of SFR to the country.
"The SFR transaction concerns one in three people in France and one in five companies -- all our customers," said Abdelkader Choukrane, a CFE-CGC union representative for SFR employees.
Before it's here, it's on the Bloomberg Terminal.
LEARN MORE