Kentucky Freshmen Join Connecticut to Complete Final Four
Erik Matuszewski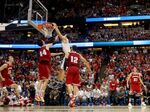 The University of Kentucky and its five freshman starters completed the Final Four of college basketball's national tournament, which features two schools that were seeded seventh or worse in their region for the third time in 36 years.
Kentucky, the eighth seed in the Midwest Regional, upset No. 2 seed Michigan 75-72 yesterday to reach the national semifinals for a 16th time, the third-most behind North Carolina (18) and the University of California-Los Angeles (17) in National Collegiate Athletic Association tournament history. Aaron Harrison hit a contested 3-pointer with three seconds left for Kentucky to snap a 72-72 tie.
Kentucky's win came after the University of Connecticut, the seventh seed in the East, beat Michigan State 60-54. The Wildcats knocked off three teams from last year's Final Four -- Wichita State, defending champion Louisville and Michigan -- in their underdog run to the national semifinals.
"It took these guys a little longer and it took me a little longer to figure them out," said Kentucky coach John Calipari, whose team was ranked No. 1 in the preseason poll. "When they all just settled in and lost themselves in the team, the game became easier, they became better, they had more fun, they became more confident and all of a sudden this is what you have. But it took us four months."
Kentucky (28-10), which ranks second to UCLA with eight national titles, plays West Region No. 2 seed Wisconsin (30-7) on April 5 in Arlington, Texas. Connecticut (30-8) faces South Region top seed Florida (36-2) in the other semifinal the same day, with the winners advancing to the April 7 title game at AT&T Stadium, home of the Dallas Cowboys.
One No. 1
This will be the third time in four years that the Final Four will feature just one of the tournament's four No. 1 regional seeds. East Region No. 1 Virginia and West top seed Arizona were both eliminated in addition to Wichita State.
The last time the Final Four featured two teams seeded seventh or worse was in 2011, when eighth-seeded Butler and 11th-seeded Virginia Commonwealth made the national semifinals and UConn went on to win the last of its three national titles. The only other time that's happened since 1979 was in 2000, when North Carolina and Wisconsin made the Final Four after being seeded eighth in their 16-team regions.
"When I saw what was out there, I knew we were going to have a tough road," said Calipari, whose team has won its first four tournament games by 17 points, the second-fewest by a Final Four team since the NCAA field expanded in 1985.
Comebacks
The Wildcats trailed by at least nine points in each of their past three games before rallying to beat the No. 1, No. 2 and No. 4 seeded teams in the Midwest regional. They're listed by oddsmakers as two-point favorites against Wisconsin, which is in the Final Four for the first time since 2000 after beating Arizona 64-63 two days ago.
"You can see this team is empowered right now, it's their team, not my team," Calipari said at a news conference. "I'm just there to maybe call a time out, to settle them down, to pick them up, to sit guys out when they're not doing what they need to do. That's my job. Their job is to go play and have a ball playing. That's what they're doing right now."
Connecticut beat No. 2 seed Villanova and No. 3 Iowa State before taking down Michigan State, which entered the tournament as the second choice of oddsmakers to win the national title. The Huskies, who were five-point underdogs yesterday, are picked to lose again in the Final Four, where Florida is a 6 1/2-point favorite and riding a 30-game winning streak.
Winning Streak
The Gators haven't lost in almost four months. Their last defeat was a 65-64 loss at Connecticut on Dec. 2, when Shabazz Napier hit the winning shot at the buzzer for the Huskies.
"It was a dogfight, a tough game and it came down to one last shot," said Napier, who yesterday scored 17 of his game-high 25 points during the second half and hit three free throws with 37.6 seconds left to help clinch the victory against Michigan State. "I expect it to be the same. Coach is going to get us prepared for this game and let's get down there and do our thing."
Florida is seeking to become the tournament's third straight No. 1 overall seed to win the national title.
Connecticut and Kentucky are both trying to become the second team seeded seventh or worse to claim a championship. Villanova was an eighth seed when it won the 1985 title.
"We knew what we could do," said Kentucky's Harrison, who hit four 3-pointers in the final nine minutes yesterday against Michigan including the game winner in the closing seconds. "We knew what kind of team we could be."
Before it's here, it's on the Bloomberg Terminal.
LEARN MORE