Kerry Urges Russia Retreat, Lavrov Seeks Federal Ukraine
Terry Atlas and Henry Meyer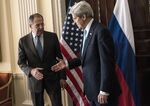 U.S. Secretary of State John Kerry said Russia must pull forces back from Ukraine's border as both sides seek a diplomatic solution, while his Russian counterpart urged the government in Kiev consider devolving power to give Ukraine's regions more autonomy.
During four hours of meetings yesterday in Paris with Russian Foreign Minister Sergei Lavrov, Kerry said "ideas and suggestions" were discussed and he would consult with President Barack Obama on next steps. He and Lavrov, at separate briefings, said the sides would hold further talks to seek an outcome acceptable to Ukraine.
"Any real progress in Ukraine must include a pullback of the very large Russian force that is currently massing along Ukraine's borders," Kerry said at a news conference that ended early today. "We believe that these forces are creating a climate of fear and intimidation in Ukraine."
The U.S. government expressed concern that what it estimates to be 40,000 Russian troops deployed near Ukraine's eastern border pose a security threat. The Kremlin pushed for changes to Ukraine's political structure to ensure minority rights. Russia cited a need to protect its own citizens and Russian-speaking Ukrainians when it annexed Crimea this month.
The Obama administration has urged more international monitors in Ukraine, starting a direct dialogue between Russia and the new government in Kiev, and advancing the process of constitutional reforms and May 25 national elections, a State Department official said.
'Diplomatic Solution'
"Both of us recognize the importance of finding a diplomatic solution and simultaneously meeting the needs of the Ukrainian people," Kerry said. "We agreed to consider the ideas and the suggestions that we developed tonight, and to continue our discussions soon."
Lavrov said that while differing views were expressed on the reasons behind the crisis, he was in agreement with Kerry on "the need to seek common ground on the diplomatic path for an exit from this situation that will meet the interests of the Ukrainian people," according to Interfax news service.
Russia wants Ukraine to grant greater powers to its regions, have a non-aligned status outside NATO and make Russian a second official language, Lavrov said in a statement on his ministry's website on March 29. Kerry and Lavrov met two days after Russian President Vladimir Putin and U.S. President Barack Obama spoke by phone.
Russia's Push
"We are convinced that federalism is a very important part of constitutional reform because the key is to ensure the unity of Ukraine by respecting the interests of all regions of this country," Lavrov said in Paris overnight, according to Interfax.
Kerry said the international community stands firmly with Ukraine.
"The United States is consulting with Ukraine at every step of this process, and we will not accept a path forward where the legitimate Government of Ukraine is not at the table," Kerry said. "This principle is clear: No decisions about Ukraine without Ukraine."
Ukraine's Foreign Ministry, in a statement yesterday, dismissed Lavrov's March 29 proposal and said Russia should deal with issues within its own borders before forcing them on its neighbor. Russia could give its regions and minorities more autonomy, including by introducing Ukrainian as an official language, the ministry said.
Illegal, Illegitimate
Stating they are concerned that pro-Kremlin troops massing on Ukraine's borders may invade the ex-Soviet state, the U.S. and European Union have vowed to intensify sanctions on Russia's military, energy and financial industries. Russia faces "a raft of new measures" that "would seriously hurt the Russian economy" if they push further into Ukraine, U.K. Defence Secretary Philip Hammond told BBC yesterday.
"I made clear that the United States still considers the Russian actions to be illegal and illegitimate, and Russia's actions over the past several weeks have placed it at odds obviously with the rule of the law in the international community, and we still believe, on the wrong side of history," Kerry said at the briefing.
With emerging-market stocks rallying amid confidence in the global economy, Russia's benchmark Micex Index shrugged off concern that an extended confrontation over Ukraine will weigh on the economy. It rose 0.9 percent to 1,344.12 by the close in Moscow on March 28, a 2.8 percent increase in five days. The Ukrainian crisis has pushed the benchmark Micex Index down 11 percent this year.
'Invasion Force'
Russia's Baa1 government bond rating may be cut by Moody's Investors Service, the company said in a statement after the close of U.S. markets March 28. The move was triggered by a weakening of Russia's economy and uncertainty created by the Ukraine conflict, Moody's said.
Senator Dianne Feinstein, chairman of the Senate Intelligence Committee, said, "there is no question that there are 40,000-plus troops, that they are staged in various areas" near Ukraine's border.
"To people who watch this, it looks like an invasion force," Feinstein, a California Democrat, said yesterday on CNN's "State of the Union" program. "Putin has said it is an exercise. So that leaves a big question mark."
In a separate action, Defense Secretary Chuck Hagel has cut short the Washington visit of General Phil Breedlove, commander of the U.S. European Command, sending the four-star general back to Europe days before testifying to Congress.
NATO Ministers
Hagel ordered Breedlove back Friday evening amid growing uncertainty in Ukraine, Rear Admiral John Kirby, a Pentagon spokesman, said yesterday.
Breedlove will meet with NATO foreign ministers at a conference in Brussels April 1-2. He had been scheduled to testify before the Senate Armed Services Committee on April 1 and the House Armed Services Committee the following day.
Putin and Obama have spoken five times since the crisis deepened with last month's ouster of Moscow-backed President Viktor Yanukovych in a struggle over whether Ukraine would cement an economic alliance with Russia or the EU. Earlier talks between Kerry and Lavrov failed to avert the Kremlin's takeover of Crimea.
In his most recent call with Obama, Putin highlighted a "rampage of extremists" intimidating officials and residents "in various regions," according to a statement from his Kremlin office. The Russian president's statement indicated he's willing to examine "steps the global community can take" to stabilize Ukraine.
Before it's here, it's on the Bloomberg Terminal.
LEARN MORE