Obama Envisions Russia Sanctions Limiting Global Impact
Anna Andrianova, Roger Runningen and Daryna Krasnolutska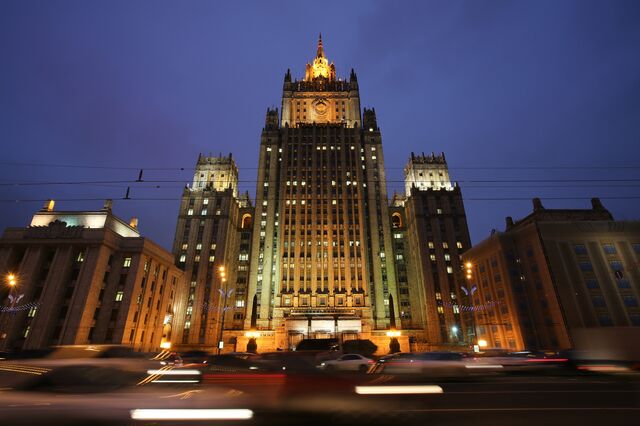 Russia dismissed as "counter-productive" a United Nations resolution condemning its takeover of Crimea, as President Barack Obama said Vladimir Putin is misreading U.S. policy on the Ukraine crisis.
The Foreign Ministry in Moscow said today that abstentions and absences by UN General Assembly members in voting on yesterday's non-binding resolution, which declared Crimea's March 16 ballot to leave Ukraine and join Russia as "having no validity," showed that not all countries support that view.
Obama repeated a call to the Russian president to pull back troops from Ukraine's border in the worst standoff between the former Cold War foes since the Soviet Union collapsed more than two decades ago. The U.S. and its allies have warned of further sanctions if Russia moves into eastern Ukraine. With the government in Kiev battling insolvency, the International Monetary Fund moved forward yesterday with plans for a bailout.
"You would have thought that after a couple decades that there'd be an awareness on the part of any Russian leader that the path forward is not to revert back," Obama said in an interview broadcast today on "This Morning" on CBS television. Putin "may be entirely misreading the West. He's certainly misreading American foreign policy."
Concern that Russia's economy would suffer from an extended confrontation over Ukraine has helped push the benchmark Micex Index down 10.6 percent this year. With emerging-market stocks rallying amid confidence in the global economy, though, the index rose 0.9 percent today to 1,344.12.
IMF Accord
In Kiev, the IMF announced a preliminary accord with Ukraine yesterday for a two-year loan of as much as $18 billion to help the country avert default. Ukraine is grappling with dwindling reserves, a weakening currency, and an economy threatening to slide into a third recession in six years.
Ukrainian benchmark bonds extended their longest rally in almost a year after the deal. Dollar-denominated bonds due April 2023 have risen for nine straight days, pushing the yield down 2.13 percentage points to a two-month low of 8.78 percent at 4:21 p.m. in Kiev.
The U.S. House of Representatives will vote on April 1 on legislation passed by the Senate that includes about $1 billion in loan guarantees and authorizes $150 million in direct assistance to Ukraine.
Backed by coverage from Russian state-run news channels that depict Ukraine as spiraling into chaos, Putin's government argues the annexation of Crimea saved the region from being overrun by fascists who have taken control in Kiev and are oppressing the country's Russian-speaking minority.
Border Threat
U.S. officials have warned a buildup of troops on Ukraine's eastern border may pose a risk that Russia will seek to carve off more of Ukraine's east and south.
Of the 169 countries present for yesterday's UN vote, 100 were in favor of the resolution calling on all states not to recognize "any alteration of the status" of Crimea. Russia was joined by Belarus, North Korea, Cuba, Syria, Venezuela, Sudan, Zimbabwe, Bolivia, Armenia and Nicaragua in voting against, while 58 countries abstained.
"The wide range of positions among UN member states, the large number of abstentions and those not attending the vote serve as expressive testimony to the rejection of the one-sided version of what happened in Ukraine," the Foreign Ministry in Moscow said in a statement.
'Very Clear'
German Chancellor Angela Merkel rejected that view today.
"If I were in Russia's position, I wouldn't be very happy," she told a joint news conference in Berlin with Chinese President Xi Jinping. "All in all, this was a very clear vote that the global community isn't very happy with what Russia has done."
"We have no interest in encircling Russia, and we have no interest in Ukraine, beyond letting the Ukrainian people make their own decisions about their own lives," Obama told CBS.
Russia's military, energy and financial industries are possible targets if it moves deeper into Ukraine, the president said. While additional sanctions would inevitably also affect the economies of the U.S. and Europe, Obama said, the goal is to limit the collateral damage.
Ukraine has withdrawn all troops from Crimea who didn't want to join Russia, the Interfax news service reported today, citing Putin. The Russian president also agreed to return ships, planes, weapons and other equipment left in Crimea by departing units, Interfax said.
In Berlin, Xi reiterated a policy of non-intervention in other countries' internal affairs and said China has "no private interests" in Ukraine.
"The current situation in Ukraine derives from a very complex historical background and current reality," he told reporters. "We support the constructive efforts of the international community to ease the situation."
Before it's here, it's on the Bloomberg Terminal.
LEARN MORE